---
---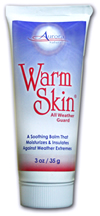 Here's my Warm Skin Product Review…If this amazing protective cream is a gotta-have for NFL players in cold temperature games like last year's Super Bowl, odds are that it will work for snowmobilers too.
Even the most macho riders can suffer from cracked, dry skin or mild frostbite on snowmobile tours or snowmobile vacations. That's why NFL players, mountain climbers, ski patrollers, letter carriers and even polar explorers protect their flesh with Warm Skin®. Warm Skin All Weather Guard is a heavy-duty, non-greasy barrier cream and moisturizer from a Minnesota based company called Aurora Naturally.
Warm Skin NFL Video
Warm Skin Results
While on tour last winter, I used the Warm Skin All Weather Guard formula each morning on hands and face as a protective layer. I put it to the test daily on the snow, standing with bare hands in the harsh winds and blustery cold to take hundreds of snowmobiling photos. Then I replenished these areas with it again at each day's end. The result? While my hide is still the same ugly one I've always had, it never chapped, cracked, wind-burned, sunburned or itched despite the constant extremes of long days on the snow. I'm not saying that my hands didn't get cold after long exposure to sub zero temperatures, but Warm Skin did help them stay warm longer and keep it more bareable – no wonder NFL players apply it to their bare arms and hands before the big game!
Check out other product reviews.
The tips and advice in this blog are the opinions of the author, may not work in every situation and are intended only for the convenience and interest of the reader, who has the personal responsibility to confirm the validity, accuracy and relevancy of this information prior to putting it to their own use.