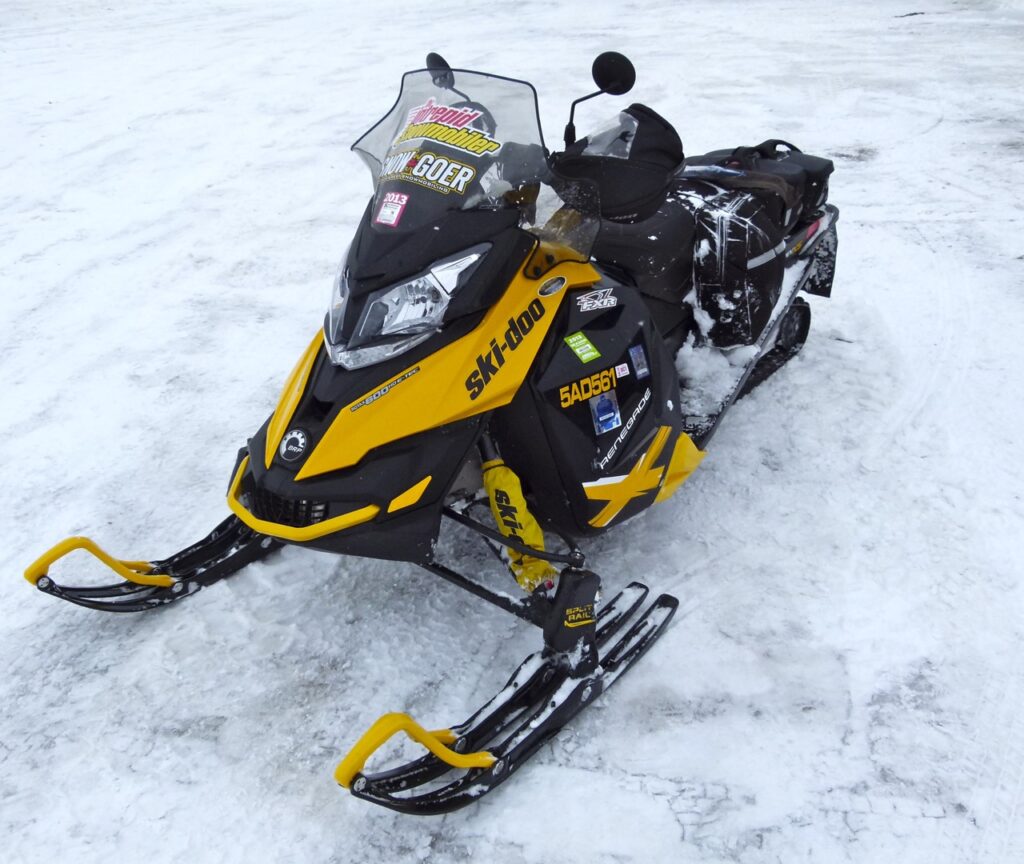 ---
---
My first impressions of 2013 Ski Doo Renegade X and accessories came from a just completed snowmobile tour in Quebec. I test rode my 2013 Ski-Doo Renegade X E-TEC 600 H.O. near Saint-Zenon in the popular Lanaudiere and Mauricie Region, snowmobiling about 1,200 km (750 miles) of snow trails out of Auberge Le Cabanon to check out this new sled and gear.
I was totally impressed with the new Rev-XS body style, which delivers much more than good looks. It definitely diverted cold air away from my bod and made it easier to lean into the corners leading with my inside knee.
This was also my first time of any duration on rMotion. It seemed to work as promised, although the trails were universally so smooth that my suspension hardly hit a bump, so I'll have to wait for a much rougher ride to really put it to work. Overall, this Renegade X handled, manoeuvred and cornered exceptionally well, and I really like the ride capability of the long track.
For touring, I added a bunch of new-for-2013 Ski-Doo accessories to the Renegade X and here's a quick summary of my initial impressions…
This system is hands down the slickest and easiest I've ever used for carrying stuff. The bag and can both fit nearly on the tunnel behind the Renegade seat and are so secure that I bet you could almost use the jerry can handle to lift the back end of the sled!
2013 Ski Doo Renegade X Sport Performance High Flared Windshield
Added to the wind deflecting ability of the XS body, this higher and sharp looking windshield kept me from freezing my buns off when the first riding day started at -31˚ C (-24˚F). Brrrr!
2013 Ski Doo Renegade X Handle Bar Muffs
A real rider invented these muffs, 'cause they work like a dream. The muffs secure in place without shifting around, have storm cuffs to keep out back-blown snow, and best of all, have transparent panels on top so I can see to operate the various handlebar-mounted controls.
2013 Ski Doo Renegade X Auxiliary LED Light Kit
Talk about bright. When I flipped these on at night, the deer had to put on sunglasses! That LED beam illuminates everything that I have never been able to see properly before and makes night riding a whole new ball game.
2013 Ski Doo Renegade X Glove Box Extension
This is a really handy way to make the new heated glove box even more useful. I couldn't believe the amount of stuff it holds. No more need for a handlebar bag and the narrow space between the extension and the inside of the windshield is great for holding my trail map while riding.
Having the right sled and accessories can really take snowmobiling to the next level. Now that I have an inkling of what this 2013 Renegade X can deliver, I'm looking forward even more than ever to an outstanding winter of touring!
Check out more products reviews!
The tips and advice in this blog are the opinions of the author, may not work in every situation and are intended only for the convenience and interest of the reader, who has the personal responsibility to confirm the validity, accuracy and relevancy of this information prior to putting it to their own use.