Explore Mont Laurier Quebec in Laurentian Mountains…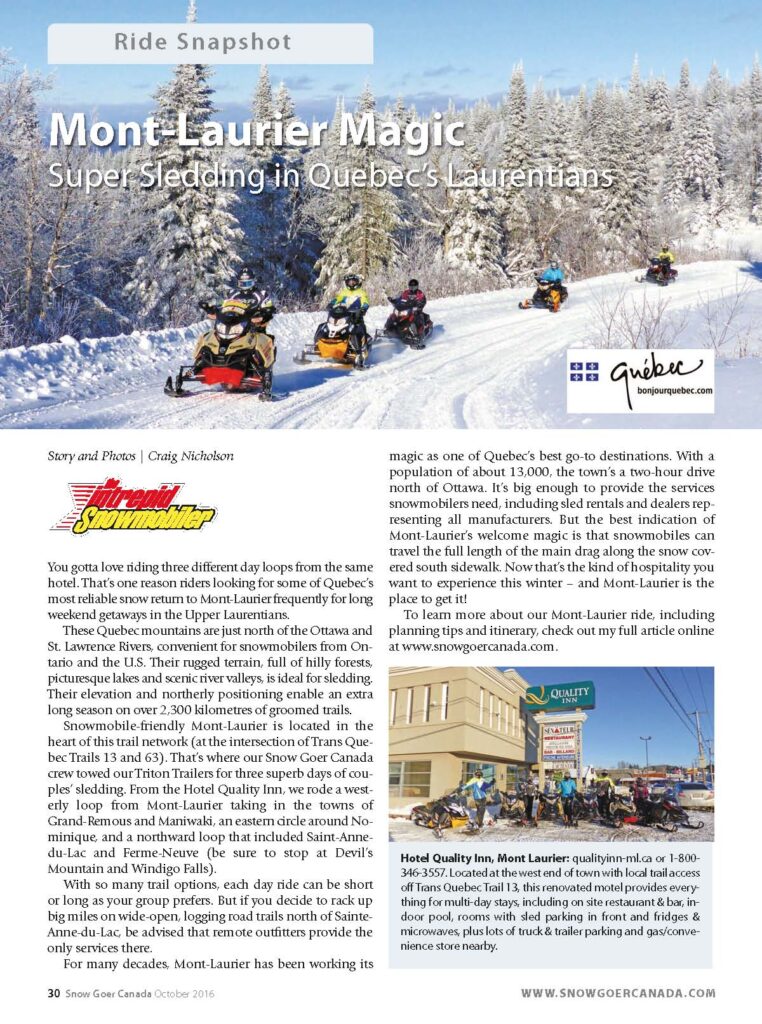 ---
---
You gotta love snowmobiling three different day loops from the same hotel. I described this in the Ride Snapshot above about Mont Laurier Quebec snowmobiling recently excerpted from a snowmobile magazine.
That's one reason snowmobilers looking for some of Quebec's most reliable snow conditions return to Mont-Laurier frequently. So get ready for your long weekend getaways in the Upper Laurentians. Here's the whole story about this Quebec snowmobile tour and the some of the best snowmobiling in Canada!
Snowy Laurentians Surround Mont Laurier Quebec
These Quebec mountains are just north of the Ottawa and St. Lawrence Rivers. They are convenient for snowmobilers visiting from Ontario and the U.S. They are also an extension of New York State's Adirondack Mountains. Their rugged terrain, full of hilly forests, picturesque lakes and scenic river valleys, is ideal for riding your snow machine. In addition, their elevation and northerly positioning enable an extra long season on over 2,300 kilometres of groomed trails. Typically it lasts from Christmas through late March.
About Mont Laurier Quebec
Snowmobile-friendly Mont-Laurier is located in the heart of this trail network (at the intersection of Trans Quebec Trails 13 and 63). For many decades, Mont-Laurier has been working its magic as one of the best go-to destinations for Quebec snowmobiling. With a population of about 13,000, the town's a two-hour drive north of Ottawa. It's big enough to provide the services snowmobilers need. These include sled rentals and dealers representing all manufacturers.
It's also a great sledding destination for those who want to snow machine there from elsewhere in Quebec. Or from Ontario. (Cross the Ottawa River into Quebec on TOP Trail A213Q near Rockland and pick up Quebec Regional Trail 323. But double check snow conditions in these lowland areas before going).
Mont-Laurier's where our snowmobile magazine crew towed our Triton Trailers. We enjoyed three superb days of couples' sledding on our Ski-Doo snowmobiles. Trish Robison & Johnny Biasi, Craig & Dawn Irwin, and Marsha & I drove through Ottawa and up Highway 309. With each kilometre, we climbed higher. The road ascended through the mountains and the snow banks on either side of us grew larger. So no matter what the snow conditions may be behind you, bet that they'll be better the closer you get to Mont Laurier and the start of your snowmobiling in Quebec.
Day Rides from Hotel Quality Inn
The Hotel Quality Inn is our home-away-from-home. It's located just east of the junction of Highways 309 and 117 across the river bridge. As soon as we turned into its entrance and saw the huge size of the parking lot, I knew this was a hotel catering to snowmobilers. And with all the amenities on site, we had no reason to venture anywhere else during our stay except to go Quebec snowmobiling.
From the Hotel Quality Inn, we rode three-day loops. We started each morning from the trail on the unplowed sidewalk right in front of our hotel. A quick right turn and road crossing at the lights led us to where the local access trail heads north (right). There it connects with both Trans Quebec 13 and 63.
Day One
We travelled a westerly loop from Mont-Laurier. We headed towards the towns of Grand-Remous and Maniwaki (for details on all day rides, see Itinerary below), but didn't actually go to either place. This loop took in a scenic stop at Devil's Mountain (Montagne du Diable). It has a neat relais (restaurant) perched over the edge of the slope. This is the 2nd highest peak in the Laurentians. But it's the only one accessible by snowmobile trail.
As we climbed the 783 metres to the top, we could actually feel the air chill up. The trees turned into snow ghosts, fully encased in frozen white cocoons. That day, we also checked out Windigo Falls (Chutes du Windigo). It's on Local Trail 228. We also crossed the Baskatong Reservoir, following the stake line on Regional Trail 322. We rode about 230 kilometres. But you can ride farther west and/or farther south to increase your distance. Or you can cut it back by about 100 klicks if you want a shorter ride while snowmobiling in Quebec.
Day Two
The next day, we snowmobiled east in a 270-kilometre circle around the towns of Nominique and Rivière-Rouge. Trans Quebec Trail 63 eastbound is a rail-trail. So we made good time. Again, this ride can be either longer or shorter, depending on your choice of loop trails.
Day Three
This ride took us north on a 256-kilometre loop. It included the towns of Ferme-Neuve and Saint-Anne-du-Lac. They are located where the terrain transitions from mountain to the plateau that extends into Northern Quebec. Lots of wide open running here especially around Club Meekos. We stopped there for fuel and food. As Trans Quebec Trail 53 heads south, it runs to the west of the Kiamika Reservoir. Local Trail 253 is a neat side trip to actually ride alongside it.
With so many trail options, each day ride can be short or long as your group prefers. You may decide to rack up big miles on the wide-open, logging road trails north of Sainte-Anne-du-Lac (Wood Runner Trails). But be advised that remote outfitters provide the only services available there, so keep an eye on your gas and the weather.
Day Rides From Mont Laurier Quebec
Each night, we returned to the Hotel Quality Inn. So there was no need for saddlebags. Multiple day rides like these from the same staging hotel are very relaxing. Why? Because you don't have to pack up and leave every morning. You can also enjoy the convenience and comfort of a familiar place each evening. This makes your coming and going less hectic. Meanwhile, if anyone in your group wants to ride less or has a breakdown, that's not the challenge it is on a saddlebag tour.
It's also a pleasure to know you're returning to such a snowmobile-friendly town. Perhaps the best indication of Mont-Laurier's welcome magic is that snowmobiles can travel the full length of the main drag (highway 117) along the snow covered south sidewalk. We rode our sled through the centre of town one day just for fun. I was impressed that everyone waved and smiled as we went by. Now that's the kind of hospitality you want to experience this winter ­– and Mont-Laurier is the place to get it!
Mont Laurier Quebec Snowmobile Tour Info
Who To Contact
FCMQ (for permits and trail info)
Maps Needed
Laurentides Snowmobile Trail Map 
Mont Laurier Quebec Day Ride Itinerary
(TQ = Trans Quebec; RT = Regional Trail; LT = Local Trail)
Day One: 230 km loop. Ride west via TQ63&13w/LT225n/LT227 or LT228e/TQ13n/RT322n (gas & food at Club Fontbrune on LT23 or Village Windigo on RT322) /TQ13/63w/RT324e/LT224e/LT230n.
Day Two: 269 km loop. Ride east via TQ63e/RT319s/RT323n/RT325n (Gas & food at Rivière-Rouge) /TQ63w/RT319n/RT322w/TQ53s/TQ63w/LT263w.
Day Three: 256 km loop. Ride north via TQ13n (gas & food at Saint-Anne-du-Lac) /RT319e (Gas & food at Club Meekos) /TQ53s/LT224w/LT230n.
Optional Ride: Ride southwest 232 km via TQ63&13w/TQ13s (Gas & food at Maniwaki) /322e/53n/63w
Where To Stay in Mont Laurier Quebec
Hotel Quality Inn, Mont Laurier. This good, snowmobiler-friendly hotel is a great staging location for day rides around the area. With trail access, it's located across the road from a gas station and convenience store. It has a big, well-lit and secure parking lot for trucks and trailers. You can park your sleds in front of ground floor rooms where the hotel provides security cables and video surveillance. O you can park them in your trailer each night as we do to keep them clean and out of sight.
Hotel Quality Inn offers clean, well appointed rooms. Each has small fridges and good Wi-Fi with both interior and exterior access from ground floor rooms. There's also an indoor hot pool (not hot tub) for soothing sore ride muscles. Food is tasty in the on site L'Autentico Restaurant where even on the snowmobile package meals, portions are large.
Like This Post? Follow Me on Facebook
Check out more snowmobile tours!
The tips and advice in this blog are the opinions of the author, may not work in every situation and are intended only for the convenience and interest of the reader, who has the personal responsibility to confirm the validity, accuracy and relevancy of this information prior to putting it to their own use.