Fast Facts For Planning Your Muskoka Ride…
---
---
Why do we need this Muskoka Ontario snowmobiling snapshot? Sure, the name "Muskoka" may be synonymous with summer cottaging. But for many snowmobilers it's also a great winter destination. Certainly, the same natural beauty that makes Muskoka so popular with its summer visitors is also a major winter attraction for sledders.
Besides, Muskoka is located only a two-hour drive by 4-lane highway north of the Greater Toronto Area (GTA). So, it's easily accessible for snowmobilers. Here, they can enjoy about 1,600 kilometres of snowmobile trails, regularly maintained by the 11 clubs comprising OFSC District 7.
Muskoka Ontario Snowmobiling Accommodation Choices
Accommodation-wise, Muskoka offers numerous trail accessible choices for snowmobilers. These range from independent motels to chain hotels and to major resort complexes. Thus, depending on your preference, you can always find a good place. One, to overnight on your saddlebag tour. Two, a full-service resort for that special family winter getaway. Or three, a location for staging multiple days rides from.
We made the latter choice, and selected Deerhurst Resort as our home base for several nights. For each of three days, we snowmobiled different trails. Each afternoon, we returned to enjoy Deerhurst's incomparable hospitality, activities and facilities.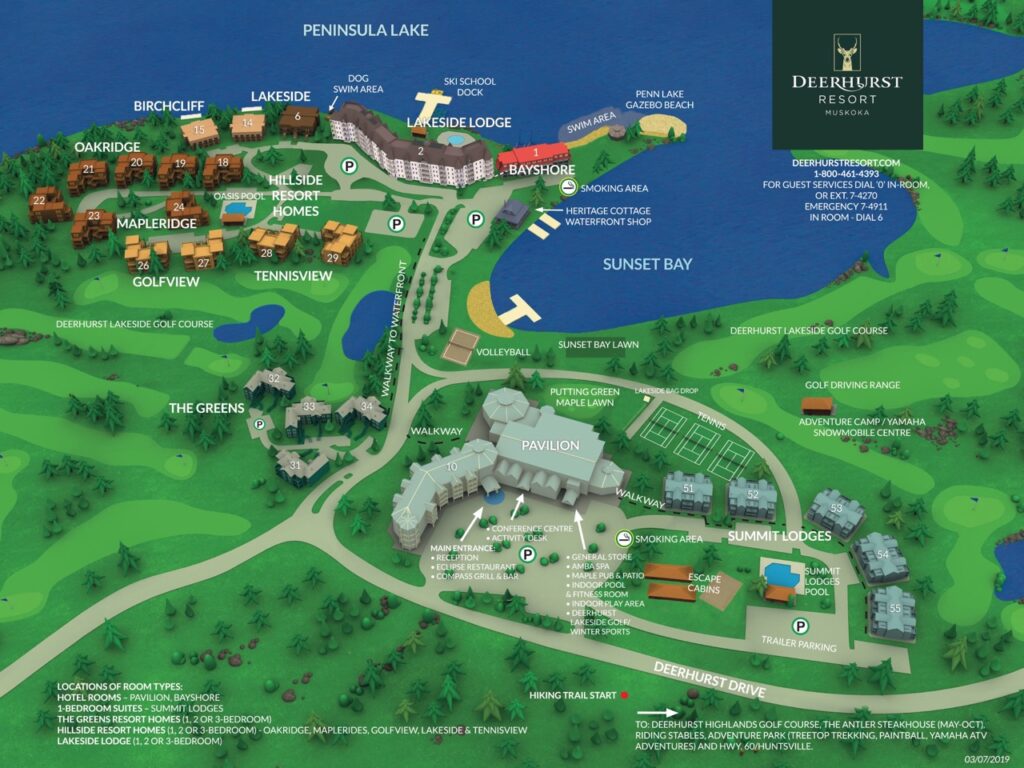 Deerhurst Amenities
For us, these included gourmet dining at the Compass Grill & Bar. And amazing breakfasts at the Eclipse Restaurant. Not to mention, post-ride relaxation at the indoor pool and hot tub. And if some real pampering is needed, there's always the Amba Spa. We even got a remarkable dose of culture on the stroll to breakfast at the Eclipse Art Gallery. And as one of our group could attest from a previous family visit, Deerhurst is a great place for kids, too!
With on site sled rentals, kids' mini rides, and guided snowmobile tours, Deerhurst Resort is an excellent choice for couples and families. Certainly, it delivers an all-round winter experience with the opportunity for novices to try Muskoka Ontario snowmobiling under good supervision. Plus, good parking, on site gas and sled parking in front of our ground floor Pavillion rooms put the icing on the cake!
Our Muskoka Ride
Of course, we big kids snowmobiled our brains out. Milder temps forced a few detours to dodge melting roads in spring-like conditions. Regardless, we found many top-notch trails as good as any I've experienced in Quebec. To do so, we mostly rode northern and eastern areas of Muskoka. This included the Lake of Bays Watch Tour. We also avoided as many communities as possible to further minimize any road running.
Based on our ride, I've put together this Muskoka Ontario snowmobiling snapshot. It contains the fast facts needed to help plan your own adventures out of Deerhurst Resort, whenever you decide to go…
Muskoka Ontario Snowmobiling Fast Facts
Access to Muskoka Region by Road
Highways 11 or 400 (from the south or north)
Highway 35 (from the south)
Highways 118 or 60 (from the east)
Access to Muskoka Region by Trail
TOP Trunk Trails B, D or C + many TOP Connector or Feeder Trails
Deerhurst Resort Location & Access
By Road
7.9 kms east of Huntsville just off Highway 60 on Peninsula Lake
By Snowmobile Trail
Southern – TOP Trail D102B (land)
Northern – Local Trail 78 (staked on lake)
Eastern– Local Trail 77 (staked on lake)
Western – Local Trail 88 (staked on lake)

Deerhurst Resort Winter Outdoor Activities
Stoneleigh Farms
Fat Biking
Snowmobile Fuel Availability
On Site At Deerhurst
Winter Rec Centre (premium) – open Sun to Thurs 9 – 5, Fri & Sat 9 – 9 (ring bell for service)
Nearest Trail Accessible Gas to Deerhurst
Dwight (Shell) on Local Trail 77
Baysville (Baysville Country Store) on TOP Trail D102B
Favourite Trails On Our Ride
Local Trails 37, 45, 51, 64, 76, 77, 95
TOP Trails D, D101B, D102B
Muskoka Snow Tours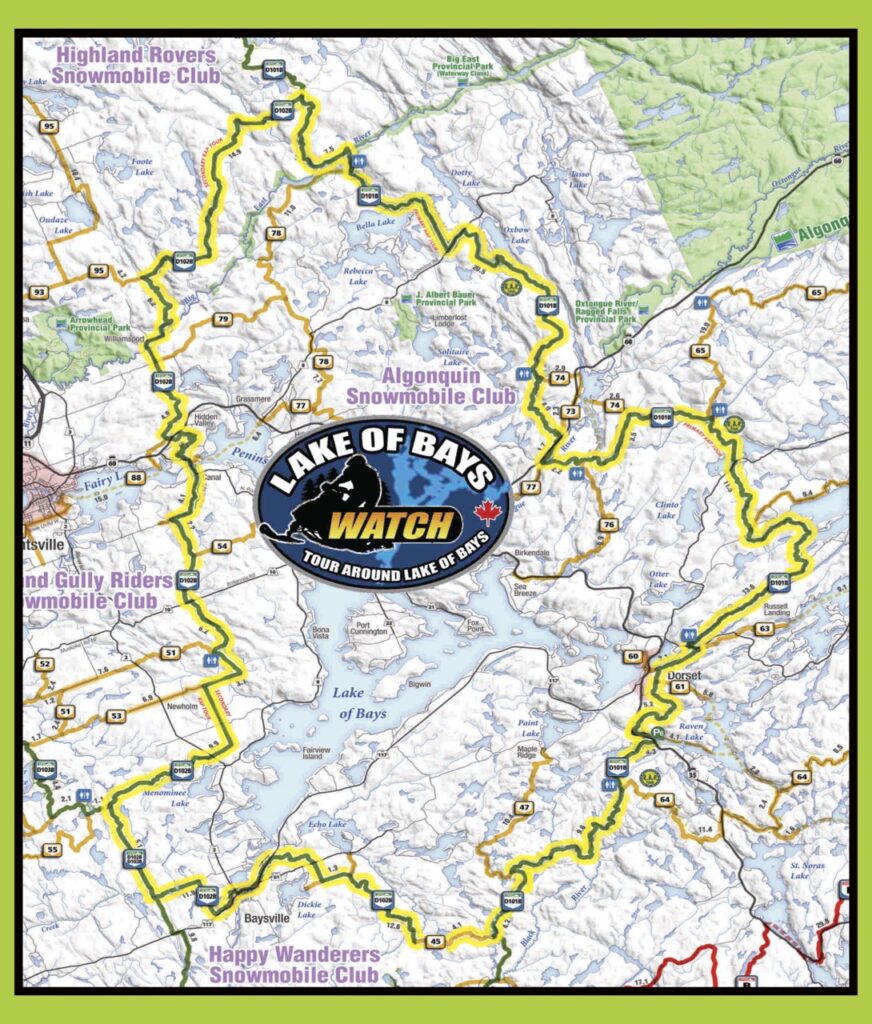 Sled Dealers Listed on OFSC District 7 Trail Map
Muskoka Ontario Snowmobiling Websites
Like This Post? Follow Me on Facebook
Check out more snowmobile tours!
The tips and advice in this blog are the opinions of the author, may not work in every situation and are intended only for the convenience and interest of the reader, who has the personal responsibility to confirm the validity, accuracy and relevancy of this information prior to putting it to their own use.