Memorable Snowmobiling in Eastern Ontario Farm Country…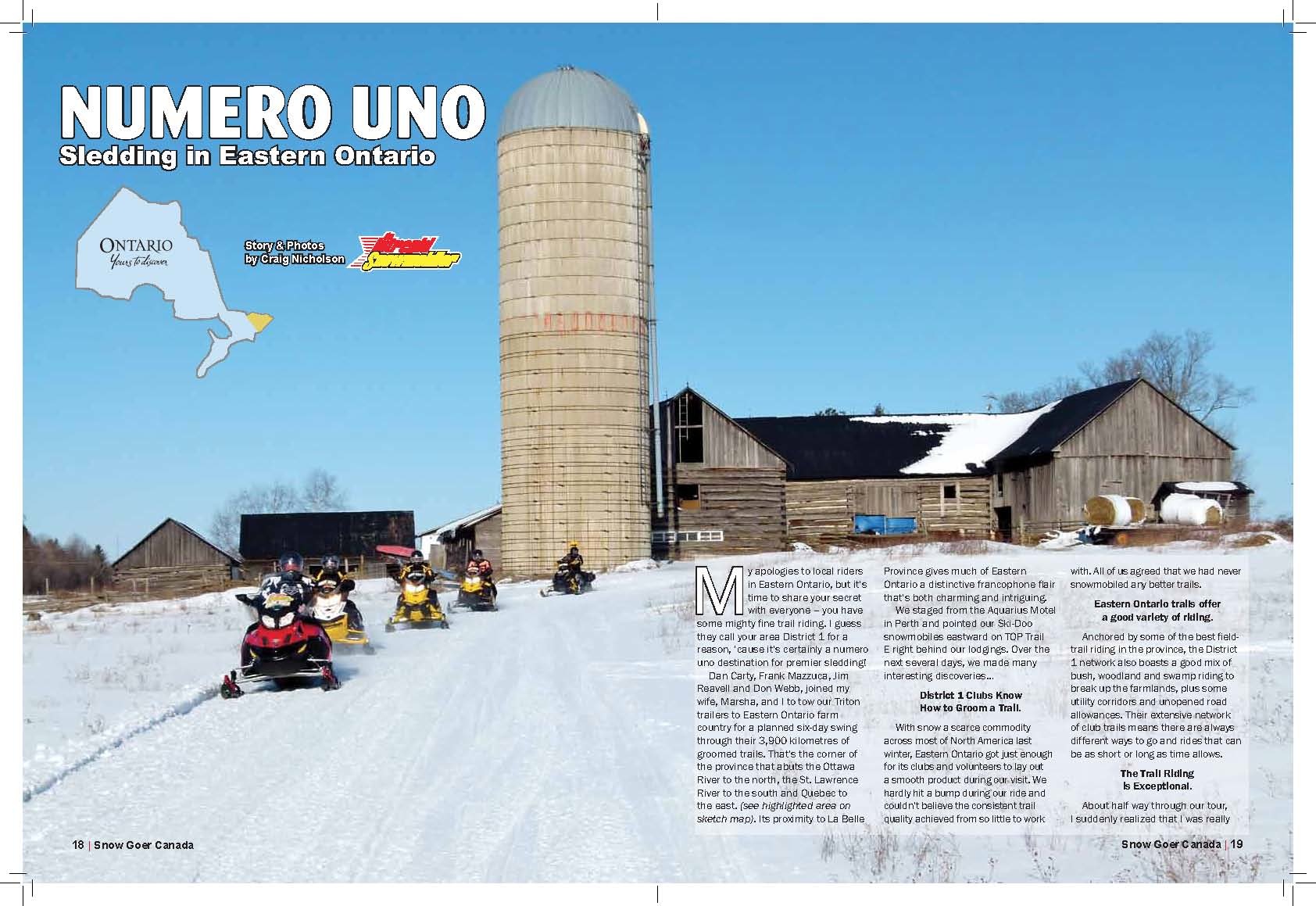 Eastern Ontario – Click on photo to see full tour article
---
---
My apologies to local riders, but it's time to share your secret with everyone. You have some mighty fine Eastern Ontario snowmobile tours. I guess they called your area District 1 for a reason. That's because it's certainly a numero uno destination for premier snowmobiling and snowmobile vacations on #ontariosnowtrails! 
Dan Carty, Frank Mazzuca, Jim Reavell and Don Webb, joined my wife, Marsha, and I to tow our Triton trailers to Eastern Ontario farm country. We'd planned a six-day, Ontario snowmobile tour through their 3,900 kilometres of groomed snow trails. That's the corner of the province that abuts the Ottawa River to the north, the St. Lawrence River to the south and Quebec to the east. Its proximity to La Belle Province gives much of Eastern Ontario a distinctive francophone flair that's both charming and intriguing. For snowmobiling purposes, it's now called the Upper Canada Snowmobile Region (UCSR).
We staged from the Aquarius Motel in Perth and pointed our Ski-Doo snow machines eastward on TOP Trail E right behind our lodgings. Over the next several days, we made many interesting discoveries…
Clubs Know How To Groom Trails
With snow a scarce commodity across most of North America last winter, Eastern Ontario got just enough for its clubs and volunteers to lay out a smooth product during our Ontario snowmobile tour. We hardly hit a bump during our ride and couldn't believe the consistent trail quality achieved from so little to work with. All of us agreed that we had never snowmobiled any better trails.
Trails Offer Good Variety
Anchored by some of the best field-trail riding in the province, the District 1 network also boasts a good mix of bush, woodland and swamp riding. This breaks up the farmlands, as do some utility corridors and unopened road allowances. Their extensive network of club trails means there are always different ways to go. And rides that can be as short or long as time allows. Be sure to check out their snow tours and loops!
Exceptional Trail Riding
About half way through our tour, I suddenly realized that I was really enjoying being able to see all around me. In many other areas, the trails (and my vision) always seem to be bounded on both sides by dense forests. But Eastern Ontario provides riders with wide-open sight lines for much of the time. Combined with many long, unbroken stretches across many of these open fields, the experience is exhilarating. It sure imparts an exciting new rush of freedom to your Ontario snowmobile tour!
Eastern Ontario Newspaper Interview
While visiting Eastern Ontario, a local reporter cornered me in the hot tub at the McIntosh Country Inn and here's what I had to say!
For more on this Ontario snowmobile tour + itinerary, read my Numero Uno article as published in Snow Goer Canada magazine.
Riders should reconfirm the routes and services mentioned in this Ontario snowmobile tour article as they may have changed since publication.