Big City

Weekend

Getaway Riding…
---
---
I'm always amazed by how remote it seems to snowmobile Greater Sudbury Region. One minute, I'm taking in big city sights. The next, all I see is trees and terrain. The only commonality is groomed trails…
Why Snowmobile Greater Sudbury Region
With a population of about 165,000, The City of Greater Sudbury is the largest urban centre in Ontario completely surrounded by snowmobile trails. The so called "Nickel City" is located less than a four-hour trailer drive north of the Greater Toronto Area on Highway 169. As such, it's a main gateway for snowmobilers riding farther into Northeastern Ontario.
But Greater Sudbury is also a popular snowmobiling destination in its own right. From here, 2,000 kilometres of well-maintained trails spoke out to places like Espanola, Killarney and Wanapitei Lake. So, there's plenty of great day riding to be had staging out of Sudbury. This includes four premier snow tours, designated loops that make area exploring and adventure even easier.
Sudbury Region Snow Tours
Chiniguchi & Cartier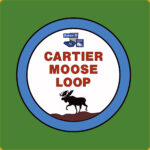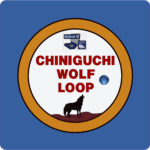 On a previous visit to the home of the Big Nickel and Science North, I enjoyed snowmobiling the two snow tours positioned north of Sudbury. The one to the northeast is the 223-kilometre Chiniguchi Wolf Loop around Wanapitei Lake. Meanwhile, the 253-kilometre Cartier Moose Loop circles to the northwest. Both of these are primarily land-based routes with only a few staked ice crossings.
Rainbow & Deer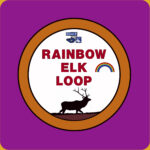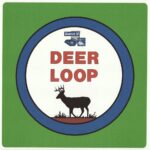 But for this ride, our Supertrax crew planned to ride the region's other two snow tours. The Rainbow Elk Loop runs south of Sudbury to Killarney for a round trip of about 252-kilometres. Beside it, the 185-kilometre Deer Loop circles southeast of the city. It goes towards La Cloche Mountains to take in the Espanola area. Each of these snow tours are a mix of land and ice routes, with some major stretches of staked lake trails.
Accurate Distances
For planning purposes with each of these four snow tours, please take note. Your actual daily ride distance will depend on where you stage from. So be sure to take into account the real mileage from your starting location. Calculate it to the access point for the snow tour you are riding that day (as I do later in this article from our staging motel). And then double that number to account for the same return distance. These additional kilometres will make your day trip slightly longer than the distance shown for the snow tour itself.
Trail Accessible Motel
Speaking of staging, despite the presence of most major hotel chains in town, Greater Sudbury offers surprisingly few trail accessible lodgings in town. My favourite is the Moonlight Inn & Suites, a family owned and operated motel in the east end. It's located directly on TOP Trail D111 where it crosses the Kingsway. Riding daily from the Moonlight, Jim Heintzman, Frank Mazzuca, Al Fletcher, Brent Murphy, plus myself and Marsha, could access each snow tour, no problem.
Alternatively, here's an option for those who prefer more elaborate lodgings. Stay at an in-town chain hotel and trailer daily to one of the snow tour access parking areas. These are marked on the Sudbury Trail Plan (STP) Trail Guide with a green "P" circle.
But why do that when you can launch direct by trail from the Moonlight Inn & Suites? This clean and friendly motel provides decent space for trucks & trailers. It also offers sled parking in front of rooms and an included continental breakfast. Plus, there's a good restaurant serving home-cooked meals across the street. Fuel is available by sled just east on TOP Trail C.
Riding the Rainbow
From the Moonlight, it's about 20 klicks south on TOP D111 to its junction with the Rainbow Elk Loop at TOP C108D. So, the total day's distance for the full snow tour becomes about 292-kilometres. Over 10 cm of fresh snow fell the night before we rode this loop. Consequently, our going was both picturesque and powdery, with our carbides not gripping as well as usual in the corners.
Rainbow Option One
Once on the Rainbow Elk Loop, snowmobilers have two options if you do this snow tour clockwise. One is to complete the full ride to Killarney for lunch and fuel. This town provides the only fuel, food and lodging services actually on the tour route. Half our Supertrax crew did this run (see red highlight on route map).
Rainbow Option Two
The other option is not going into Killarney. Instead, shorten the loop by about 68 kilometres. Do this by taking the western leg of the Rainbow Elk Loop earlier in the day as the rest of our group did. This return route on TOP C113 travels numerous ice crossings, so the going is quicker than by trail.
But there are two other factors to consider with this shorter option. One is that there's no lunch stop on route, so bring a snack. The other is that there's no fuel on route. Thus, this alternative round-trip total of about 224 kilometres from the Moonlight and back is too far for most sleds to go without filling up.
So, either carry extra gas or detour to gas and a variety store at Panache Lake Marina. It's only a quick 12-kilometre jaunt west from the Rainbow Elk Loop proper. At the intersection of TOP C113 and TOP C108D, follow the stake line on Panache Lake. But this fuel stop adds a total of 24 kilometres to this shorter option, bringing the day's distance up to approximately 248 kilometres. Not that different from 292 klicks for the full loop, but faster because of the lake running and no prolonged stop for lunch.
Doing The Deer
Our next day's ride, the 185-kilometre Deer Loop, is positioned west of the Rainbow Elk Loop. This mileage count starts at the eastern terminus of the loop on TOP Trail D109 near the Town of Lively. From the Moonlight Inn & Suites, it's about 46 additional kilometres via TOP D111 & C108D to access this loop.
So, the total distance becomes about 277 klicks door to door, returning the same way. On route, there's fuel and lunch outbound at Nairn and Espanola. And on the way back, gas at Panache Lake Marina. See yellow highlight on route map.
Deer Loop Short Cut
Those who want to ride less distance can cut off about 47 klicks (and bypass Espanola) by taking this short cut…
Detour south off the loop from TOP D on to TOP C108D just past the Vermillion Bridge. After about 15 klicks, C108D turns east and becomes the return leg of the Deer Loop. This way, you're back on route with less mileage ahead of you to get back to the Moonlight. But note that you should grab lunch and fuel in Nairn before doing this shortcut.
Rolling To Rocky's
For the final day of our Sudbury visit, we wanted a short loop so we could load up in daylight to trailer home. Having completed our two southern loops, we headed north of town for a circle ride. We snowmobiled to Kukagami Lake (fuel only) and then west to Wanapitei Lake for lunch at Rocky's (fuel & food). See red highlight on route map.
Our total was 180 kilometres. This got us back to the Moonlight by mid-afternoon to head home. Another good option would have been to do a loop of about 150 kilometres all the way around Sudbury via Skead, Azilda and Lively.
Navigating Loop Signage
Whatever your choice of trails and loops in the Sudbury Trail Plan, all routes and intersections typically provide some of Ontario's best signage for easy navigation. Both their northern snow tours, Chiniguchi Wolf Loop and Cartier Moose Loop also have their own snow tour signs from inception. These provide valuable assistance to snowmobilers to stay on route.
Incomplete Signs
Unfortunately, such help was not the case when we rode the Deer Loop. While trail number signage was up to par, snow tour signs were not. Confusingly, Rainbow Elk Loop signs were prevalent. Not only on  the Rainbow Loop, but also on the Deer Loop (with not enough Deer Loop signs present). However, the goods news is that club volunteers got out this fall to instal more Deer Loop signs. At the same time, they removed old & confusing Rainbow signs on that snow tour.
What seems to have happened is this. There used to be only one snow tour south of Sudbury, the Rainbow Elk Loop. At about 325 kilometres, it included parts of what are now the two separate and distinct Rainbow and Deer Loops.
Making two out of one is a good idea because each of the revised Rainbow Elk Loop and the new Deer Loop are good day rides on their own. And now visiting riders have four good snow tour choices, not three in the Sudbury region. All four now show on the Sudbury Trail Plan map.
Follow Trail Numbers, Not Loop Signs
But unfortunately, the STP (OFSC District 12) website still shows the old Rainbow Elk Loop, but nothing's there about the new, stand-alone Deer Loop. So for now, my advice to visiting riders is to follow both trail numbers and loop signs when riding the Deer Loop.
Regardless, Ontario trail riding in the Greater Sudbury typically ranges from good to exceptional. Yes, as with any major population centre, in town trails can take a beating that constantly challenges clubs to keep up with grooming. But as noted, snowmobilers don't have to go far out of town to hit generally impeccable trails spoking out in every direction into the wilderness. So, if you're looking for a staging destination with plenty of trail options, plus big city amenities, the Greater Sudbury Region is an excellent choice!
Ontario law requires a snowmobile entering an OFSC Prescribed Snowmobile Trail to display a valid Ontario Snowmobile Trail Permit.
Where We Stayed
Who To Contact
Like This Post? Follow Me on Facebook
Check out more snowmobile tours!
The tips and advice in this blog are the opinions of the author, may not work in every situation and are intended only for the convenience and interest of the reader, who has the personal responsibility to confirm the validity, accuracy and relevancy of this information prior to putting it to their own use.