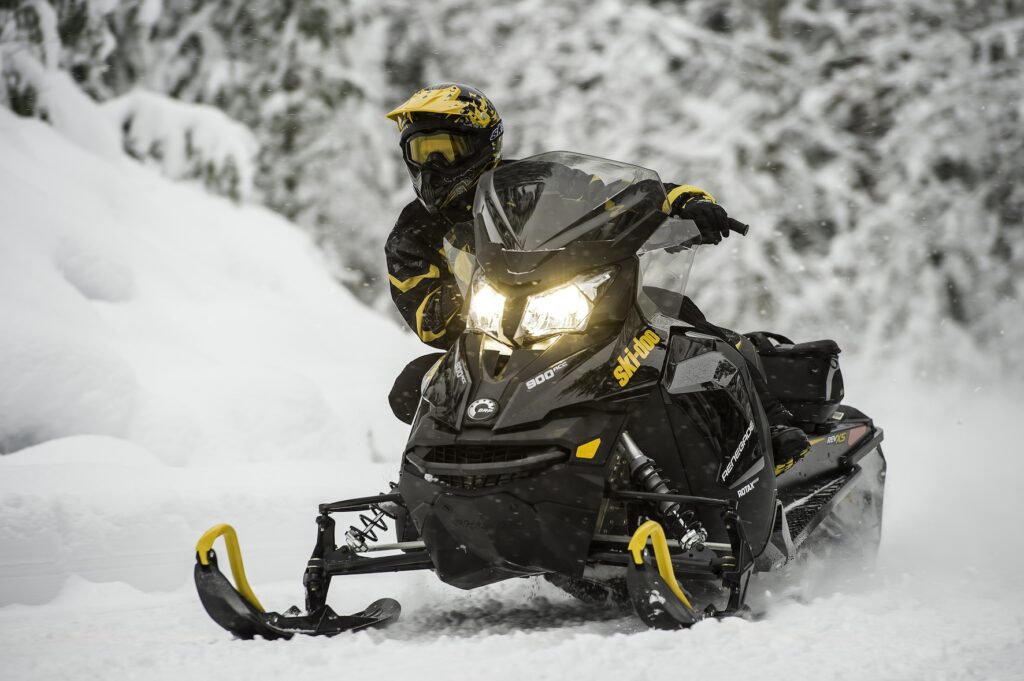 This winter, my snowmobile tours are  astride a 2014 Ski-Doo Renegade Adrenalin 900 ACE. Admittedly, I've taken flak from some who think I'm gonna be under powered, and from others for switching from my publically stated fav touring engine, Rotax's 600 E-TEC, to a 4-stroker. So what the heck am I doing?
Tried the Rotax 600 ACE
Although I'm not a tech or performance writer, so what am I doing writing snowmobile reviews? I still think it's part of my job to try innovations touted for touring applications and let you know what I think. And my riding an ACE for touring is not without precedent – when Ski-Doo introduced its 600 ACE 4-stroke in 2011, I rode it on snow trails for much of a season.
There was much to like about the 600, especially the best fuel economy I've ever had, over 400 kilometres to a tank on tour. But ultimately, I reported that, while a great engine for casual and family riders, the 600 ACE just didn't have enough oomph for my kind of sustained long distance touring. So when Rotax upped the oomph with the new 900 ACE, how could I ignore the possibilities?
Expert Comment on 2014 Ski-Doo Renegade Adrenalin 900 ACE
My own final verdict is out because I haven't had enough serious saddle time with the 900 ACE yet. But I take heart from early reviews by my powersports colleagues:
"Finally, enough power in a light full chassis to do some serious thrashing on the trails and hit decent speeds on the straights and lakes." – Olav Aaen, Technical Editor, American Snowmobiler Magazine.

"It's at this pace (in sport mode) you can fully appreciate the balance between fuel economy and trail performance this engine is capable of delivering." – Supertrax's Kent Lester, Co-Publisher, OFSC Go Snowmobiling Magazine.
"Some may think 90 hp isn't enough power but most riders will find it's more than adequate. With the great torque of the 900 ACE it's actually a lot of fun and we found the performance to be similar to the 600 Carb 2-stroke" – Snow Goer Canada
"Fast enough to hang in with any sleds through the trails and on hard pack we saw upward of 90 mph…plenty fast for any riding ability." – Mark Savage, Associate Publisher, American Snowmobiler Magazine.

"At 90-hp, this robust triple is…a real pleasure to ply for big distances." Staff Report, Supertrax No Bull Buyer's Guide.
Enter the 2014 Ski-Doo Renegade Adrenalin 900 ACE
It sounds to me like the 900 ACE has found that tour-riding pocket that the smaller 600 didn't. In comparison, the still lightweight 900 ACE delivers 50% more power and 77% more torque while using only 18% more fuel. We're talking regular grade gas too, and let's not overlook the 4-stroke advantage of not having to carry or buy oil on tour.
All the magazine writers seem to agree that the new 900 ACE delivers a strong "fun factor" – and that's just one more good reason I'm looking forward to riding my 2014 Ski-Doo Renegade Adrenalin 900 ACE this season. And just as soon as I get a couple of thousand klicks on her, I'll tell you what I think!
Check out my first impression and end of season 900 ACE Reviews!
Check out more products reviews!
The tips and advice in this blog are the opinions of the author, may not work in every situation and are intended only for the convenience and interest of the reader, who has the personal responsibility to confirm the validity, accuracy and relevancy of this information prior to putting it to their own use.