2 – 5 Touring Days on Algoma North Shore Loop…
---
---
Been there, done that in Ontario's north? For many of us, that means our habit is to trailer a beeline straight up the Highway 11 corridor to destinations much farther north. But maybe it's time to consider something that's closer for Ontario snowmobile tours – like snowmobiling the Algoma North Shore Loop.
Discovering Algoma Country
By way of introduction, Algoma Country encompasses almost 52,000 square kilometres of unspoiled wilderness. Lake Huron borders it on the south   Superior on the west. Anchored towns include the popular retirement community of Elliot Lake to the east and by the City of Sault Ste Marie in the west.
American snowmobilers crossing into Ontario at Sault Ste Marie have been visiting and raving about Algoma's 3,700 kilometres of groomed trails for years. Now it was our turn. So we towed our Triton Trailers for less than six hours from the Greater Toronto Area to snowmobile the Algoma North Shore Loop for three days.
Exciting news triggered our interest in Algoma County. Half Way Haven on TOP Trail D has re-opened. Wawa now boasts Ontario's first organized boondocking location. And the Algoma North Shore Loop, developed by the Algoma Snow Plan Affiliation, now welcomes touring snowmobilers. Something new and exciting is definitely going on in Algoma. And although we didn't have time to snowmobile tour the whole region last winter, we figured on getting a taste by trying the Algoma North Shore Loop.
How To Snowmobile Algoma North Shore Loop
For touring riders trailering north from Southern Ontario, the 457-kilometre Algoma North Shore Loop is a handy gateway to the region. Find it by turning left on Highway 17 from either Highway 69 at Sudbury (our route and the shorter one) or from Highway 11 at North Bay. Best of all, as one of the premier, OFSC-promoted snow tours in the province, the Algoma North Shore Loop is a great choice for your self-guided exploration of Algoma Country.
The Algoma North Shore Loop is between Spanish in the east and Bruce Mines in the west. The southern part of the loop parallels the shore of the North Channel of Lake Huron. It accesses most of the towns along Highway 17. The Loop's northern trails travel through beautiful Algoma wilderness. This includes rugged Canadian Shield, old growth forests and even some very scenic hill country between Aubrey Falls and Elliot Lake.
All in all, the turnkey Algoma North Shore Loop boasts more than enough variety of trails, terrain and towns to keep any snowmobiler grinning from ear to ear. And that's what we did for our three days of super sledding.
Ontario law requires a snowmobile entering an OFSC Prescribed Snowmobile Trail to display a valid Ontario Snowmobile Trail Permit.
Our Three-Days of Saddlebagging
Day One
We staged from the homey and hospitable Lake Lauzon Resort at Algoma Mills. We rode the Algoma North Shore Loop clockwise. First, we travelled the 114 kilometres to Bruce Mines. Then we detoured from the loop by following the stake line across the North Channel to Hilton Beach on St. Joseph Island. There we put on another 130 klicks that afternoon before checking into the historic Bruce Bay Cottages & Lighthouse back at Bruce Mines for the night.
Day Two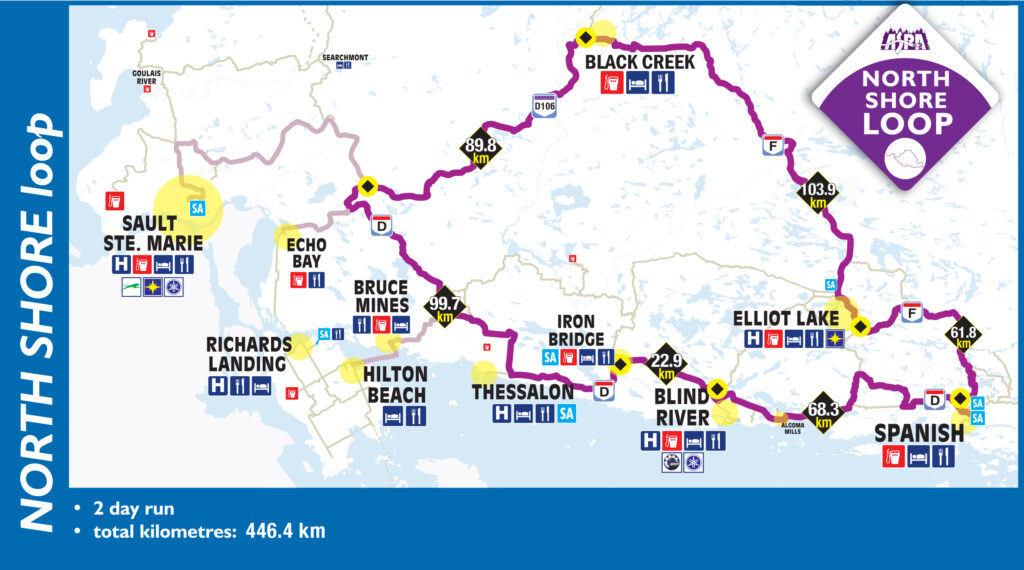 We resumed the Algoma North Shore Loop. We snowmobiled around the top of the circle through Aubrey Falls, where we lunched and fuelled at Black Creek Outfitters. This is the best place for a pit stop because it's the only one in a very remote area open seven days a week. After about 250 kilometres of steady riding, we arrived at our night's lodging. We stayed at Dunlop Lake Lodge, located about 15 kilometres north of Elliot Lake.
If you want to make this a 4-day ride, it's easy to do if your sleds get more than 200 kilometres to a tank of gas. Just add a side trip from Bruce Mines into Sault Ste Marie to stay overnight. To avoid riding the same trails twice, snowmobile from Blind River (on a full tank) to Searchmont (no gas available) and on to Goulais River to fuel up, about 140 kilometres total. Then head south for about 35 klicks to Sault Ste Marie to overnight, total about 170 kilometres. Next day, ride the TOP D Trail back to the Algoma North Shore Loop and on to Aubrey Falls (about 195 klicks) ending up at Dunlop Lake Lodge.
Day Three
Our last day, we rode 128 kilometres or so back to Algoma Mills via Spanish, before loading up and heading for home. But if we'd had more time that final day (as you well might), we could have snowmobiled an additional 80-kilometre or so on a TOP D Trail loop back to Elliot Lake for lunch, returning to Lake Lauzon Resort from the west along Club Trail BR3.
Other Loop Options
Whatever your available time or distance choices, the Algoma North Shore Loop delivers the goods. As promised by OFSC-promoted snow tours, North Shore Loop signs marked the intersections for easy navigation. Trails were in good shape overall. Services were accessible when and as needed. What's more, as noted there are several ways to add more days and distance if that's your preference.
Weekend warriors could choose to snowmobile the Algoma North Shore Loop as a two-day blitz ride. More casual snowmobilers could extend it into a comfortable four-day ride even without going into Sault Ste Marie. Do so by not visiting St Joseph Island and breaking up the 250-klick day two ride we did with an extra night stay over at Black Creek Outfitters. As well, you could complete it as we did or by adding in the described side trip to the Sault.
We covered a lot of territory in just three days on our Ontario snowmobile tour. But that was only the southern part of Algoma Country's trail network. So I'm planning to visit the new owners at Half Way Haven and check out that Top Secret Boondocking Location in Wawa. But these will have to wait for my next snowmobile tour adventure in Algoma Country!
Algoma North Shore Loop Info
Who To Contact
Where We Stayed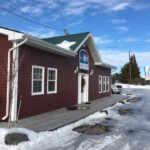 Lake Lauzon Resort, Algoma Mills: 705) 849-0007. Located right on Highway 17 just east of Algoma Mills, this homey Bed & Breakfast has four bedrooms in the cozy main building, a winterized cottage, and parking lot with ample room for trucks and trailers. Scrumptious home-style meals (breakfast included, dinner by request at additional cost). Club Trail BR4 of the Algoma North Shore Loop runs right through the property.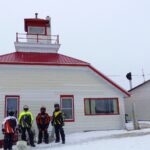 Bruce Bay Cottages & Lighthouse, Bruce Mines: (705) 785-3473. Located on islands connected by road to Bruce Mines and on the stake line to St Joseph Island, snowmobilers looking for something different can stay in the original lighthouse (3 bedrooms) and relax in the Lighthouse Lounge. Restaurants are available in town less than a five-minute ride across the frozen bay.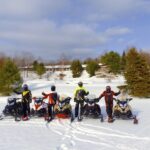 Dunlop Lake Lodge: (705) 848-8090. This all-season family resort offers motel-style rooms in the main building with an on site restaurant & bar plus good sled parking. Located on Dunlop Lake about 15 km north of Elliot Lake, access is by its own spur trail running west off TOP Trail F.
Like This Post? Follow Me on Facebook
Check out more snowmobile tours!
The tips and advice in this blog are the opinions of the author, may not work in every situation and are intended only for the convenience and interest of the reader, who has the personal responsibility to confirm the validity, accuracy and relevancy of this information prior to putting it to their own use.