Planning Info For Algoma Country's Premier Snow Tour… 
---
---
What are your best gateways for a March North Shore Loop ride? Ontario sledders can head north to Sudbury and hang a left on Highway 17 to stage from Elliot Lake. American sledders can make a beeline through Michigan and launch from Sault Ste. Marie, Ontario. In either case, good highways with plenty of towns and services.
The best way to start planning your March ride of the North Shore Loop starts here. This one-stop web page provides almost everything you need to know, from ride options to accommodation choices, and from fuel locations to restaurants. For actual route planning and latest trail status, go to the OFSC Interactive Trail Guide – and be sure to check this great resource daily while on your March North Shore Loop. Also, follow our ride from the saddle of your couch with the Sledaddicz ride video at the end of this post!
"Algoma's North Shore Loop is an incredibly beautiful part of Ontario to tour. The rolling hills and variety of trails and terrain make it a truly unique area to ride and you will surely come home with a smart phone full of amazing photos!" – Mike of Sledaddicz
Why Plan A March North Shore Loop
March is absolutely the best time for snowmobile trail riding. More hours of daylight mean longer riding days. Temperatures are generally more moderate, unlike the deep freeze days of January. Trail bases are deep, well set and durable. Typically, there's less traffic than earlier in the season. And best of all, you're still riding while many others are thinking about summerizing their sleds. So why not plan your March ride now? There's no better destination choice than Ontario's Algoma Country and the beautiful North Shore Loop.
"The North Shore Loop has the vistas and gorgeous terrain between the Soo and Blackcreek Outfitters. The mix of terrain was incredible and so few rider, especially for a weekend." – Kathleen Hedley
Why Choose This Loop For Your March Ride
But what's so special about a March North Shore Loop? At 442 kilometres, this OFSC-promoted snow tour is perfect for a long weekend getaway well into March. And it's easy to add another 160 klicks to your ride as we did, by including an overnighter in Sault Ste Marie as part of your ride. The Sault, located about 80 kilometres west of the North Shore Loop, is both a good staging gateway for the North Shore Loop and a worthwhile add-on for those launching from Elliot Lake.
"Algoma Country exceeded my expectations. Great lodging, great people and great trails – I look forward to coming back again soon." – Brent Murphy
What To Expect From Your March North Shore Loop Ride
Weekend warriors could choose to snowmobile the March North Shore Loop as a two-day blitz ride. More casual snowmobilers can extend it into a comfortable three or four-day ride including Sault Ste Marie.
A self-guided March North Shore Loop can be snowmobiled  either clockwise or counter-clockwise. Either way, it has more than enough variety of trails, terrain and towns to keep any snowmobiler grinning from ear to ear.
The southern part of the loop parallels the shore of the North Channel of Lake Huron. It accesses many towns along Highway 17. The northern trails of the North Shore Loop are a more remote ride, that travels through beautiful Algoma highlands wilderness of the rugged Canadian Shield. Midway, Black Creek Outfitters welcomes riders with fuel, food and lodgings.
"The Algoma North Shore Loop is a beautiful part of Ontario to ride, with vistas of Lake Huron in the south to the rugged hills and remote lakes and rivers in the north. Absolutely loved the hospitality and rustic nature of Dunlop Lake Lodge and Black Creek Outfitters. Will definitely be back!" – Al Fletcher
Ride Snapshot of Our March North Shore Loop
The Intrepid Snowmobiler crew, Al Fletcher, Frank Mazzuca, Brent Murphy and Kathleen Hedley, rode our almost March North Shore Loop recently with those Sledaddicz video guys, Jesse and Mike, and pro photographer Martin Lortz along to capture all the action.
Day 1 racked up about 300 kilometres (including riding into 80-km The Sault via TOP D 107 & D100), while Day 2 added another 300 klicks (including 80 kilometres from The Sault back to the North Shore route via TOP Trail D).
Then, for good measure, some of the crew got another 140 km in on the morning of trailer home day sledding a loop from Elliot Lake to Spanish! For daily ride reports and more photos for your March North Shore Loop, check out my Facebook posts from February 24 to 28!
Ontario law requires a snowmobile entering an OFSC Prescribed Snowmobile Trail to display a valid Ontario Snowmobile Trail Permit.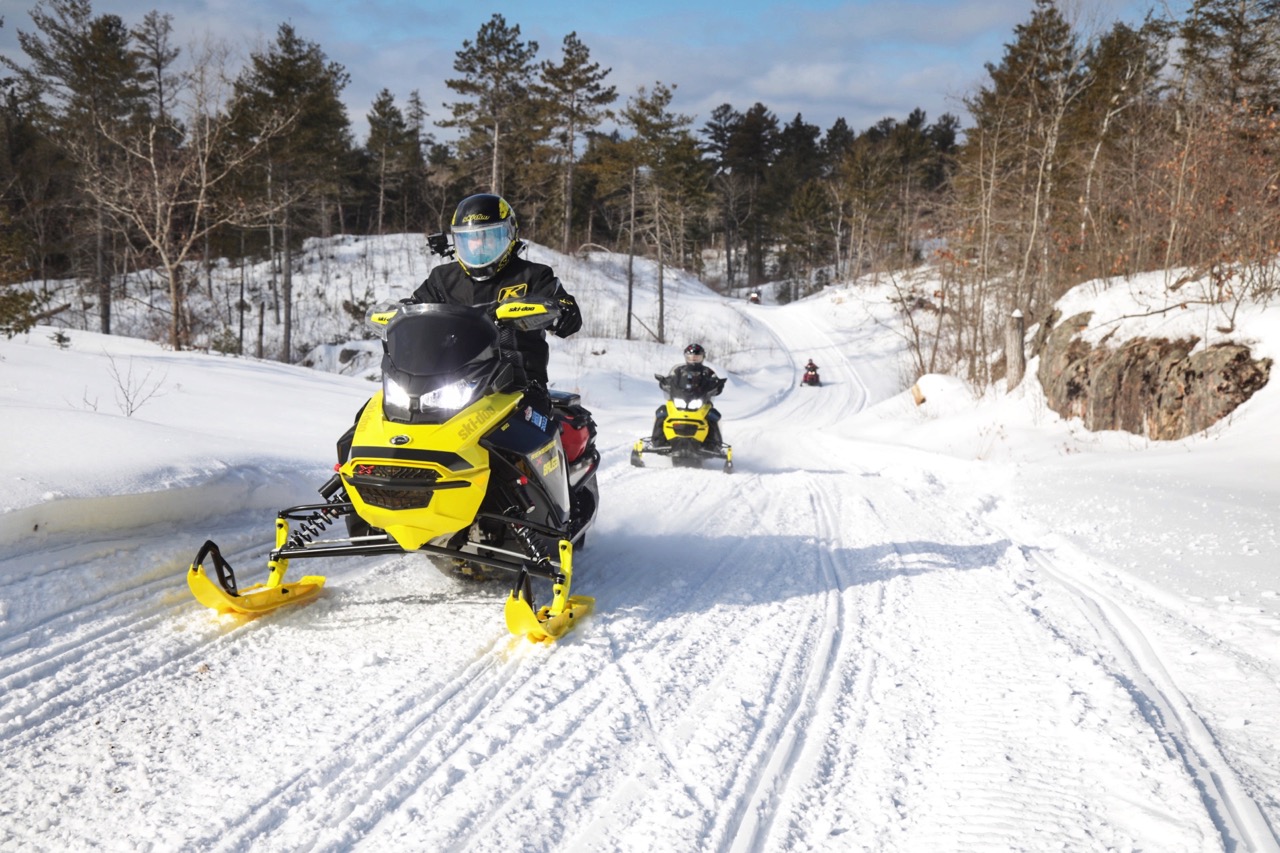 "The North Shore Loop is a fascinating place to ride for all skill levels. It offers a variety of terrain from long sweeping trails to long straight stretches with tons of fresh snow and a well manicured trail system. Breathe taking views from lakes, Rivers, streams, bridges and cliffs. Definitely a must for snowmobile enthusiast. Highly recommended." – Frank Mazzuca
March North Shore Loop Info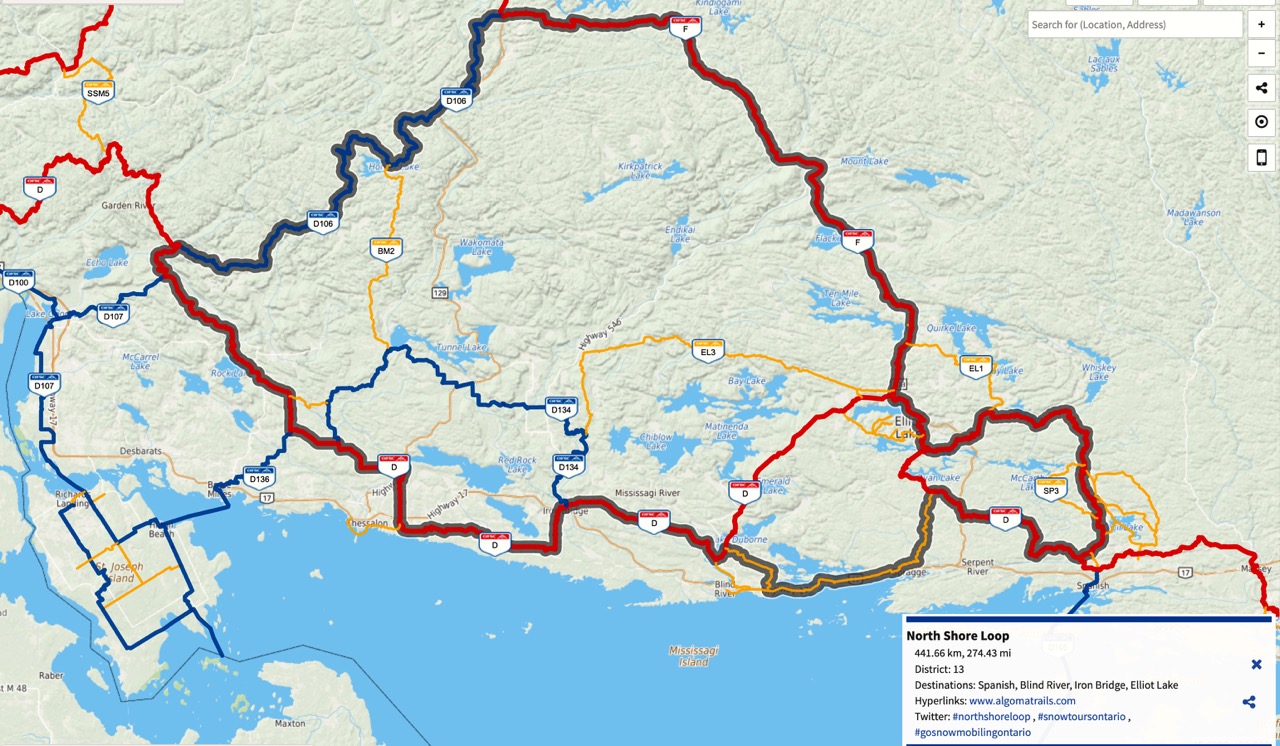 Where We Stayed On This Ride
I recommend both of these popular accommodations that are very snowmobile-friendly and favourites among North Shore loopers.
Dunlop Lake Lodge: This all-season family resort offers motel-style rooms in the main building with a home-style, on-site restaurant (closed Mondays) & bar plus good truck, trailer and sled parking. Nearest fuel is Elliot Lake. Located on Dunlop Lake about 15 km north of Elliot Lake, it's accessed by its own spur trail running west off TOP Trail F. Great staging location for riders starting from east side of North Shore Loop.
Fairfield Inn & Suites by Marriott:  Direct trail by local trail off TOP D130 that accesses their back parking lot which has plenty of space. This roadside hotel offers complimentary hot breakfast, exercise room, pool & whirlpool with restaurants & fuel nearby. Great staging location for riders starting from west side of North Shore Loop.
Who To Contact
Previously Recommended Lodgings
Both of these are neat places I've stayed on previous rides, especially for couples looking for something different. Advance reservations required.
Bruce Bay Cottages & Lighthouse: Located on islands connected by road to Bruce Mines and on the stake line to St Joseph Island, snowmobilers can stay in the original lighthouse (3 bedrooms) and relax in the Lighthouse Lounge overlooking Lake Huron. Restaurants are available in town less than a five-minute ride across the frozen bay.
Lake Lauzon Resort: Located right on Highway 17 just east of Algoma Mills, this homey Bed & Breakfast has four bedrooms in the cozy main building, a winterized cottage, and parking lot with ample room for trucks and trailers. Home-cooked meals are scrumptious (breakfast included, dinner by request at additional cost). Club Trail BR4 of the North Shore Loop runs right through the property.
Like This Post? Follow Me on Facebook
Check out more snowmobile tours!
The tips and advice in this blog are the opinions of the author, may not work in every situation and are intended only for the convenience and interest of the reader, who has the personal responsibility to confirm the validity, accuracy and relevancy of this information prior to putting it to their own use.