Why American Snowmobilers Visit Ontario…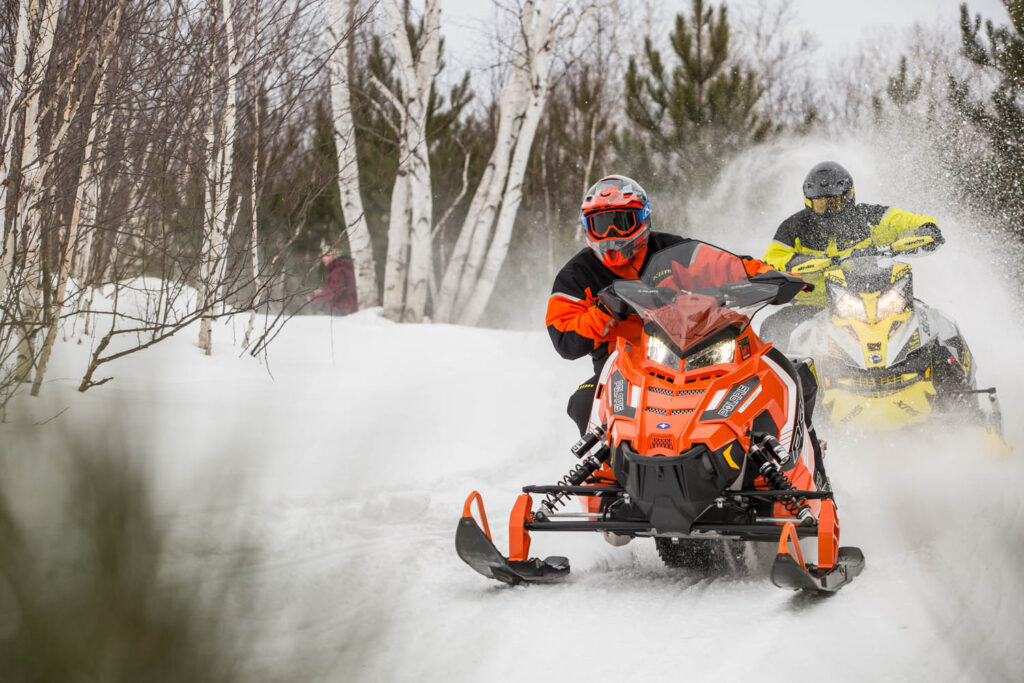 American snowmobilers visit Ontario, Canada after imagining snowmobiling along trails so wide and smooth, they take your breath away. Picture cruising your snow machine for countless miles on such wide, seamless trails in snow conditions that just get better and better. Then envision a snowmobile tour that's so out of this world your buds at home won't believe it. It's like starring in your own snowmobile video. Or being featured in your own snowmobile magazine. If you've always wanted the ride of your dreams, now's the time to do it. And Ontario is the place…
No snow machine bucket list can be complete without snowmobiling in Ontario, Canada. I'd even go so far as to say that any American snowmobiler who hasn't tried an Ontario snowmobile tour is missing the ride of a lifetime. I know, I know…every snow machine destination hypes itself as the ultimate snowmobile experience. And there are many good ones. Just as there are plenty of exceptional reasons why American snowmobilers should try Ontario for that special snowmobile vacation or simply to experience someplace new and different for a change.
American Snowmobilers Visit Ontario To…
Save $$$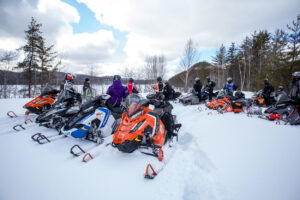 First off, Ontario is a hell of a deal right now. The U.S. dollar is still worth than the Canadian dollar. For American snowmobilers, this means that every U.S. dollar spent in Ontario buys more. That's like getting an across the board discount on everything you purchase here. And yes, all your major credit cards are honoured here in Ontario, where we speak English just like you do, eh.
Enjoy Easy Border Crossing
Secondly, getting back and forth across the international border is a simple and straightforward process if you're properly prepared. For identification, adults need a U.S. passport and kids need birth certificates. You'll also need your driver's license, plus registration and proof of insurance for your tow vehicle. The same for your trailer. Snow machine owners need registration and proof of insurance including third party liability coverage. It helps when entering Ontario if you have a specific destination and snowmobile tour in mind (maybe even an advance reservation) and know how long you intend to stay. Check this site for border crossing locations and info.
Experience Less Traffic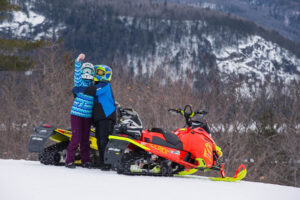 The first thing you'll notice on your Ontario snowmobile tour is way less traffic. Canada's population is only about 10% that of the United States. So it's a lot less crowded here, especially on our best snowmobile trails. Stateside, the main trail riding destinations are in the northern snowbelt states. Every American who wants to go snowmobiling heads there. So heavy traffic is no surprise with so many riders packed into a relatively small area, particularly on weekends. Here in Ontario, we have a huge province with great snow conditions. And nowhere near as many people to ride it. So it's rare to see trails as congested here. And less traffic means our trails stay smooth longer and aren't as difficult to restore to tabletop smooth. Less traffic also means no long waits for fuel, food or service on your Ontario snowmobile tour.
Discover Easy Navigation
The next thing you'll notice on your Ontario snowmobile tour is little repetition. With almost 20,000 miles of world class groomed trails, you'll never have to ride the same one twice. In fact, you can return to Ontario many times and always try someplace new if you choose. Why? Because Ontario is 1.5 times larger than Texas. Our best snowmobile trails are well maintained, marked and mapped. So you don't need to worry about getting lost. They're also routed from community to community, so there's always a welcoming destination ahead.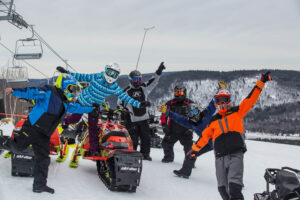 In addition to plentiful trail signage and staking, we also offer you a variety of tools to ensure trouble-free navigation on your Ontario snowmobile tour. Ontario has paper trail maps (1 provincial and 16 regional). We provide an online Interactive Trail Guide with frequently update status reports. Plus there's downloadable GPS TrakMaps and an iSnowmobile Mobile App for viewing trails on your smart phone as you ride. You can also get helpful planning info by searching with these key words Ontario Snowmobiling, Canada's Great Outdoors or Intrepid Snowmobiler.
Ride 35 Snow Tours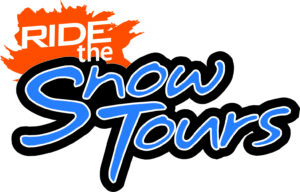 When coming to Ontario, you can explore your way through some part of our well established trail system. Or choose to ride one or more of our 35 worry-free Snow Tours. These self-guided rides are mostly loops clearly identified on the Provincial Trail Guide and participating regional maps. The Ontario Federation of Snowmobile Clubs also displays them on its website. The snow tours are turnkey, pre-packaged rides of varying distances. Each is signed with its own name and routed past easily accessible services, including fuel, restaurants and lodgings. There's no easier way for first time visitors to discover Ontario snowmobiling.
See Great Scenery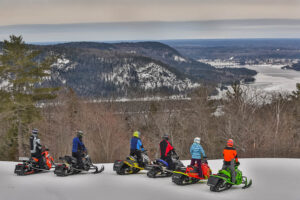 Snowmobiling Ontario is all about fabulous scenery and diversity. With so much empty land and so few people, our best snowmobile trails wind through old growth forests, beautiful river valleys, rolling farm country, picturesque lake lands, wilderness backwoods and the rugged Canadian Shield. There's always something special to see. New adventures to be had. But no matter where you ride, you'll always find snowmobile-friendly communities, English-speaking services and hospitable people to welcome you. Because after all, this is the Great White North and we know how to do winter!
Get 55% Cheaper Trail Permits
Yes, you will need a snowmobile trail permit to ride in Ontario. But we've even made that easy. First, you can buy one online before you leave home (ofsc.on.ca). Second, your U.S. dollars buy it cheaper, especially compared to a Quebec permit at $385! Or you can buy a multi-day permit for just $18.75 (US) – $25 (CDN) – with a two-day minimum. Compare to Quebec at $60/day. What's more, anytime after December 1 you can upgrade from a multi-day to a Seasonal Permit and get its price reduced by what you've already paid for your multi-day permit.
Try Our Trails Weekend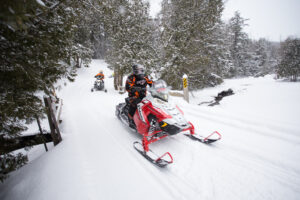 But Ontario deals don't end there…how about riding here at no cost for your trail permit! That's right, we're inviting you to Try Our Trails for two days only at no charge the first weekend of February. All you have to do is go online to register, print out your no cost Try Our Trails Permit and then affix it to your windshield.
… And American Snowmobilers Visit Ontario To Get On The Snow Quicker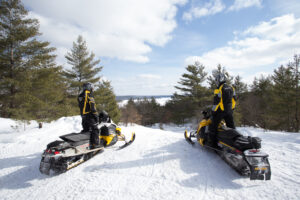 Hopefully I've got your mouth watering to try Ontario by now. And here's another important consideration if you live in a state that's close to Ontario. You can be on the snow here in no time at all. Your major highways connect directly to Ontario highways at the various border crossings (from Minnesota – Baudette, International Falls, Grand Portage; from Michigan – Sault Ste Marie, Detroit, Port Huron; New York – Buffalo, Niagara Falls, Lewiston, 1000 Islands, Ogdensburg, Massena). And you can hit our best snowmobile trails only an hour or so after crossing into Ontario. Minimal highway traffic to get here. Fewer miles to travel. Less snowmobile traffic when you arrive – what's not to like, eh?
So whether you're a casual snowmobiler looking for a special memory or a been-there-done-that rider looking to one-up your buds, look no farther than Ontario, Canada. We've made it more accessible, affordable and easier for you to come visit us for an Ontario snowmobile tour. So give Ontario a try this winter for your snowmobile vacation and snowmobile tour. And win your bragging rights to some of the best snowmobiling in Canada!
Ontario Snowmobile Tour Contact Information
OFSC Interactive Trail Guide
Border Crossings (from Minnesota east to New York)
Grand Portage, MN
Detroit, MI (Tunnel)
Detroit, MI (Ambassador Bridge)
Port Huron, MI
Buffalo, NY (Peace Bridge)
Niagara Falls, NY (Rainbow Bridge)
Niagara Falls, NY (Whirlpool Rapids Bridge)
Lewiston, NY (Lewiston-Queenston Bridge)
Alexandria Bay, NY (Thousand Islands Bridge)
Ogdensburg, NY (Ogdensburg-Prescott International Bridge)
Massena, NY (Seaway Bridge)
Like This Post? Follow Me on Facebook!
The tips and advice in this blog are the opinions of the author, may not work in every situation and are intended only for the convenience and interest of the reader, who has the personal responsibility to confirm the validity, accuracy and relevancy of this information prior to putting it to their own use.