Choosing Snowmobiling Glasses Needs Special Attention…
---
---
It took me a long time to figure out choosing snowmobiling glasses for snowmobile tours and snowmobile vacations. I've worn prescription glasses as long as I can remember. They're as integral to my persona as the hair on my head, most of which is still there. Normally, my eyeglasses don't get much of my attention – except when I've had to give them special consideration.
I've never been partial to contacts, so playing hockey, football and squash each presented the twin challenges of being able to see properly while wearing frames that were safe if hit, bashed or stomped on. And I'm not alone, so check out this Snowmobiler TV video clip and read the following article if you wear eyeglasses while snowmobiling or know someone who does…
Get Expert Assistance
Did you know that about 75% of North Americans use some form of corrective lens? 30% of these are near-sighted (need help with seeing distances, like I do) and 64% of us wear prescription eyeglasses. That's almost 50 million people who need glasses for driving. Those of us who are snowmobilers also need them while operating our sleds. So choosing snowmobiling glasses properly is very important for snowmobile tours
Typically, most of us wear the same pair of prescription glasses for everything. We've bought whatever frame was stylish (or not) at the time and wear it as we get on with our lives. Unfortunately, as with other sports, my everyday glasses don't work that well for snowmobiling. So I asked my local eye expert for assistance to address a number of winter eye wear challenges while choosing snowmobiling glasses.
Get Sturdier Frames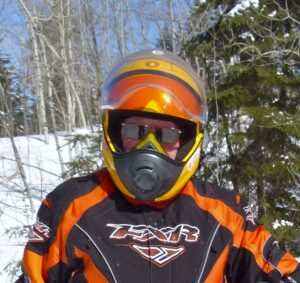 First, as any worker familiar with safety glasses knows, abnormal conditions and usage demand sturdier frames. Those designer frames that make me look so jazzy aren't likely to take kindly to being crammed into a helmet, manhandled by snowmobile gloves, roughed up during trailside lens cleaning, and being dropped more often than usual.
Now factor in the cold. Like the skin on my face, which can get rough, chapped and burnt while sledding, my eyeglasses are subject to frequent and prolonged temperature extremes. Freezing when my helmet's off or visor's up; less cold when I'm riding with the helmet sealed shut; and warmed to room temperature when I go inside.
My eye guy confirmed what I already suspected: many metal frames expand and contract more with temperature variables. That's probably why I've had more hinge screws loosen up or lens actually fall out during a winter's riding with metal frames than during any other time or activity. My guy recommended choosing snowmobiling glasses with composite frames to reduce susceptibility to cold.
Reduce Lens Fogging
Then there's the annoyance of fogging up. Hot breath contacting cold lenses causes fogging. The colder it is outside, the more fogging happens. So my first remedy is wearing an effective breath deflector that fits tight to my face like a No Fog™ Mask or the dial-in integrated mask of my Ski Doo BV2S helmet.
But my real secret to avoid fogging, even with these excellent devices, is to make sure the bridge of my eyeglasses sits outside the top of the nose piece of whatever face mask I'm wearing. If the bridge of my eyeglasses is positioned inside my mask, the hot air expelled when I breathe out will hit the lenses and my vision will be toast.
Do Proper Measurements
To achieve the optimum and most comfortable positioning of the bridge of my eyeglasses outside of my breath deflector, I need a wider bridge (The bridge size for my sledding frames is 24 mm.) and longer arms (My temple size is 145 mm.) than my everyday glasses have – and that's a great reason to visit your eyeglass store for a pair of glasses customized for snowmobiling.
An equally important reason is that larger measurements for my sledding glasses will affect other measurements such as eye size and vertical size. Basically, where my glasses sit on my face determines the position of the focal point of my lenses relative to my eyes. If this positioning is not correct, I won't be able to see optimally (same goes for progressive lenses).
My snowmobiling glasses won't fit my face properly without my face mask in place; my everyday glasses won't fit my face mask properly since they're fitted for my actual face. That's why I took my helmet and face mask when I went to an expert – to get fitted for new glasses with these on.
Check Out Lens Options
While I was there choosing snowmobiling glasses, I asked about available treatments for my new unbreakable lenses – anti-reflective to reduce glare from lights at night; polarized to reduce sun glare during the day; Transitions to change darker or lighter depending on the amount of light; and a special scratch coating to better survive my rough handling.
Finally, there's one more benefit from having a customized pair of glasses for snowmobling. My everyday glasses now serve as my back up pair whenever I ride. I wear my everyday pair at night and when I stop for lunch.
Which brings me to my last anti-fogging tip: I never wear my snowmobiling glasses when I go inside a gas station or restaurant during a ride. They stay outside on my sled, so the lenses remain cold. That way, when I put the glasses back on, there's less fogging and I'm ready to ride! Now if I could only figure out which direction to go…
The tips and advice in this blog are the opinions of the author, may not work in every situation and are intended only for the convenience and interest of the reader, who has the personal responsibility to confirm the validity, accuracy and relevancy of this information prior to putting it to their own use.