Everything Novices Need to Know To Get Started…
---
---
What's Contained in Snowmobile Beginners Tips
Snowmobile beginners tips on what to buy, wear & carry, plus many valuable how-to trail riding pointers and suggestions, with expert touring advice for novice riders by Craig Nicholson including…
Selecting Your Style of Snowmobile
Shopping For New & Used Sleds
Fine Tuning Your Sled for Best Ride
Insuring Your Snowmobile
Choosing The Right Jacket, Helmet & Boots
Buying & Operating A Snowmobile Trailer
Getting Home Safe After Every Ride
Reviewing Your Riding Options
Riding With Kids & Couples
and much more!
Why do we need snowmobile beginners tips? Because so many new and returning riders are hitting the trails this winter and need to learn the ropes as quickly as possible. So where does a novice go to get up to speed, so to speak?
These snowmobile beginners tips are a one-stop shop for everything the uninitiated and inexperienced need to know about real world trail riding. Also, they are a great resource for riders returning to the trails after taking some years off from snowmobiling. Or to assist experienced riders in helping to take a friend snowmobiling. Maybe start by learning the lingo.
Snowmobile Beginners Tips – #1. Sled Choices
What To Ride
The first of my snowmobile beginners tips that new snowmobilers need think about is what sled to ride. Often, that means looking for a good used one that won't break the bank. But first, it's important to consider what style of sled will work best for you.
The four brands to choose from are Arctic Cat, Polaris, Ski Doo and Yamaha. Each of these has many different styles and models of machines purpose-built for specific riding styles and preferences. So whether you're buying used or new, think carefully about your own needs before shopping. Especially if you're planning on doing a lot of riding double with a passenger.
Other Decisions
But your decisions don't end there. When you do decide on a snowmobile that's right for you, how it's set up can make or break your riding enjoyment. And that's where fine-tuning your purchase to suit you is crucial. At the same time, make sure you get the right windshield, one that will keep you as comfortable as possible in all weather conditions. And don't forget to carefully read your sled owner's manual to familiarize yourself with its operation and features
One other often overlooked factor is how easy it is to carry your necessities on board your sled. In my opinion, by far the best solution for this is the LinQ System. Invented and available from Ski-Doo, this versatile line of storage gear is also adaptable to a variety of late model sleds from other brands.
Getting Legal
Finally, you need to attend to the legalities of riding a snowmobile. Depending on where you live, this may vary. But here in Ontario (and most other places) you are required to register and licence your sled through a government agency. (In Ontario, it's the Ministry of Transportation (MTO). Also, you typically have to insure it and buy a snowmobile trail permit for riding organized trails. Proof of all this must either be displayed on your snowmobile or carried with you.
#2. Riding Products
Choosing Your Outerwear
Many neophytes mistakenly think they can get away with whatever winter clothing they may already have on hand. Meanwhile, those returning after a long hiatus may think their old gear (if it still fits) will do the job. But in either case, these new riders will quickly learn that investing in good and proper snowmobile outwear can also make or break your riding enjoyment. And by the way, for the sake of other riders I recommend avoiding black jackets and helmets. Meanwhile, don't forget that your necessary outerwear includes the right helmet and warm boots. And that keeping your hands comfy is also essential.
Other Comfort Decisions
Buying the good quality outwear is one of my snowmobile beginners tips for staying comfortable on cold days. But don't overlook what goes underneath. Outdoor experts say that layering is essential to both warmth and comfort, so your underlayers are also very important. Meanwhile, if you wear glasses like I do, you may want to check out my tips for choosing eyewear for snowmobiling. And for your consideration in my snowmobile beginners tips, I've also included my list of gamechanger products that really work for me. Plus, check out my take on how to keep your digital devices working in the cold.
Snowmobile Beginners Tips – #3. Snowmobile Trailer
Unless you live are fortunate enough to live in a major snowbelt with snowmobile trails nearby, you're also going to need a snowmobile trailer. Plus, you're likely to want to visit other destinations anyways. Meanwhile, the rest of us of need to trailer where the snow is for all of our trail riding. But the first question is: do you have a vehicle capable of towing a loaded trailer?
If so, and after learning the many good reasons for owning a snowmobile trailer , it's time to buy one that works for you.
While you're in a trailer headspace, it's a good time to find out the best snowmobile trailering tips. Also, what's involved with trailer maintenance plus, to be aware of the dangers of snow overload on your trailer roof. These snowmobile beginners tips will help get you there and back hassle-free.
#4. Riding Safe
Typically, no one gets excited about snowmobile safety. At least not until after it's too late. So I strongly urge greenhorns to pay special attention to this section of snowmobile beginners tips. And it also wouldn't hurt experienced riders to take a quick refresher. You can start with the free Safe Riders Course on the OFSC website.
Arguably the safest snowmobilers in the world are the racers and cross country experts who ride competitively. So why not take a page from their songbook and starting to think like a pro when it comes to trail riding. You can also make some very simple choices to reduce your own riding risks. Also, consider wearing a TekVest. And from the outset, get real about snowmobiling on ice. It's also a good idea to learn how to avoid visor fogging that can impair your riding vision.
Occasionally, despite best efforts, things go wrong on the trail. That's when the emergency gear you carry can save your life. So learn how to ride prepared for anything. For me that includes one small item that, if worst comes to worst, can help first responders save your life.
Snowmobile Beginners Tips – #5. Riding Advice
Pick Your Ride
Now it's time to start thinking about going for a snowmobile ride. But before you do, here are some other snowmobile beginners tips to consider. First, what kind of ride do you want to do? There's a range of choices to consider, so find one that best suits your needs. If you do decide to go on a multi-day tour with overnight stays, one good first option is a guided tour.
Riding Companions
Meanwhile, if you're a female or will be riding with one, you might want to check out my wife's advice about women snowmobiling. All too often in our experience, guys make all the arrangements related to snowmobiling without giving these tips enough consideration.
And what about riding with your kids? Or going on a couples ride? Each of these riding variations deserves some special attention up front. And regardless of your choices, it's always a good idea to double-check your ride preparations. Also, to get a quick preview of how trail signage works.
Going On A Ride
During your ride, you'll encounter many different scenarios. Among the most common are filling up your sled with fuel and riding on pavement. Another is the possibility of meeting a trail groomer at work and what to do about it. I've even had difficulty from time to time finding a town on the trail ahead!
Meanwhile, if you've decided on an overnight ride, it's a good idea to know what makes a snowmobile-friendly place to stay. But maybe you're thinking of trailering to one area and staying at the same place for several nights. If so, here's some advice for what makes a good staging hotel.
#6. Resources & Contacts
Newbies and returnees have access to online resources to assist in gaining knowledge and experience. Of course, if you've read thus far into my snowmobile beginners tips, you are now more familiar with my Intrepid Snowmobile website. To learn what you need to know about finding your way around OFSC trails, check out my Navigation 101 and Guide to Trail Signs articles.
You'll also find articles about self-guided rides and tours you can do. You can check out some of my favourite destinations, lodgings and restaurants. Plus, I've posted many other riding, planning and equipment tips and products reviews that should be helpful.
Meanwhile, you may want to learn some of the basics from another trusted source. The Ontario Federation of Snowmobile Clubs provides its online Interactive Trail Guide and other navigation tools. It also offers an online Driver Training course. It's worth checking out from the comfort of home.
You will also discover good information about organized snowmobiling in Ontario and Quebec. Or on their respective tourism sites, Destination Ontario and Snowmobile in Quebec. And you can visit other snowmobile associations through the Canadian Council of Snowmobile Organizations' website.
Another good resource for all thing snowmobiling is the online home of Supertax Magazine and Snowtrax Television. In Ontario, you can also interact with other riders by joining any of these snowmobile groups:
And don't forget the websites for the four snowmobile manufacturers mentioned under the Sled Choices section above.
My Last Word About Snowmobile Beginners Tips
Here's one key lesson I've taken to heart during many years of snowmobiling. It's that you learn something new on every ride. But at the outset, there's so much to learn, to assimilate and to remember that you want to do as much as possible of it before your first ride. After all, the last thing you need is to be distracted, frustrated or confused on the trails.
So start off by going at your own pace and not exceeding your comfort zone. Don't let peer pressure or trying to keep up with more experienced riders take over. Ease into it gradually and always remain in control of your own experience. Remember, snowmobile trail riding is supposed to be enjoyable, fun, comfortable and safe. So take your time and find out what works best for you. That way, you'll develop the confidence, attitude, ability and skills to make you a good rider to share the trails with.
Last but not least, always stay on the marked OFSC trail. Wandering off trail is socially unacceptable in the snowmobiling community. So take the pledge to follow the Code of Conduct for riding trails on private property – and ride safe!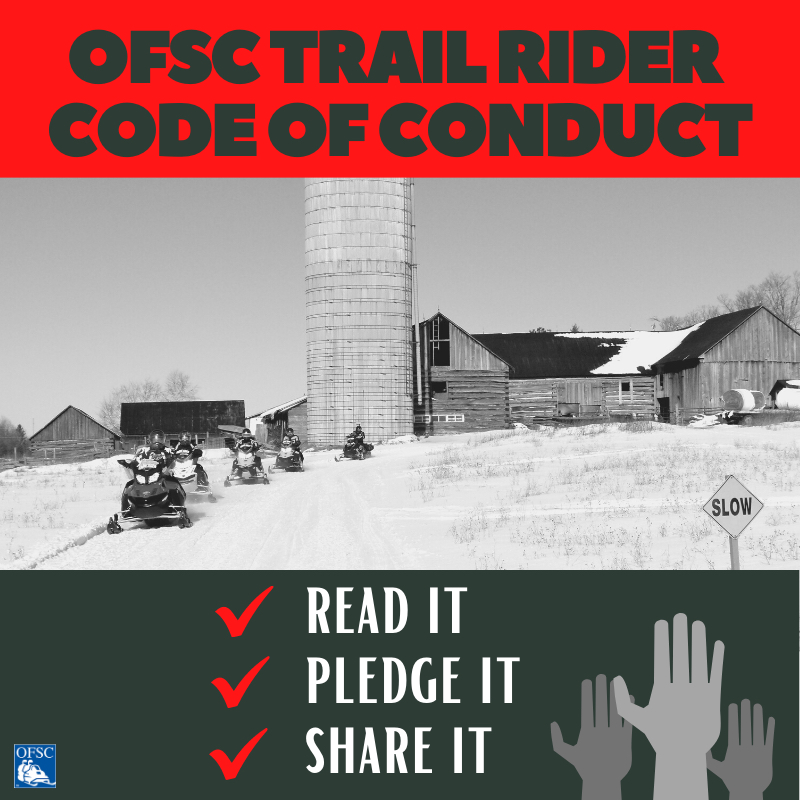 The tips and advice in this blog are the opinions of the author, may not work in every situation and are intended only for the convenience and interest of the reader, who has the personal responsibility to confirm the validity, accuracy and relevancy of this information prior to putting it to their own use.