All The Info Needed For Staging From Cochrane…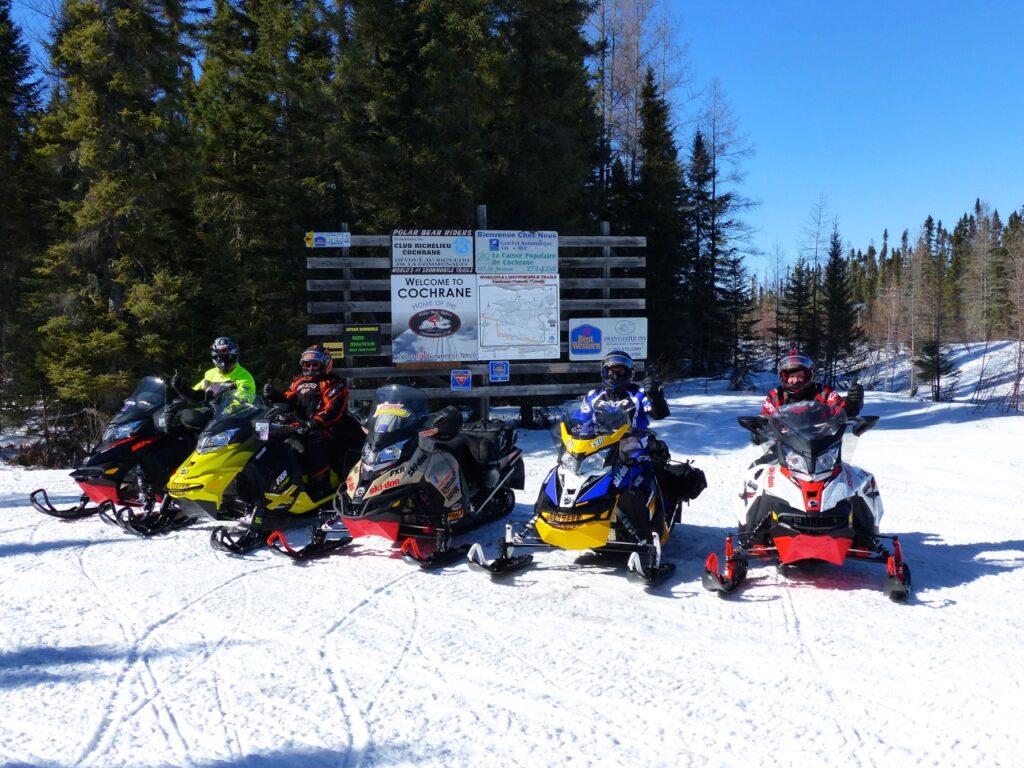 ---
---
Cochrane is an instantly recognizable name in snowmobiling. So why not getaway sometime this winter and give it a try? You can do multiple day rides, staying in the same hotel every night to avoid saddlebagging if you want.
Cochrane Ontario Snowmobiling Staging Location
The Town of Cochrane (population just over 5,000) is positioned due north from Toronto on Highway 11. It's about a 4-hour drive from North Bay and 7 to 8 hours from the GTA on good highways all the way. What's more, Cochrane is big enough to have all the services and amenities you need. But small enough that it's friendly and easy to get around.
Why Cochrane Ontario Snowmobiling
Cochrane has lived up to its reputation for delivering "The World's #1 Snowmobile Trails" for decades. Meanwhile, this Francophone community has established itself as the gateway community to OFSC District 15's Northern Corridor Adventure and several OFSC promoted Snow Tours.
Cochrane offers plenty of snowmobile-friendly lodgings and eating choices. That's one good reason the town is also right up there on the short list of Ontario's most reliable snow destinations. Another is that it's riding season usually stretches from December to April. So if you're looking for the best snowmobiling Ontario has to offer, Cochrane is as good as it gets. This status is in large part thanks to the yeoman's work done by the Polar Bear Riders Snowmobile Club.
What's more, the Polar Bear Riders have also been busy transforming Cochrane into a good family riding destination. Now a series of local loops are perfect for casual family outings. And there's enough to see in town to keep anyone who isn't into riding their brains out everyday happy too (see below). Next up for Cochrane, adding more backcountry riding places like Abitibi Canyon for those who like to play in the powder!
Cochrane Ontario Snowmobiling Services
Staging Hotels
Snowmobile Dealers & Services
Be Sure to See
Cochrane Ontario Snowmobiling Day Rides
Cochrane Ontario Snowmobiling Saddlebag Rides
Cochrane is also a favourite launching point for a saddlebag tour across the Northern Corridor as TOP Trail A is called in the district. With many loops and local trails to explore along the way, it's easy to spend several days on the trails before returning to Cochrane.
Ontario law requires a snowmobile entering an OFSC Prescribed Snowmobile Trail to display a valid Ontario Snowmobile Trail Permit.
Cochrane Ontario Snowmobiling Info Contacts
Like This Post? Follow Me on Facebook
Check out more snowmobile tours!
The tips and advice in this blog are the opinions of the author, may not work in every situation and are intended only for the convenience and interest of the reader, who has the personal responsibility to confirm the validity, accuracy and relevancy of this information prior to putting it to their own use.