Discover What Good Suspension Can Do For You… 
---
---
Elka Suspension Guru Accelerated Technologies is what every snowmobiler should have. Why? Because suspension is a mystery to most of us. It's something unexplained that takes place underneath your sled. But mostly remains out of sight and out of mind.
Big mistake, because suspension can make or break your ride – and your back. If you've ever hated a sled, chances are its suspension wasn't working properly for you. Dialling a suspension in for your weight, height and riding style makes a huge difference. And that's why I visited John Sharrard, owner and resident suspension expert at Accelerated Technologies. It's located near Buckhorn, in Ontario's Kawartha Lakes region.
STV Interviews Elka Suspension Guru John Sharrard
The holiday season provided an incredible opportunity to get some invaluable one-on-one face time with John. So I also asked Marty Convery, then producer of the popular Snowmobiler Television (STV) show to come along with his video camera. Our mission was to have John walk us through the process of setting Ski-Doo's rMotion rear suspension  On both a GSX LE ACE 900 and on my Intrepid Snowmobiler Renegade Adrenalin ACE 900. And to capture it all on video for upcoming episodes of STV and in writing for next season's snowmobile magazine.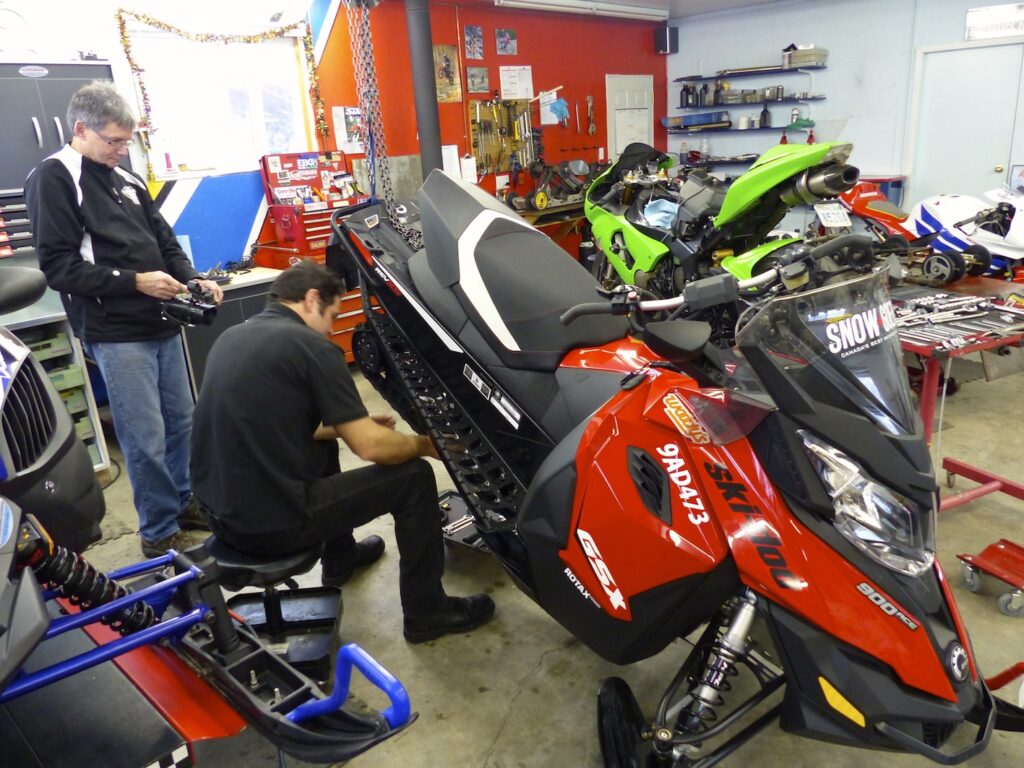 Wow! Does John Sharrard ever know his stuff. From racing and performance suspensions. Also, to customizing a special suspension for Kirk Hastings' sled for Cain's Quest in Labrador, John is the suspension guru.
From motorcycles to ATVs to every brand of snowmobile, John delivers a magic touch. And the unique ability to explain it all in layman's terms. All of which makes him the best suspension resource person for a touring rider like me. Someone that just wants the most comfortable ride possible. In every way and every day on the trail. After all, I'm no ditch banger!
Most Snowmobilers Will Benefit from a Elka Suspension Guru
After visiting Accelerated Technologies, I'm convinced. Most avid snowmobilers will benefit immensely from having John set up their sleds. Your dealer simply doesn't have the time. Or maybe even the expertise to do today's high tech suspensions total justice.
So maybe you want to get the absolute best from that expensive suspension under your new sled. Or are just looking to breathe new suspension life into an older sled so you can keep up with your buds. Either way you won't do any better than connecting with John and Accelerated Technologies as soon as possible.
Rider Testimonial
In closing, here's what new customers Denis & Susan had to say about their experience at Accelerated Technologies. "As per your advice my wife and I made arrangements to bring our sled to get them properly set up. I have to tell you that it was the best money I ever spent. Couldn't wait to have the trails open to test them out. Well let me tell you, after over 30 years of riding finally got my sled to ride like it's on rails, like a dream. Now for my wife. Her comfort level rose and so did handling of her Polaris 600 pro r. She rode with more confidence and more in control than before, being a new rider of a couple years. Her riding changed like night and day. So glad I had this done. No more skis lifting in corners. Or over handling the sled with skis lifting in the air when I gave it the juice."
The tips and advice in this blog are the opinions of the author, may not work in every situation and are intended only for the convenience and interest of the reader, who has the personal responsibility to confirm the validity, accuracy and relevancy of this information prior to putting it to their own use.