Explore Ontario RAN Tour in 3 Days of Snowmobiling…
---
---
Why snowmobile the Ontario RAN Tour? It seems snowmobilers are hard wired to ride in circles on Ontario snowmobile tours. We prefer to go around than directly there and back. We look for any excuse not to ride the same trails twice. So loop sledding is increasingly popular, especially on snowmobile vacations. That's why Ontario has almost 100 loops in various stages of conception, development and use.
It's also why our snowmobile magazine crew – Dan Carty, Frank Crocco, Jim Heintzman, Jim Reavell and I – had intended a loop ride westbound out of Sudbury (Rainbow Elk Loop) and into Algoma Country (North Shore Loop). As luck would have it for our chosen timeframe, Mother Nature hadn't cooperated yet with enough snow coverage throughout our intended Ontario snowmobile tour route, so we had to alter plans…
Fortunately, we didn't have to look far. As one of the gateway cities to Northeastern Ontario, Sudbury is also an ideal 360˚staging hub, located in the heart of Ontario Federation of Snowmobile Clubs' (OFSC) District 12. Can't go one direction? There are three others calling your name.
So we found alternative sledding options eastward, toward Northeastern Ontario's other gateway city, North Bay . But who wants to ride there and back, when Lake Nipissing is just sitting there, begging to be ridden around?
Our Snowmobile Ontario RAN Tour
In fact, snowmobilers have been doing just that for years on their Ontario snowmobile tours. One of Ontario's oldest loop rides is the Ride Around Nipissing (RAN) Tour. It's on OFSC snowmobile trails that circumnavigate that lake as designated by OFSC District 11 (also known as the Near North Trail Association). Its published distance of about 400 kilometres assumes a starting point along the designated route.
Typically, this is North Bay for visiting riders. But we wanted to rack up a few more kilometres than normal. So we did almost 750 over three days of sledding by staging out of Sudbury's Moonlight Inn & Suites.
We also deviated from the official RAN route here and there. We took advantage of the various trail options that provide snowmobilers with lots of good choices for sledding in District 11.
I should note that for this Ontario snowmobile tour, Martin Lortz, a professional photographer on assignment for Ontario Tourism, rode with us (his photos embellish this article). A part of our mission was to assist him in getting a variety of great sledding shots. That meant a lot more stopping, starting and shooting each day with us as his photo subjects.
This cut into the available riding time and daily distances totals we would normally do. We still managed to average 244 kilometres a day. But these trails are good enough that you can rack up considerably more if you choose. Especially if you luck out as we did and hit nothing but table top trails the whole way!
3 Great Days of Sledding To Snowmobile Ontario RAN Tour
Day One
We rode our Ontario snowmobile tour loop clockwise out of Sudbury. We joined the official RAN route on the north side of Lake Nipissing, from Field to North Bay. Kilometre for kilometre, these trails were the fastest on our ride. They included TOP Trail D (large section of rail trail) and TOP Trail A/D on a seemingly endless utility corridor with plenty of whoop-de-whoops.
Day Two
On our second day of sledding, we swung farther south because we were booked into Pine Grove Resort (Port Loring). This is only a short ride from North Bay if you follow the direct RAN route. Generally, the trails south of Lake Nipissing run through forest and bush (watch out for deer!) While decently wide and well groomed, these trails have more corners than straightaways. If you get a chance, try SSR 706 and NN 440, both with good sight lines on long straightaways where you can do some serious boogieing.
Day Three
On our last day, we snowmobiled through French River country at the west end of Lake Nipissing. We followed the RAN Tour from Port Loring to just east of St. Charles. Then we broke off the RAN, heading northwest back to Sudbury. Forest trails still predominated in the French River area. But some farmland also interspersed as we travelled north.
This day, we also crossed two of Ontario's largest and most impressive snowmobile bridges on TOP Trail C.  One is over the Pickerel River and one over the French River. Both are definitely awesome sights,  well worth visiting.
Snowmobile Ontario RAN Tour Tips
Whatever your route choice for sledding around Lake Nipissing on this Ontario snowmobile tour, plan your fuel stops carefully. Gas availability is sufficient. So fill up whenever you get the opportunity. Especially if you are adding distance to the RAN Tour by trying other trails along the way as we did. Better to stop for fuel more often than absolutely necessary than to be looking for it while running on fumes!
As it was for us, the RAN Tour is a self-guided Ontario snowmobile tour. We relied on a combination of the District 11 trail guide in hand and number signage on the trail. Thus, we were able to get around without much difficulty. Although there were several instances where the choice of which way to go was anyone's best guess.
The RAN Tour route is also marked sporadically with small signs bearing its logo. But not so we could find our way by RAN signs alone. We only had to bring out the GPS twice to verify exactly where we were. That being said, any experienced rider with a sense of direction should be able to complete the loop like we did.
Where's Lake Nipissing on Snowmobile Ontario RAN Tour?
But don't expect to see much of Lake Nipissing while riding the RAN. Like many other loops, the operative word is "around" not necessarily near, on or through.
To my knowledge, there are no lookouts or overviews of the lake from RAN trails. In fact, it's possible to ride the RAN without ever seeing Lake Nipissing.
If doing so is on your bucket list, then the best options are to ride SSR 703 west from the Clarion Resort Pinewood Park. This takes you along the stake line at the east end of the lake at the North Bay waterfront.
Alternatively, when ice conditions allow and the stakes are in, you can travel some of Lake Nipissing's west end via TOP D103. Other than that, the only way to know you're circling Lake Nipissing is to check your trail guide or GPS.
Snowmobile Ontario RAN Tour is in Northeastern Ontario
But the snowmobiling was good enough and varied enough on our Ontario snowmobile tour. So nobody missed seeing the lake. There's no doubt that the clubs of Districts 11 and 12 deliver a great trail product. They know a thing or two about keeping them well groomed. And anchored on either end by Sudbury and North Bay, this loop ride benefits from both major city amenities.
It's also easy trailering distances from the Greater Toronto Area and 401 Corridor by four-lane highways. Whichever city you decide to stage from, and whether you choose to do the official RAN Tour or our longer version, you won't be disappointed with your visit to Northeastern Ontario! Meanwhile, if you're interested in other Ontario snowmobile tour destinations, check out the rest of my Ontario ride articles.
Ontario law requires a snowmobile entering an OFSC Prescribed Snowmobile Trail to display a valid Ontario Snowmobile Trail Permit.
Snowmobile Ontario RAN Tour Info & Itinerary
Who To Contact
Maps Needed
OFSC District 11
OFSC District 12
Snowmobile Ontario RAN Tour Itinerary
DAY ONE
Trailer to Sudbury
Where We Stayed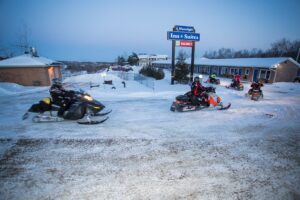 Moonlight Inn & Suites. This cozy and convenient roadside property is the ideal staging motel for snowmobilers who want to stay in town while riding Sudbury's three great loop tours or to stage for a saddlebag tour. Located on the east side right beside TOP Trail C109D (at Highway 17), the Moonlight Inn & Suites offers continental breakfast, free WIFI, fridges & microwaves, plus easy access to nearby restaurants. Plenty of parking for trucks and trailers. Sled parking in front of rooms. Closest fuel: Just east of motel – take TOP C/D east to STP 85 south.
DAY TWO
Snowmobile 225 km from Sudbury to North Bay via TOP C109D, TOP C/D, TOP D, TOP A/D, TOP D, SSR 710. Fuel: River Valley, Okimot Lodge (Tomiko Lake), North Bay.
Add about 15 kilometres by taking TOP A104D north off TOP D to Martin River, then TOP A south. Fuel: Martin River
Add about 20 kilometres more by taking TOP A102Q east from TOP A/D, then NB 308, NB 300 and TOP A112A back to TOP A/D. Fuel: Portage Restaurant.
Where We Stayed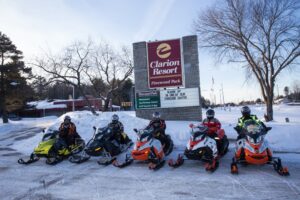 Clarion Resort Pinewood Park. Very popular with snowmobilers for tour staging, this full service hotel has an on site restaurant (breakfast, lunch and dinner), plus Bellows Bar, year-round outdoor heated pool, whirlpool, sauna & health spa with massage services. Computer available in lobby to check trail conditions. Ample parking for trucks & trailers. Secure sled parking in front of ground floor rooms. Direct trail access either via SSR 710 from TOP D or from Lake Nipissing stake line via SSR 703. Fuel & convenience store across the road.
DAY THREE
Snowmobile 200 km from North Bay to Port Loring via Powassan on SSR 710, TOP D, SSR 700, TOP C110D, SSR 706, NN 440, TOP C105D, AR 501. Fuel: Powassan, Port Loring.
Add about 40 kilometres by taking TOP D south thru either South River or Sundridge. Fuel: South River, Sundridge.
Where We Stayed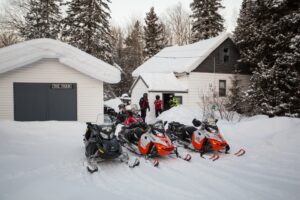 Pine Grove Resort. Located about 10 km west of Port Loring near the junction or AR 500 & AR 501, Pine Grove offers housekeeping lodging in either The Farm or The Chalet, each with common areas and multiple beds. Closest fuel, convenience store or restaurant is Port Loring.
DAY FOUR
Snowmobile 307 km from Port Loring to Sudbury via AR 500, TOP C105D, TOP C, TOP C106, TOP D104, TOP D, TOP C/D, TOP C109D. Fuel: Noelville, Warren, Sudbury.
Shorter route: Stay on TOP C after the bridges to ride directly to Sudbury.
Where We Stayed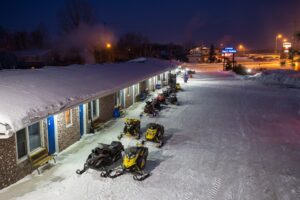 Moonlight Inn & Suites
DAY FIVE
Trailer home.
Check out more snowmobile tours!
The tips and advice in this blog are the opinions of the author, may not work in every situation and are intended only for the convenience and interest of the reader, who has the personal responsibility to confirm the validity, accuracy and relevancy of this information prior to putting it to their own use.