Ski Doo LinQ System Delivers Secure Storage… 
---
---
There's nothing like BRP's LinQ System for carrying your necessities and extra gear on your snowmobile tour or snowmobile vacation. And with LinQ's success on Ski Doo snowmobiles, this cargo system is expanding across the entire BRP line up of recreational vehicles.
In fact, all the latest LinQ product now carries the "LinQ" brand, not any particular vehicle brand name as it did been in the past. Most LinQ products also fit on late model Sea Doo watercraft that have the space and factory-installed brackets.
Why We Need Ski Doo LinQ System Bags
Once upon a time, I carried "everything but the kitchen sink" with me while snowmobiling. Like a pack rat, I found and filled every nook and cranny of unused space under my hood with emergency and survival gear, just in case. Then one day along came some Ski Doo engineer or designer, tasked with reducing sled weight and making snowmobiling more riding centric. And presto – no more space under my hood. In fact, on most of today's snowmobiles, there's hardly any place for the engine and its components. Much less room to actually do anything as simple as changing a spark plug!
So now I need to carry everything on the back, sides or handlebars of my Ski Doo snowmobile. I've tried various bags, packs, sacks and carryalls. Many fitted only precariously. Some also made me look like a bag lady (or is that gentleman) trundling around with a motorized shopping cart. Then along came the Ski Doo LinQ System…
How Ski Doo LinQ System Works
The Ski Doo LinQ System comprises two main elements. One is a variety of Linq containers and accessories. Each provides a standardized and sturdy base with a flange on one end and a fastening latch on the other. Two is the LinQ cargo base kit. These strong brackets attach on either side of the tunnel. They provide both a slot for the base flange and one for the fastening latch of any Ski Doo LinQ System container.
This latch is a simple lever that is double secured and protected by a durable rubber fastener. Placing LinQ cargo base brackets on all late-model and current Ski Doo snowmobiles is a no-brainer. They come with pre-drilled factory installation points. By the way, if you ride some other brand than Ski Doo, check out the LinQ System, because it may fit on your sled, too! In fact, this best-on-the-snow luggage system is available for all makes of snowmobiles thanks to a nifty adapter bracket from Up North Technologies.
Ski Doo LinQ System Containers & Accessories
The variety of Ski Doo LinQ System containers started with two premium tunnel bags (one small and one medium). It also includes a fuel caddy, all with carrying handles on top. Each bag is a semi-rigid design that holds it shape regardless of how much or little is inside. It opens with a two-way zipper built into expandable material fitted inside its rim. It's also covered by a lid that buckles shut. Short track sleds will take any one of these. Long trackers have space for any combination of two.
Since inception, Ski Doo has added side tunnel bags, a larger cargo box, cargo rack and various other bags. In addition, LinQ accessories now include a rock solid passenger seat, backrest, snowboard/ski rack and stackable fuel caddy and bag. And a host of new products for the Gen4 platform. I've never used the passenger seat myself. But riding companions swear it's the absolute best for quickly turning their touring snowmobiles into safe and secure family snow machines for an afternoon or weekend!
Ski Doo LinQ System Tested on Tour
I've really put the Ski Doo LinQ System through its paces during over 60,000 kilometres of touring. It's never let me down. Fastening each component into its brackets is fast and easy. So is taking them off. It's literally plug and play. And once locked into place, each component stays solidly attached and secure until the locking lever is released. This is accomplished easily, even while wearing a snowmobile glove. No more bungees, straps or cargo nets for me!
I do have a couple of observations after using the tunnel bags. One, as I have with every other saddlebag I've ever used, I put all contents in a plastic bag first. This makes extra certain nothing gets wet during the ride. And two, when a tunnel bag is full, I confirm that the strap is fastened before lifting it by the handle. Otherwise, all the weight is borne by the zipper, which is meant to close the bag, not support a load.
Even More to Come…
Now that I'm riding a 900 ACE engine, I don't need to carry extra fuel anymore. So my favourite LinQ System configuration is two medium tunnel bags, which carry a surprising amount of gear. But I'm looking forward to trying new LinQ products this season – and to what new LinQ innovations Ski-Doo has up its sleeve in years to come!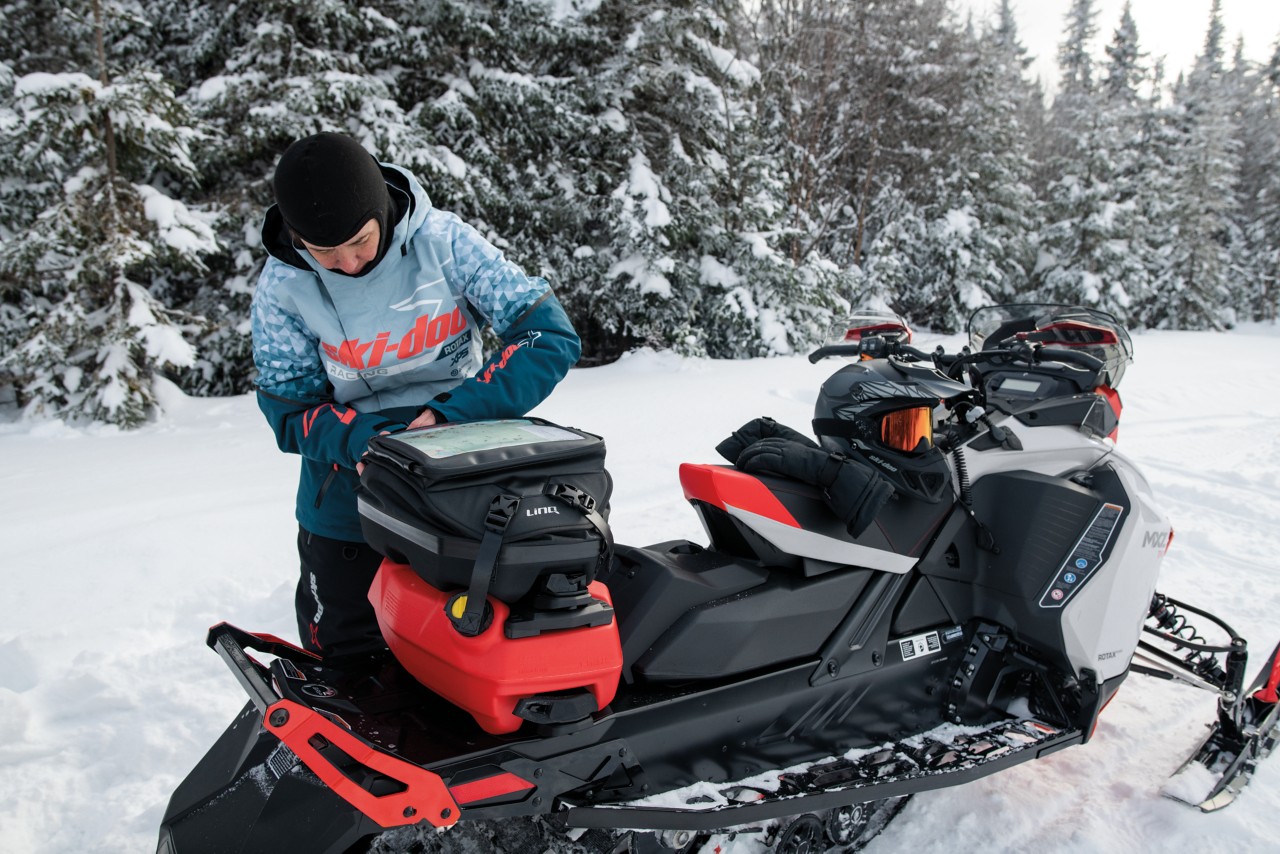 These include a locking system to prevent theft of your LinQ accessories, and the expandable Trail Pro Bag with watertight storage pictured above!
Check out more products reviews!
The tips and advice in this blog are the opinions of the author, may not work in every situation and are intended only for the convenience and interest of the reader, who has the personal responsibility to confirm the validity, accuracy and relevancy of this information prior to putting it to their own use.