3-Day Quebec Circle Tour Delivers Exceptional Snowmobiling…
---
---
Snowmobile Abitibi-Témiscamingue never disappoints. Riding its 3,500 kilometres of snowmobile trails is always a blast – smooth, wide, winding and scenic. So last winter, our Intrepid Snowmobiler crew returned to this top notch Quebec destination for a quick, three-day loop ride.
We've visited Abitibi-Témiscamingue many times before. Enjoyed saddlebag rides and day-tripped while staying at the same staging hotel each night. And adventured to the northern end of the FCMQ trail system on Regional Trail 396 to Matagami, explored Trans Quebec 83 to Clova on the region's east side, and toured via Trans Quebec 63 to its southern end at the Town of Témiscaming. In between, we've snowmobiled every trail in Abitibi-Témiscamingue over the years and loved every kilometre.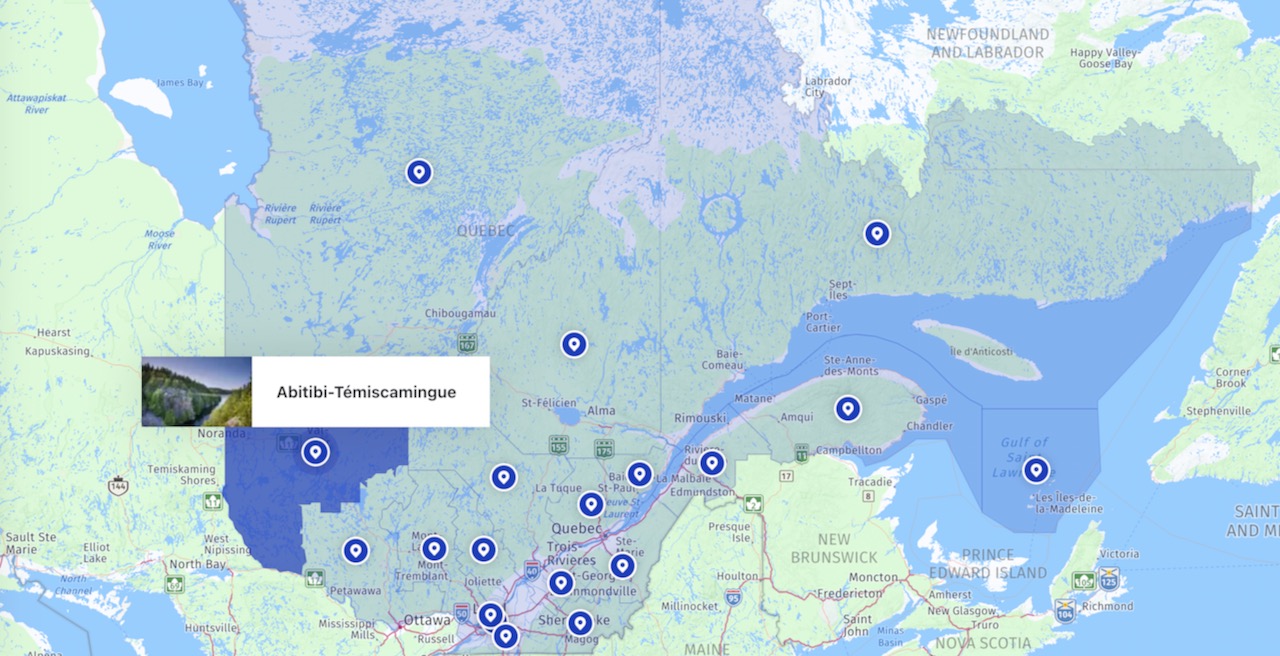 3 Ways Snowmobile Abitibi-Témiscamingue Is Unique
Abitibi-Témiscamingue is unique in several ways. First, as one of Quebec's most northerly tourism regions, it delivers a long, reliable, snowy winter. Also, an average annual snow depth of 222 centimetres and temps that stay consistently cold. So, visiting riders can typically find well-groomed trails there not only every day, but also for early and late season riding.
It's All About Geography
Second, being located in Quebec's northwest, Abitibi-Témiscamingue is surrounded on three sides (north, south and east) by vast swaths of remote wilderness, So, this wintery pocket of paradise sits apart from Quebec's other popular snowmobiling regions. It never seems to get the amount of traffic that can be often found on trails elsewhere. Even though the region is trail-connected to the rest of La Belle Province by Trans Quebec Trails 63, 83 & 93. Meanwhile, Abitibi-Témiscamingue's west side runs alongside the Quebec/Ontario border.
Now, check a map and you'll see it's positioned beside the Northeastern Ontario Region. Thus. it's approximately on line with North Bay at its south end and Cochrane to the north. This geography means that many snowmobilers outside of Quebec find it easier and faster to trailer to snowmobile Abitibi-Témiscamingue from Ontario. Rather than go through Quebec to get there. Plus, it's also closer to Ontario than most other Quebec snowmobiling regions.
Snowmobile-Friendly Towns
A third unique characteristic of Abitibi-Témiscamingue is that it's a resource-based oasis of civilization. An urbanized island surrounded by remote topography. This has many benefits for snowmobiling, including an existing network of forestry and mining roads ideal for snowmobile trails. Plus, plenty of winter-loving cities like the southwestern Rouyn Noranda (pop. 42,334), southeastern Val d'Or (pop. 31,862), northeastern Amos (pop.12,823) and northwestern La Sarre (pop. 12,823). These centres are among the largest within in western Quebec. And along with numerous smaller towns and villages, they are accessed and interconnected by a well-integrated network of Trans Quebec, Regional and Club snowmobile trails maintained by the region's11 snowmobile clubs.
Close To Ontario
Abitibi-Témiscamingue is also closer to Ontario than most other Quebec snowmobiling regions. For many Ontario snowmobilers (and others from outside of Quebec), it's easier and faster to trailer to snowmobile Abitibi-Témiscamingue from Ontario on main highways than it is go through Quebec to get there. For example, the drive from Toronto to Ville Marie is 500 kilometres, whereas from Montreal to Ville Maire is 660. Or, if you are riding in by snowmobile, you can pick up trail connections from Ontario into Abitibi-Témiscamingue as follows: near North Bay (via TOP A102Q & TQ 63 to Témiscaming); New Liskeard (via TOP A107Q & club trails to Notre-Dame-du-Nord); or Kirkland Lake (via TOP A110Q & TQ93) to Rouyn Noranda.
That's why Abitibi-Témiscamingue is an ideal go-to place for Ontario riders looking for a great riding experience without trailering forever to get there. Any snowmobilers towing from the Barrie area should arrive at our Ville-Marie staging location in about 4 hours, from Muskoka even less. Even our drive from Toronto was only a little over 5 hours. So, less than half a day's drive there and the same back – perfectly doable for a blitz-ride on a long weekend.
Our Snowmobile Abitibi-Témiscamingue  Loop
For this saddlebag tour, we opted for a three-day circle ride on Trans Quebec Trails around the Abitibi-Témiscamingue region. But for those who want to rack up more klicks over three days, no problem. There are plenty of regional and local options to include with our route. What's more, if you want to add another whole day, try the 413-km northern loop to Mattagami, a long but doable day ride if you're up to it.
On day one we trailered to Ville-Marie, where we rode northwest through Val-d'Or to overnight at Louvicourt on day two. Then on to La Sarre for our third day, finishing up 858 kilometres later back in Ville-Marie on our final ride day. FYI, we could have trailered home that night, but opted to stay over and depart next morning. To plan your own tour, check out my ride itinerary, including daily routing and ride maps. To learn more about where we stayed (all advertisers on Abitibi-Témiscamingue printed trail map) read on…
Where We Stayed To Snowmobile Abitibi-Témiscamingue
We chose this trail-accessible resort with on-site restaurant as our staging hotel for several reasons: Its southern location means a shorter drive to get there from Ontario; its private access road and secured compound provide safe truck and trailer parking; there's a heated sled garage available; and its variety of rustic yet luxurious cottages are great for socializing.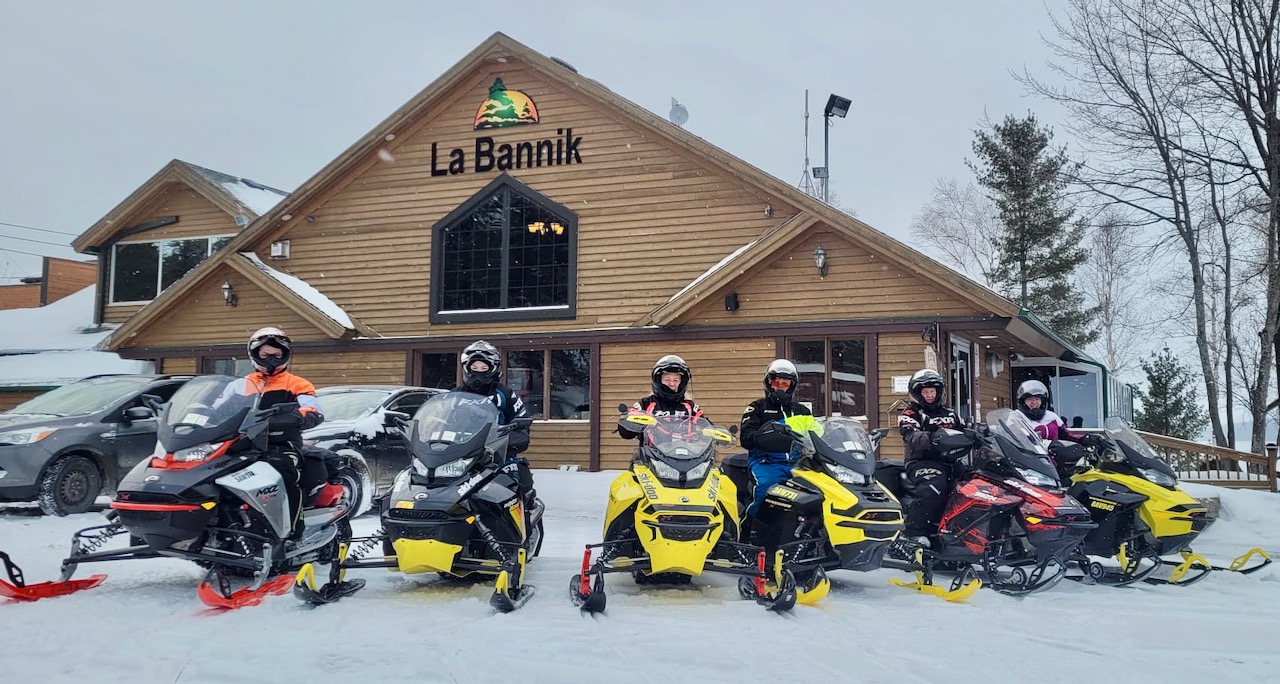 This family owned and operated roadside motel and restaurant is almost exactly halfway between Ville-Marie and La Sarre. Rooms are set back from the road with sled parking in front, and the place is right on the trail and beside a gas station. Staying here also provides quick entry at day's end and exit the next morning with no big city streets to cross or trail spot checks to deal with.
Upscale suite motel with parking in front of rooms or in heated garage. Its attached to a Boston Pizza that's also open for both dinner and breakfast. Access by local trail and snow-covered street (check access options on FCMQ Interactive Trail Map).
My Last Word
All of these unique factors combine to make Abitibi-Témiscamingue an outstanding snowmobile-friendly destination. Besides its primo snowmobile trails and reliably good signage, it also delivers an abundant variety of bi-lingual services, amenities and hospitality providers focused on catering to snowmobilers.Snowmobile Abitibi-Témiscamingue is one of Quebec's best kept secrets and a must-visit for Ontario snowmobilers looking for an outstanding trail riding experience close to home.
Important Notice: 2023 forest fires may have impacted some of the most northern trails in Abitibi-Témiscamingue: on the northeast side of the region – #851 Club De Moto-Neige de Lebel Sur Quévillon Inc (Lebel Sur Quévillon area) and #890 Club Moto Neige Lions de Senneterre (Senneterre area). To the northwest, #850 Club Motoneige Abitibi-Ouest Inc. (area north of La Sarre). All of these clubs are working hard to restore their trails quickly, but check the FCMQ Interactive Trail Map for latest updates.
Like This Post? Follow Me on Facebook
Check out more snowmobile tours!
The tips and advice in this blog are the opinions of the author, may not work in every situation and are intended only for the convenience and interest of the reader, who has the personal responsibility to confirm the validity, accuracy and relevancy of this information prior to putting it to their own use.