Snowmobile Bancroft Ontario For Great Snow Tours…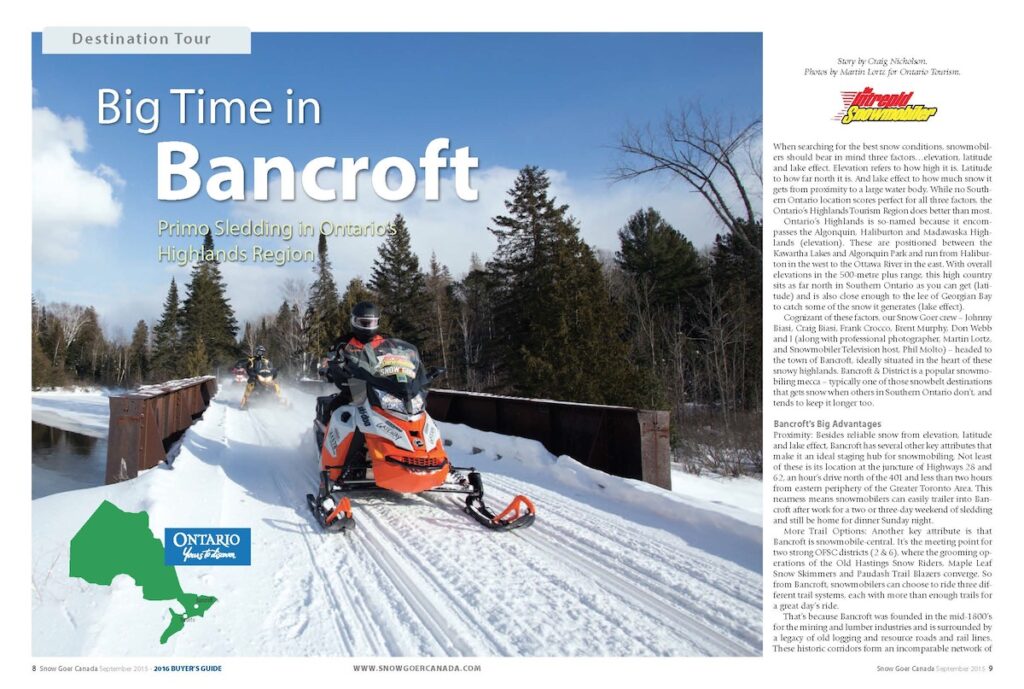 ---
---
What's involved to snowmobile Bancroft Ontario for your snowmobile tour or snowmobile vacation? Find out in this Ontario snowmobile tour article I wrote for Snow Goer Canada Magazine…
When searching for the best snow conditions for your Ontario snowmobile tour, snowmobilers should bear in mind three factors. They are elevation, latitude and lake effect. Elevation refers to how high it is. Latitude to how far north it is. And lake effect to how much snow it gets from proximity to a large water body. While no Southern Ontario location scores perfect for all three factors, the Ontario's Highlands Tourism Region does better than most.
Ontario's Highlands is so-named because it encompasses the Algonquin, Haliburton and Madawaska Highlands (elevation). These are positioned between the Kawartha Lakes and Algonquin Park and run from Haliburton in the west to the Ottawa River in the east. With overall elevations in the 500-metre plus range, this high country sits as far north in Southern Ontario as you can get (latitude). And is also close enough to the lee of Georgian Bay to catch some of the snow it generates (lake effect).
Cognizant of these factors, our magazine crew headed to the town of Bancroft, ideally situated in the heart of these snowy highlands. Bancroft & District is a popular snowmobiling mecca. Typically one of those snowbelt destinations that gets snow when others in Southern Ontario don't. And tends to keep it longer too.
Snowmobile Bancroft Ontario – Big Advantages
Proximity
Besides reliable snow from elevation, latitude and lake effect, snowmobile Bancroft Ontario has several other key attributes. They also make it an ideal staging hub for a great Ontario snowmobile tour. Not least of these is its location at the juncture of Highways 28 and 62. That's an hour's drive north of the 401 and less than two hours from eastern periphery of the Greater Toronto Area. This nearness means snowmobilers can easily trailer into Bancroft after work for a two or three-day weekend of sledding. And still be home for dinner Sunday night.
More Trail Options
Another key attribute is that Bancroft is snowmobile-central. It's the meeting point for two strong OFSC districts (District 2 & District 6). Here, the grooming operations of the Old Hastings Snow Riders, Maple Leaf Snow Skimmers and Paudash Trail Blazers converge. So from Bancroft, snowmobilers can choose to ride three different trail systems, each with more than enough trails for a great day's ride.
That's because Bancroft was founded in the mid-1800's for the mining and lumber industries. So it's surrounded by a legacy of old logging and resource roads and rail lines. These historic corridors form an incomparable network of excellent snowmobile trails each winter. In particular, the Hastings Heritage Trail is a 156-kilometre rail trail that runs north from Glen Ross to Lake St Peter. It enables easy snowmobile access to Bancroft and District trails.
Services & Amenities
Then there's Bancroft itself. What used to be a somewhat sleepy rural village nestled beside the York River has transformed into a vibrant, small town with a permanent population of about 3,500. But that total swells by thousands when the cottagers arrive to summer on the dozens of beautiful area lakes. This helps account for why Bancroft & District offers 27 restaurants (including two Tim Hortons and a MacDonalds).
There are also many big stores (Canadian Tire, Home Hardware, Shopper's Drug, IDA) and even a 24/7 Foodland. Consequently, visiting snowmobilers can find everything needed to make your stay more comfortable and enjoyable.This includes service at either of the town's Polaris or Ski-Doo dealers.
Snowmobile-Friendly
Moreover, Bancroft is a town that welcomes snowmobiling. Many residents are sledders themselves, so snowmobilers are not taken for granted or ignored. In fact, Bancroft is so snowmobile friendly that it even built a snowmobile bridge across the York. From it, riders can access services more easily from the Hastings Heritage Trail that runs right through town.
And being snowmobile-friendly is also why we stayed at the Bancroft Inn & Suites (see Where Stayed and Ate). Located north of town near the Hastings Heritage Trail, the Bancroft Inn & Suites became our staging hotel for three stellar days to snowmobile Bancroft Ontario…
Snowmobile Bancroft Ontario Day 1 – Bon Echo Loop (OFSC District 2)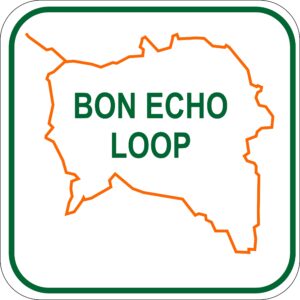 As one of the Snow Tours promoted by the Ontario Federation of Snowmobile Clubs (OFSC) this winter, the Bon Echo Loop runs south and east of Bancroft to the Mazinaw area of Ontario's Highlands Tourism Region. We rode this 232-kilometre tour clockwise out of Bancroft. Doing so racked up a total of 257 kilometres (including a total of 25 kilometres between Bancroft and the official loop route).
I recommend doing the Bon Echo Loop clockwise from Bancroft. That puts the last 50 kilometres or so at the end of the day on TOP Trail E106 & TOP B106E (Hastings Heritage Trail). So if you're running late or tired, it's very easy going back to the Bancroft Inn & Suites.
The Bon Echo Loop was well signed (with both trail and loop logo signs) and well groomed as a premier Snow Tour should be. It also provided an outstanding variety of trails from forest access and logging roads to rail lines and utility corridors. Loop fuel is available in McArthur Mills, Denbigh, Cloyne and Glimour. For more info, see my post on the Bon Echo Loop.
Snowmobile Bancroft Ontario Day 2 – Madawaska Highland Loop (OFSC District 6)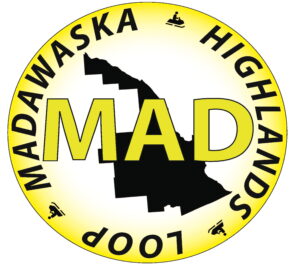 Starting about 40 kilometres north of Bancroft, the Madawaska Highlands Loop is listed officially at about 180 kilometres. It includes (counter clockwise) Lake St Peter, Combermere, Barry's Bay and Whitney. Our door-to-door ride of this loop from the Bancroft Inn & Suites racked up 290 kilometres total.
After completing the loop itself, we decided not to ride back to Bancroft on TOP B106E (Hastings Heritage Trail). Instead, we added some extra distance by dropping into town on Club Trails 178 & 179.
The Madawaska Highlands Loop was easy to follow from the trail signs. TOP B from Barry's Bay to Whitney is a scenic rail trail along the Madawaska River. Be sure to catch two panoramic lookouts on route. One is just off TOP E109 south of Barry's Bay. The other is on Club Trail 159 south of TOP B west of Barry's Bay. Loop fuel is available at Lake St Peter, Combermere, Barry's Bay, Madawaska and Whitney.
Snowmobile Bancroft Ontario Day 3 – Southwestern Loops (OFSC Districts 2 & 6)
"Southwestern Loops" is a name I made up to describe this day's ride. Why? Because we headed south and west from Bancroft and there are two unofficial and one official loop options. Depending on your time, you can ride 150 (unofficial) kilometres as we did to Tory Hill and Wilberforce (fuel). Then go back up toward Lake St Peter (fuel) on TOP E109. Or you can ride a longer unofficial loop into the Haliburton area and then up TOP E to Whitney (fuel) and south to Bancroft. But if you want to ride another good promoted OFSC loop that's as official as it gets, check out the Hastings Highland Tour. It's a 240-kilometre ride south from Bancroft that we unfortunately didn't have time to do.
Whatever your sledding choices when you snowmobile Bancroft Ontario, you'll come as close to a guaranteed good ride as you'll find in Southern Ontario. And with all the added value that Bancroft brings to your snowmobile experience, you're sure to be making plans to return again for another weekend getaway before you've even finished your Bancroft first ride!
Ontario law requires a snowmobile entering an OFSC Prescribed Snowmobile Trail to display a valid Ontario Snowmobile Trail Permit.

Who To Contact
Maps Needed
Snowmobile Bancroft Ontario Where We Stayed and Ate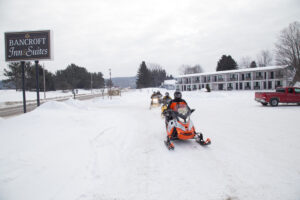 The Bancroft Inn & Suites is easily accessed off TOP Trail B106E just north of town (watch for their sign on the east side of rail trail, just north of the bridge crossing the York River). It provides sled parking in front of rooms, ample trailer parking, and continental breakfast. Plus, gas, convenience store, supermarket and Canadian Tire are just across the road.
The good size rooms are clean & comfortable, with fridges and good Wi-Fi. What's more, owners Tammy & Curtis Martin are avid snowmobilers, so they understand and cater to sledders and can help with any of your snowmobile-related needs. They even have a free shuttle service to the Bancroft Eatery and Brew Pub for no hassle dinners.
Bancroft Eatery and Brew Pub , The Granite Restaurant, JJ's Restaurant – (613) 332-1200, Vito's Restaurant – (613) 332-4044.
Check out more snowmobile tours!
The tips and advice in this blog are the opinions of the author, may not work in every situation and are intended only for the convenience and interest of the reader, who has the personal responsibility to confirm the validity, accuracy and relevancy of this information prior to putting it to their own use.