If Something Goes Wrong, You're On Your Own…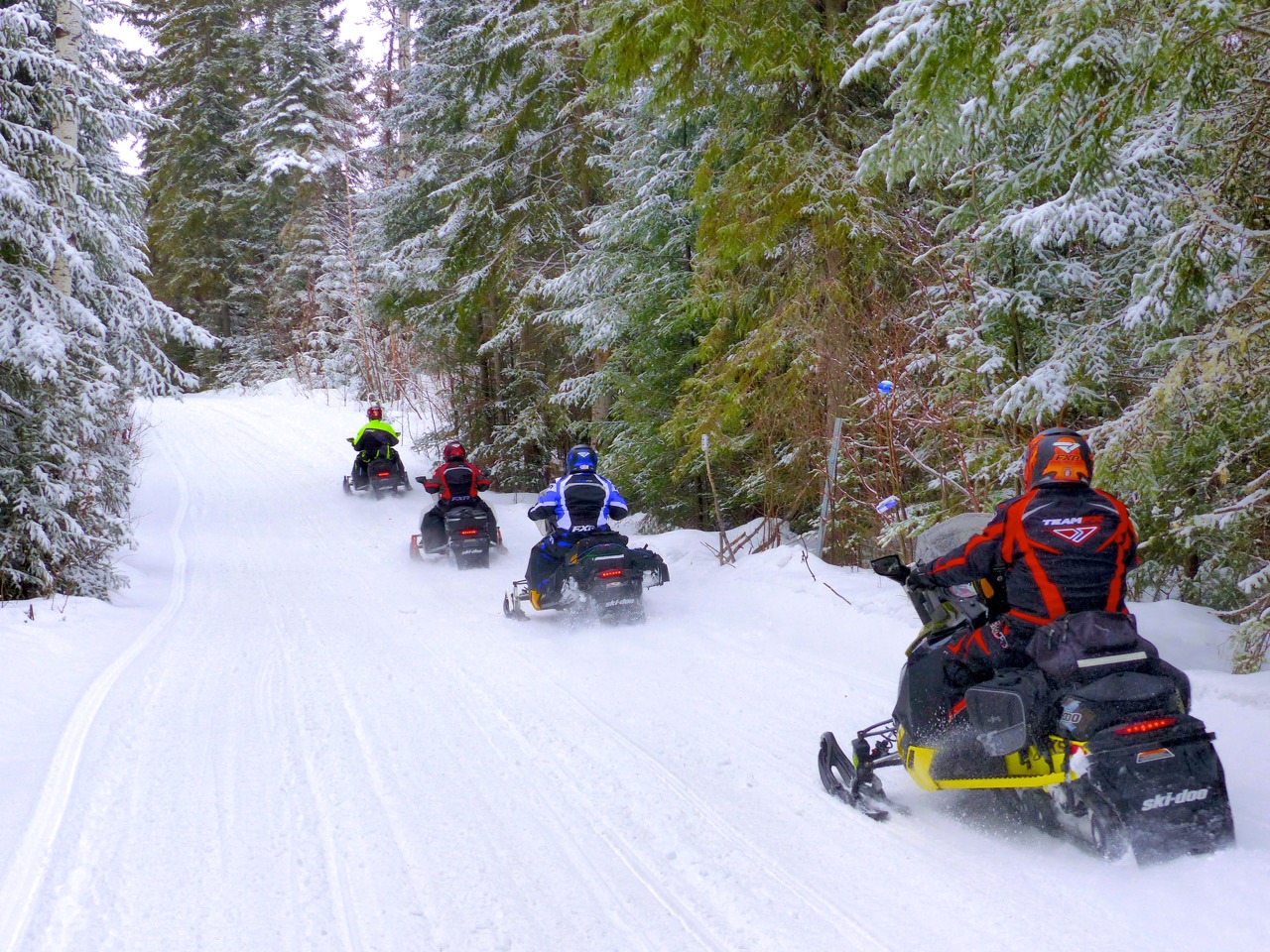 ---
---
Trail riding can quickly carry you far away from the nearest assistance. So each rider and group of riding buddies should carry snowmobile emergency gear. And learn the essential survival skills for wilderness emergencies. Especially on your snowmobile tours or snowmobile vacations. Some of the gear is personal that each rider can carry.
Meanwhile, other gear can be distributed among riding buddies.This avoids unnecessary expense and duplication. Or carrying too much weight on any one snowmobile. For group distribution to work, it is essential that you and your riding buddies establish a ride protocol. This includes every snowmobiler being responsible for the rider behind. This way, no one becomes lost or left behind. Or separated from the group's shared snowmobile emergency gear.
But even with the proper snowmobile emergency gear on board, you may need help. So be sure you have the communications apparatus to get it. But for anyone riding in Quebec, be aware that there are large areas are not served by 911 emergency service. This means that snowmobilers can't always count on quick medical assistance and air transport in times of need. So for medical emergencies, I suggest signing up for inexpensive protection from Airmedic. For as little as $30 for ten days, residents and non-residents can buy peace of mind if a snowmobiling adventure gone wrong.
Snowmobile Emergency Gear Suggestions
Here are some suggested items to carry with you while snowmobiling. Depending on your riding situation, it's your decision what to carry with you. Or what could be carried within your group. By the time you get to the end of this, you'll be wondering where to put it all. That's why I always keep mine packed in LinQ System day bags. They stay on my snow machine for every ride, no matter how long or short!

Suggested Individual Snowmobile Emergency Gear
Items that each rider should carry at all times…
Personal first aid kit
Cell phone
Personal meds
ID/medical info
Sun block/pain tablets/toilet paper
Work gloves & toque
Leatherman
Map/compass with mirror/signal whistle/flashlight
Extra clothing/survival blanket/chemical warmers
Energy snacks/dry soup packets/metal cup
Duct tape
Manufacturers tool kit
Sled manual
Nuts and bolts to fit sled
Spare belt/spark plugs to fit sled
Extra ignition key or DESS cap
Suggested Group Snowmobile Emergency Gear
Items that that each group should carry at all times…
GPS/SPOT unit or satellite phone
Saw/hatchet
Fire starter & tinder
Emergency candles and flares
Twine & tarp
Folding shovel
Survival instruction booklet
Tow rope/pry bar/mini propane torch
Extra wrenches
Zip ties/wire/hose clamps
Extra coolant
Extra gas & oil
CLASSIC VIDEO! In this classic Snowmobiler Television clip, The Intrepid Snowmobiler does his best to survive.

The tips and advice in this blog are the opinions of the author, may not work in every situation and are intended only for the convenience and interest of the reader, who has the personal responsibility to confirm the validity, accuracy and relevancy of this information prior to putting it to their own use.