Practical Tips for Choosing Best Lodgings For Snowmobile Tours…
---
---
Begin your snowmobile tour planning by defining your budget and the kind of accommodation. Do you want a full service resort, chain hotel, mom & pop motel, lodge with cottages, outfitter cabin or bed and breakfast? How many will be in your group for your snowmobile tour and how many beds do you need?
Some lodgings may be more suitable for families and couples than others. With a larger group snowmobile tour, it's fun to stay in a chalet with multiple bedrooms and a central living space where you can social without interruption.
Some places really cater to snowmobilers. They offer home-cooked meals and little extras like providing brooms and rags for cleaning off your sled in the morning. Or providing free use of dryers for wet gear. I've even had one place call me before I left home to offer a rebooking for a later date because snow conditions deteriorated.
Wherever possible, try to restrict your snowmobile tour selections to only those facilities that advertise on snowmobile trail maps published by snowmobile associations or clubs. At least you know these places offer some support back to snowmobiling. Then make some calls…
Are Snowmobile Friendly Accommodations Trail Accessible?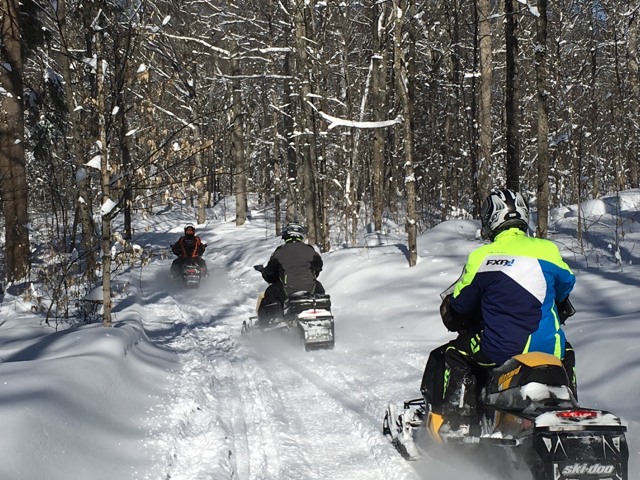 If arriving by sled, here's your first question. Can I get there directly by groomed snow trails without having to run along bare streets or back alleys? Ask what trail number to take and what local spur if applicable, and what signs to look for.
If you're trailering in and expect to leave your rig for a period of time, confirm that parking arrangements are possible, secure and free. If the person on the front desk can't answer these basic questions, my inclination is to try someplace else.
Do Snowmobile Friendly Accommodations Have a Snowmobile Package?
Next, inquire as to any applicable snowmobiler packages or specials. Sometimes you can get a better rate for multiple nights, multiple rooms or during the week. Then, find out what services are available on site or nearby: restaurant, gas, convenience store, and any dealers.
Wherever possible, also ask about a ground floor room that has its own outside door. Can you park your sled in front of it for easy loading and observation? An increasing number of places offer secure snowmobile parking in fenced tennis courts, outdoor pool areas or in special tents or garages. But some of these facilities require advance reservations.
What Guest Services Do 
Snowmobile Friendly Accommodations 
Provide?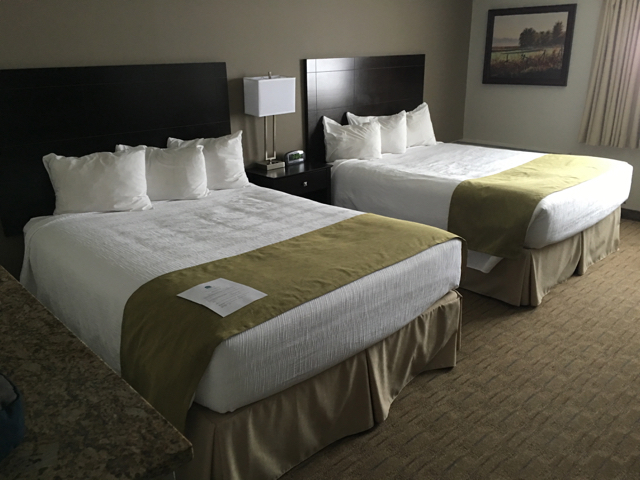 Inquire about available guest services. Is the front desk open 24 hours or not? Is there free Wi-Fi? What about the restaurant hours of operation? If you plan to get away early or arrive late, will you get fed? Do they have a hot tub? What about pop and ice machines? Finally, ask the clincher. Do they have The Weather Network so you can fine tune your riding plans and wardrobe for next day's ride?
What about Room Amenities at 
Snowmobile Friendly Accommodations
?
Are there phones in each room? Are they usable 24 hours for both outgoing and incoming calls? Is there a fridge and microwave? Is the heat centrally controlled or individually set in each room?
What is the Cancellation Policy at 
Snowmobile Friendly Accommodations
?
If most of the preceding is answered to your satisfaction, you're as certain as possible that the lodgings will be snowmobile-friendly. So confirm a room and get a reservation number. Be sure to ask what their cancellation policy is in the event of a meltdown or breakdown. If you change my mind later, call and cancel so other snowmobilers can find a place to stay.
When Should You Book 
Snowmobile Friendly Accommodations
?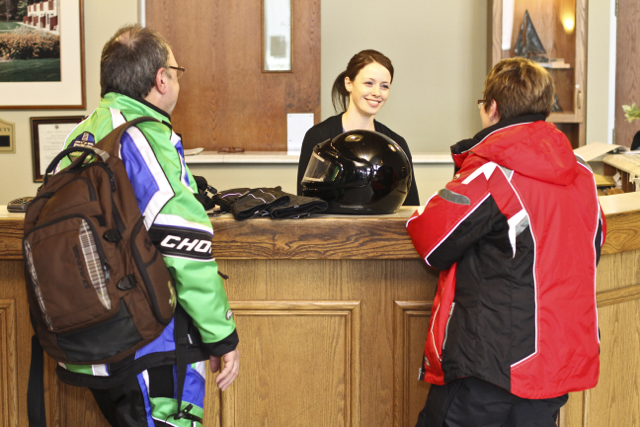 It used to be that I toured on the fly, not booking rooms ahead. But those days are gone. Too may places have closed for the winter, while others sell out their rooms for the winter to mining, logging, utility and construction workers. So my motto is always to book ahead. How long before depends on several factors…
As with any lodgings, there are peak times and slow times. Weekends are obviously busier than weekdays, unless it's during Christmas holidays or March break. The weekend and weekdays prior to the first and third Mondays of February can be very busy too (Try Our Trails + Family Day Weekend).
Lodgings in the most popular snowmobiling areas will get booked up more quickly. So will places where there's more snow that season than anywhere else. So it's better to have a room confirmed and have to cancel due to breakdown, storm or other factors, than to have to sleep in the local school as I did one night in the boondocks.
If I have a spacious room with lots of convenient places to hang gear, place helmets and boots out of the way, I'm a happy camper. I'm ecstatic if there's more than one measly coat hanger. if my wake-up call is on time, I'll hit the trail early. And you can bet I'll tell everyone about another great place for snowmobilers to stay!
My Recommendations For 
Snowmobile Friendly Accommodations 
Check out some of my favourites places to stay…
Like This Post? Follow Me on Facebook
#neverstoppushing #itswhatsnext #ontariosnowtrails #gosnowmobilingontario
The tips and advice in this blog are the opinions of the author, may not work in every situation and are intended only for the convenience and interest of the reader, who has the personal responsibility to confirm the validity, accuracy and relevancy of this information prior to putting it to their own use.