Snowmobile Quebec Charlevoix For Fab Trails & Scenery…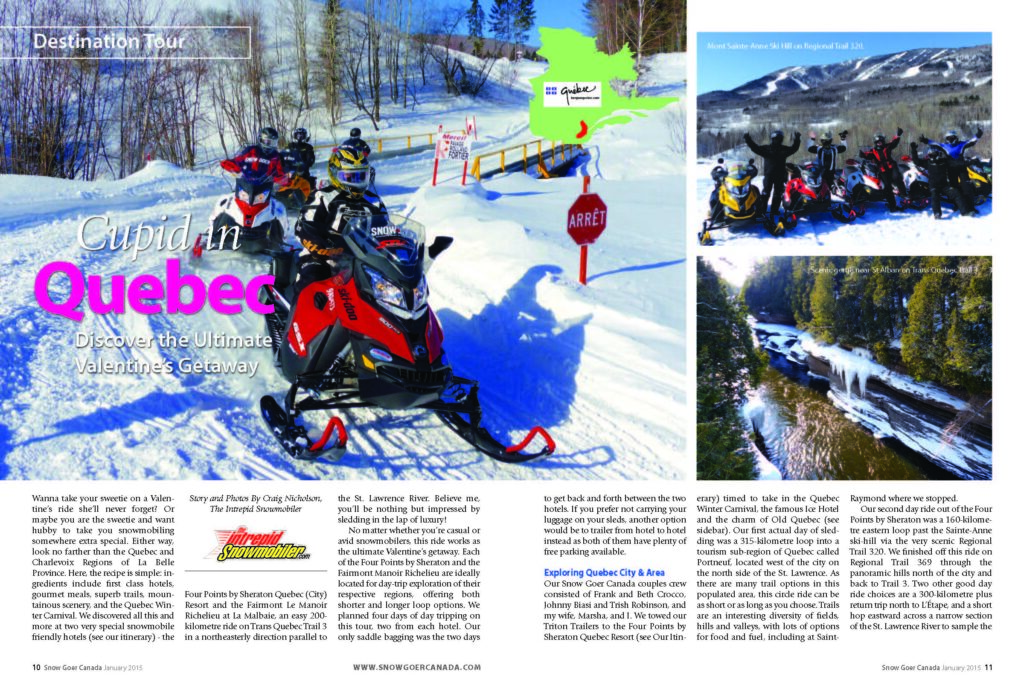 ---
---
Snowmobile Quebec Charlevoix if you wanna take your sweetie on a Valentine's snowmobile vacation she'll never forget. Or maybe you are the sweetie and want hubby to take you on a snowmobile tour somewhere extra special.
Either way, look no farther than the Quebec and Charlevoix Regions of La Belle Province. Here, the recipe is simple. Ingredients include first class hotels, gourmet meals, superb trails, mountainous scenery, and the Quebec Winter Carnaval.
Discover Two 1st Class Hotels
We discovered all this and more at two very special snowmobile friendly hotels. One is the DoubleTree by Hilton Quebec Resort (formerly Four Points Sheraton). The other is Fairmont Le Manoir Richelieu at La Malbaie. The latter is an easy 200-kilometre ride on Trans Quebec Trail 3 in a northeasterly direction parallel to the St. Lawrence River. Believe me, you'll be nothing but impressed by snowmobiling in the lap of luxury for your Quebec snowmobile tour!
Ultimate Valentine's Destination
No matter whether you're casual or avid snowmobilers, this Quebec snowmobile tour works as the ultimate Valentine's getaway. Each of the Hotel Signature and the Fairmont Manoir Richelieu are ideally located for day-trip exploration of their respective regions. They offer both shorter and longer loop options.
We planned four days of day tripping on this Quebec snowmobile tour, two from each hotel. Our only saddle bagging was the two days to get back and forth between the two hotels. If you prefer not carrying your luggage on your sleds, another option would be to trailer from hotel to hotel instead. Both of them have plenty of free parking available. Check out this snowmobile video…
Snowmobile Quebec Charlevoix – Exploring Quebec City & Area
Riding Portneuf
Our couples crew consisted of Frank and Beth Crocco, Johnny Biasi and Trish Robinson, and my wife, Marsha, and I. We towed our Triton Trailers to the DoubleTree by Hilton Quebec Resort (see Itinerary). Our timing was to take in the Quebec Winter Carnaval, the famous Ice Hotel and the charm of Old Quebec. Our first actual day of sledding was a 315-kilometre loop into a tourism sub-region of Quebec called Portneuf. It's located west of the city on the north side of the St. Lawrence.
As there are many trail options in this populated area, this circle ride can be as short or as long as you choose. Trails are an interesting diversity of fields, hills and valleys, with lots of options for food and fuel, including at Saint-Raymond where we stopped.
Eastern Loop
Our second day ride out of the DoubleTree by Hilton was a 160-kilometre eastern loop past the Sainte-Anne ski-hill via the very scenic Regional Trail 320. We finished off this ride on Regional Trail 369 through the panoramic hills north of the city and back to Trail 3.
Two other good day ride choices include a 300-kilometre plus return trip north to L'Étape. And a short hop eastward across a narrow section of the St. Lawrence River to sample the trails on the Île d'Orleans (We had planned to do this one, but for some reason the trail to the island was closed at the time.)
Whatever your choices for snowmobiling in the Quebec Region, you'll be looking forward to capping off a great day's ride with your overnight stay back at the DoubleTree by Hilton Quebec Resort!
Winter Carnaval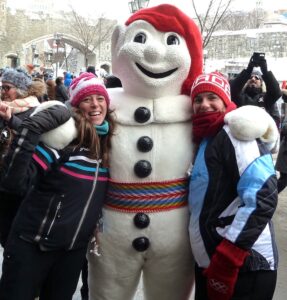 The DoubleTree by Hilton is a great pace for to stay during the Carnaval de Quebec (held annually on the first two weeks of February). It's the largest winter carnaval in the world. It offers a wide variety of activities for all ages. These include dogsled rides and canoe racing to ice lawn bowling, and human foosball to an international snow sculpture competition.
While at Carnaval, we also toured the city's famous Citadelle. It's the largest fortification built by the British in North America. Built from 1820 to 1850, this unique historic site is an active garrison for the Royal 22nd regiment. It sits at the highest point in the city, offering a fabulous view.
Old Quebec City
From the terrace next to the Fairmont Le Chateau Frontenac Hotel, we rode the 45˚ angle funicular (hillside railway). It offers a panoramic view of the St Lawrence River and the to the lower town (known as Old Quebec City).
Old Quebec City's narrow cobblestone streets are lined with historic buildings. Most now serve as art shops, clothing boutiques, quaint pubs and unique restaurants. Here, we enjoyed fresh crepes for breakfast that won't soon be forgotten. We also ate lunch at a pub in an old fur vault built in 1877, and savoured a delicious three course fondue dinner.
Montmorency Falls
Located not far from the DoubleTree by Hilton off Highway 138, Montmorency Falls is 83 meters (272 ft) high, 30 meters (99 ft – higher than Niagara Falls). It's also 46 meters (150 ft) wide. Mist from the falls creates massive snow mounds where no hills normally exist and ice climbers scale the walls of ice.
From the gate, we walked to the base of the falls. Then we travelled to the top by cable car to cross over the thunderous falls on a suspension bridge. Be sure to wear waterproof clothing if you choose to venture to the bottom of the falls, as you will get wet from the mist.
Hotel de Glace
This season's version of this famous ice hotel had 102 rooms and took 6 weeks to construct. It featured a large bar area, chapel, carvings and sculptures depicting mythical and legendary characters. It also had outdoor hot tubs and saunas. If you haven't seen this site before, it is worth taking a day tour.
Snowmobile Quebec Charlevoix – Discovering Charlevoix
I recommend sledding from the DoubleTree by Hilton to Charlevoix's Fairmont Le Manoir Richelieu (see Itinerary) and back. We wanted to return by the most direct route (Trans Quebec 3) on our final day.
So outbound to La Malbaie, we chose different trails through Saint-Anne (Regional Trail 320) and Baie-Saint-Paul (Regional Trail 378). In fact, all of these trails comprise the Charlevoix Region's "River Circuit" (marked in yellow on their trail map).
On our way, we stopped for a home-cooked lunch at the popular relais at the intersection of Trans Quebec 3 and Regional Trail 378. Much to our surprise when we passed that junction three days later on our return trip, it had burnt to the ground!
Not to worry if they don't rebuild. there's food and fuel available in Baie-Saint-Paul (10 km on Regional Trail 378) or east of this junction on Trans Quebec 3 at Maison Chez Laurent.
Staging out of Fairmont

le

Manoir Richelieu

Until looking at a map, I didn't realize how much farther north La Malbaie is than the City of Quebec. That means the Charlevoix Region benefits from higher latitude. It's also more consistently mountainous. In many ways, Charlevoix's views and scenery are similar to what can be found in Gaspèsie. So are the descents from the high country trails to the towns and services of the St. Lawrence River lowlands.
Riding The Fiord Circuit
We had planned two day trips from Le Manoir Richelieu. One was the 275-kilometre "Fiord Circuit" (marked in grey on the trail map). Is sledding a fantastic, table top smooth, 30'-wide trail for 30 klicks your cup tea? Then you have to do this circuit if only to experience Regional Trail 83! The descent to the Saguenay Fiord near L'Anse-Saint-Jean for a spectacular overview of the Saguenay River also makes it worthwhile.
Exploring La Malbaie Local Trails
Our second planned day trip was a 100-kilometre exploration of the local trails (orange on the map) around La Malbaie. This ride includes several amazing lookouts. These include Montagne de la croix de Clermont (Local Trail 64), Mont Thérèse-Casgrain (Local Trail 54), and Lac Gravel (Regional Trail 378). If you have the time, also check out some of the local trails that lead down to the St. Lawrence at places like Saint-Joseph-de-la-Rive, Les Éboulements or Cap-à-la'Aigle.
Unfortunately, we missed most of these sights when a major one-day storm snowed us in on our second day at Le Manoir Richelieu. But none of us complained much about being snowbound at what's probably the most extraordinary place a snowmobiler could stay!
Scoring Brownie Points
The beauty of spending your Valentine's week in the Quebec and Charlevoix regions is unbeatable snowmobiling. Plus a great variety of trails and activity choices. The beauty of spending your Valentine's week at the DoubleTree by Hilton Quebec Resort and the Fairmont Le Manoir Richelieu is premium, snowmobiling friendly hotels. Their pampering is as good as it get.
And hey guys, if there is any such thing as "brownie points", the beauty of playing cupid in Quebec is that you'll bank a bunch of them with this ultimate Valentine's getaway! Meanwhile, if you're looking for more great Quebec snowmobile tour destinations, check out the rest of my Quebec tours.
Snowmobile Quebec Charlevoix Info
Who To Contact for This Quebec Snowmobile Tour
Maps Needed for This Quebec Snowmobile Tour
Charlevoix
Quebec City & Area
Snowmobile Quebec Charlevoix Tour Itinerary – 1,078 kilometres in 5 days of riding
Note: TQ = Trans Quebec; RT = Regional Trail; LT = Local Trail 3.
Snowmobile Quebec Charlevoix Day 1
Trailer 756 km to Quebec City (drive time from Greater Toronto Area: approx. 8 hours)

Where To Stay
DoubleTree By Hilton Quebec Resort (formerly Four Points Sheraton). Hands down, this premier resort hotel is the best place for staging a snowmobile tour from Quebec's capital city area. With easy access off Highway 73 on the northeast side of town, it's located just 8 minutes north of old-Quebec City. The hotel not only provides direct access to TQ3, it's also handy for must-see visits to the old town, to the famous Quebec Winter Carnival, and to the popular Ice Hotel.
Hotel Features
The DoubleTree by Hilton offers all the amenities for regular snowmobilers. And for those looking for some extra pampering! It offers the on site gourmet Dijon restaurant and bar, the Faune Spa et Détent, outdoor Nordic Baths and Finnish sauna, fitness centre, and free shuttle service to winter activities. Plus, plenty of video-monitored truck and trailer parking.
The rooms are classy, well appointed and easy to access from the hotel front door using luggage carts and nearby elevators. There's even a Ski-Doo rental location on site! Fuel is available just west on TQ3 about 3 km. Ask for the hotel's Snowmobile Express Package.
Snowmobile Quebec Charlevoix Day 2
Sight seeing around Quebec City.
Where To Stay: DoubleTree by Hilton Quebec Resort
Snowmobile Quebec Charlevoix Day 3
Ride 315 km western loop from Quebec City via TQ3e/TQ73/RT353/TQ23/TQ3w. Fuel & Lunch: Saint-Raymond.
Where To Stay: DoubleTree by Hilton Quebec Resort
Snowmobile Quebec Charlevoix Day 4
Ride 160 km eastern loop from Quebec City via TQ3e/RT320/TQ3w/Connector Trail/RT369/RT304/TQ3w. Fuel: Quebec City
Where To Stay: DoubleTree by Hilton Quebec Resort
Snowmobile Quebec Charlevoix Day 5
Ride 200 km from Quebec City to La Malbaie to via TQ3e/RT320/TQ3e/RT738/LT124.

Where To Stay
Fairmont Le Manoir Richelieu. Arrival by snowmobile at the amazing Manoir Richelieu is truly impressive. It's a massive "castle on a cliff" built into the rocky shore overlooking the St. Lawrence River at La Malbaie in the Charlevoix Region. And if there's any doubt, you know this place is something really special when Trail LT124 leads into their heated and ventilated underground parking garage!
Hotel Features
Once inside Fairmont Le Manoir Richelieu, it may be hard to pry yourself out to go snowmobiling again. The hotel rooms are first rate and the cuisine excellent. Plus the Multi-Sports Centre offers indoor and outdoor pools, indoor and outdoor whirlpools, and steam & exercise rooms. There is even outdoor ice skating, horse-drawn carriage or cart rides, and snowmobile rentals.
The hotel's Grand Hall provides a variety of licensed lounges with panoramic river views. One floor down, there are shops and the tunnel access to the Casino Charlevoix for those who like games of chance.
The Fairmont Manoir Richelieu is one of those rare, don't-miss destinations. It should be on every sledder's bucket list, so check out their snowmobiling packages today. Fuel available about 10 km away on Trail LT64 in Clermont.
Snowmobile Quebec Charlevoix Day 6
Ride 275 km northeastern loop from La Malbaie via LT124/RT378/LT64/TQ3e/TQ83/Connector Trail/RT383/TQ3w/LT94/LT54/RT378/LT124. Lunch: L'Anse-Saint-Jean. Fuel: Petit-Saguenay
Where To Stay: Fairmont Le Manoir Richelieu
Snowmobile Quebec Charlevoix Day 7
100-km day trip on local trails around La Malbaie
Where To Stay: Fairmont Le Manoir Richelieu
Snowmobile Quebec Charlevoix Day 8
Ride 195 km from La Malbaie back to DoubleTree by Hilton Quebec Resort via TQ 3. Fuel: Saint-Urbain. Load up and trailer home.
Check out more Quebec snowmobile tours!
The tips and advice in this blog are the opinions of the author, may not work in every situation and are intended only for the convenience and interest of the reader, who has the personal responsibility to confirm the validity, accuracy and relevancy of this information prior to putting it to their own use.