Do's & Don't's For Trail Riding Fun…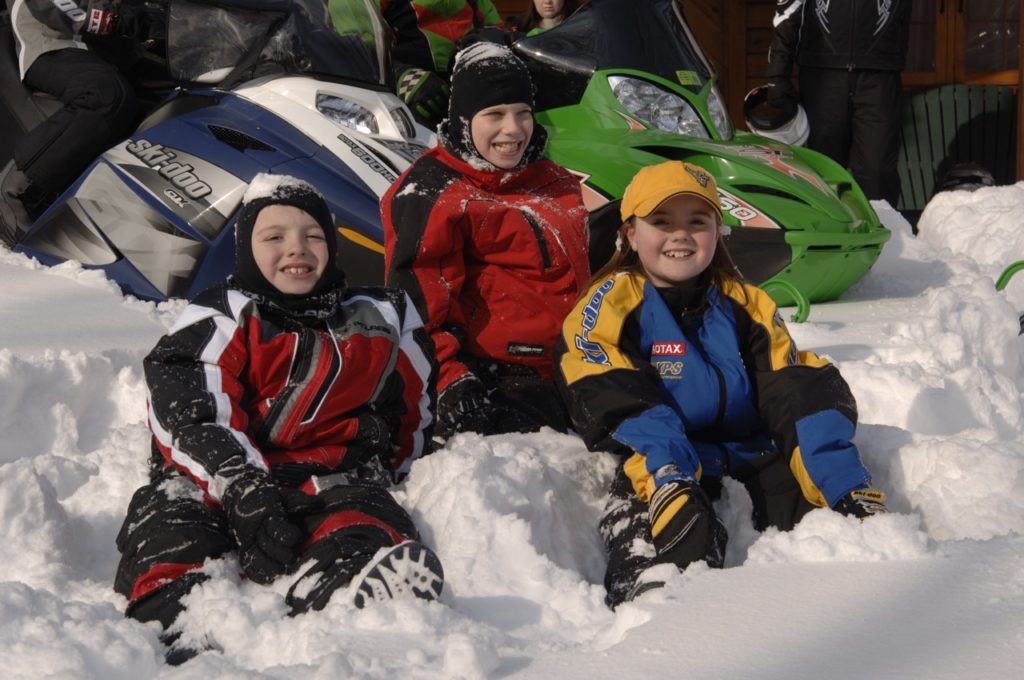 ---
---
Do you want your kids to love snowmobiling as much as you do? Get them started early and make sure they have fun every time. But snowmobiling with kids on board isn't the same as riding double with an adult…
Comfort & Safety While Snowmobiling With Kids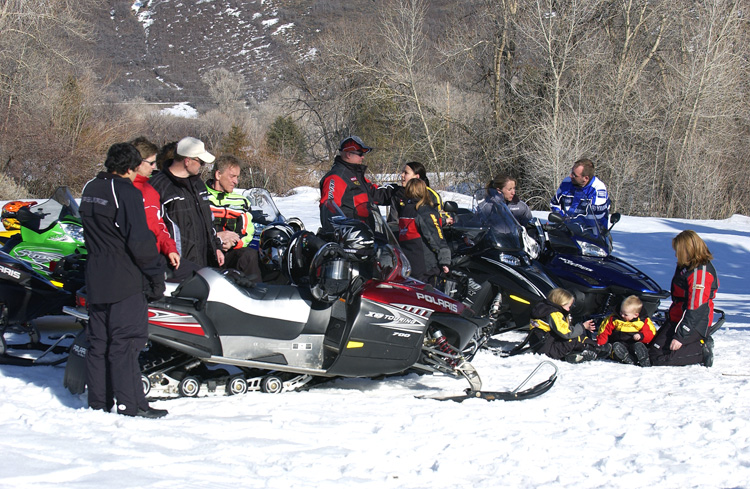 Initially, this means shorter rides with lots of snack breaks, warm up stops and potty breaks. It means checking continually to make sure they're warm, comfortable and secure. Don't always take their word for it. Youngsters may not be able or want to articulate discomfort in its early stages. I heard about one kid who kept saying he was fine until the father finally realized that his son was almost hypothermic.
So when snowmobiling with kids make sure they're bundled up warm as toast in a good quality snowmobile suit that fits, like those available from FXR. No dangling scarves, laces or straps to get caught in moving sled parts. Stuff mitts and boots with chemical heaters (no direct contact with skin and always carry extras).
Helmet Tips
Be sure the helmet is approved, fits properly over a balaclava and is fastened properly. This way it won't slip out of position while riding or come off too easily. By the way, did you know that as with adult helmets, any given model of youth helmet normally has the same size outer shell? That's right, it's the liner and cheek pads that actually determine helmet size,
So start with a good quality helmet and as your child grows, you don't have to constantly buying a larger size one. Instead, simply contact the manufacturer to order a new liner and pads for the next size bigger!
Comfort and safety also means driving with the utmost care and caution to ensure your offspring don't get hurt. So make sure you're always in control and riding defensively.
Snowmobiling With Kids Upfront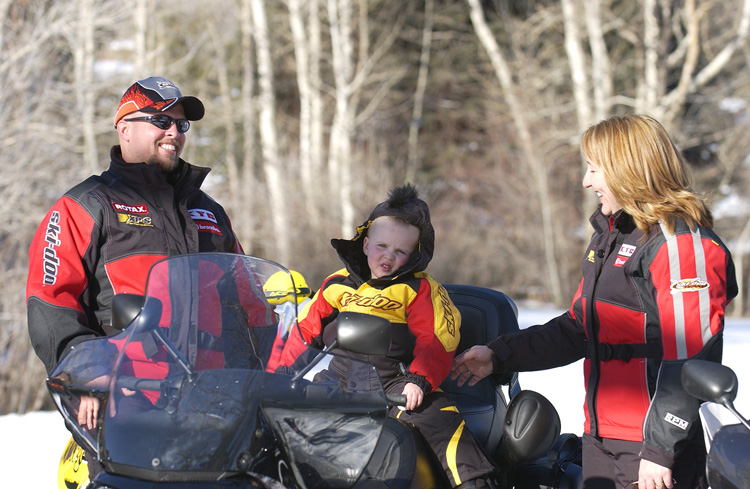 Many parents sit the little ones in front of an experienced operator so they're secured between his or her arms. This position is not always legal, but if you use it, make sure they clearly understand not to touch any of the controls. Especially the kill switch and tether cord. To give the little one something to hang on to and also keep their hands warm, check out Toasty Tot Handlebars. Bonus Tip: A child riding upfront will be more comfortable with a good size windshield as protection from wind chill.
Snowmobiling With Kids In A Passenger Seat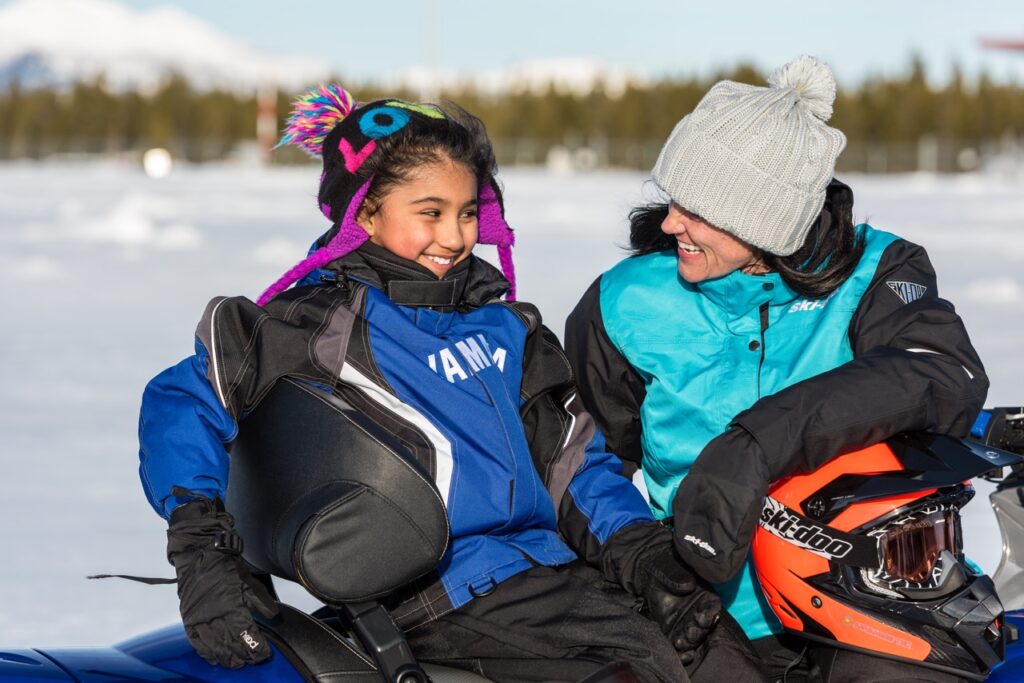 Toddlers can ride in this up front position until they have the strength and ability to hang on for themselves. Or as every parent knows, until the tyke is tall enough that a helmet cracks your chin on every bump. At this stage of snowmobiling with kids, it's time for the child to move behind you. This necessitates either having a stock 2-up sled or adding a seat to your single seater.
Ski Doo offers a LinQ passenger seat that's very handy. It's not only secure, comfortable and rock solid, but also easy to put on and take off (restoring your sled to it's original 1-up status in seconds). Another option is a Seat Jack 2-UP Seat available in Canada from Kimpex. Bonus Tip: Attempting to carry more than one person on a single seat sled is generally illegal and certainly dangerous. Carrying more than two persons at a time on any sled is just asking for trouble.
Staying Warm In The Back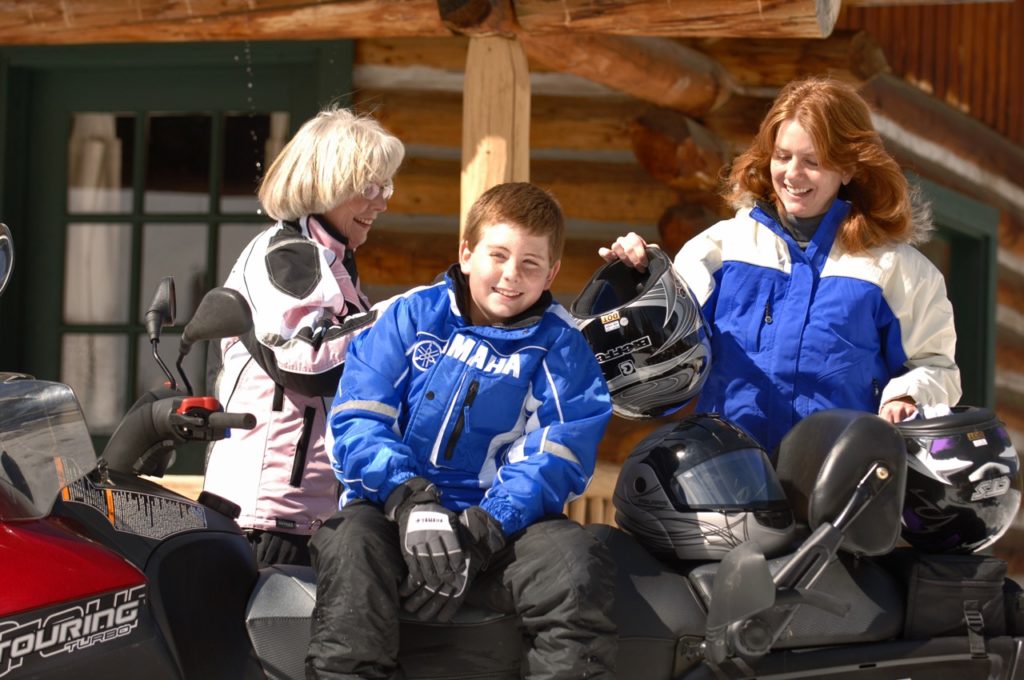 After your child moves to the back, consider these factors. It's going to be much colder out back than in front of the driver. The same clothing or gear preparation may not be sufficient, so review and upgrade accordingly. Pay extra for heated grips when preparing the passenger seat and check them often. Wind deflectors typically double the effectiveness of a heated grip.
Hanging On Tight
Another factor when snowmobiling with kids is that there may be a transition year or two while your kid develops the ability and confidence to stay on independently. So it may be wise to provide easy handholds attached to you like the Back Rider Belt, Child Riding Belt, Turbulence Child Retention System, or other child harnesses and grips.
Try Footrests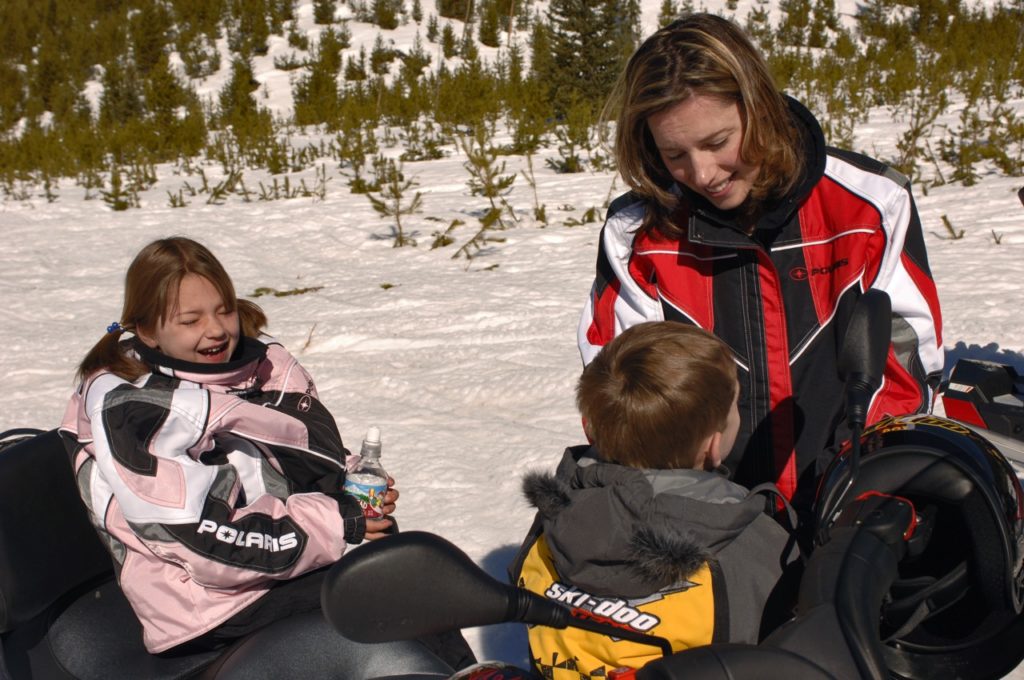 When snowmobiling with kids it's also beneficial to size the youngster to the new passenger seat. Initially, the youngster won't be able to reach the running boards to plant their feet or keep them warm. This can result in a scary ride because the child can't get supported properly on a rough trail. Bonus Tip: Add removable wooden shims on top of the running boards so little feet can reach them from the passenger seat.
Suspension Changes For Snowmobiling With Kids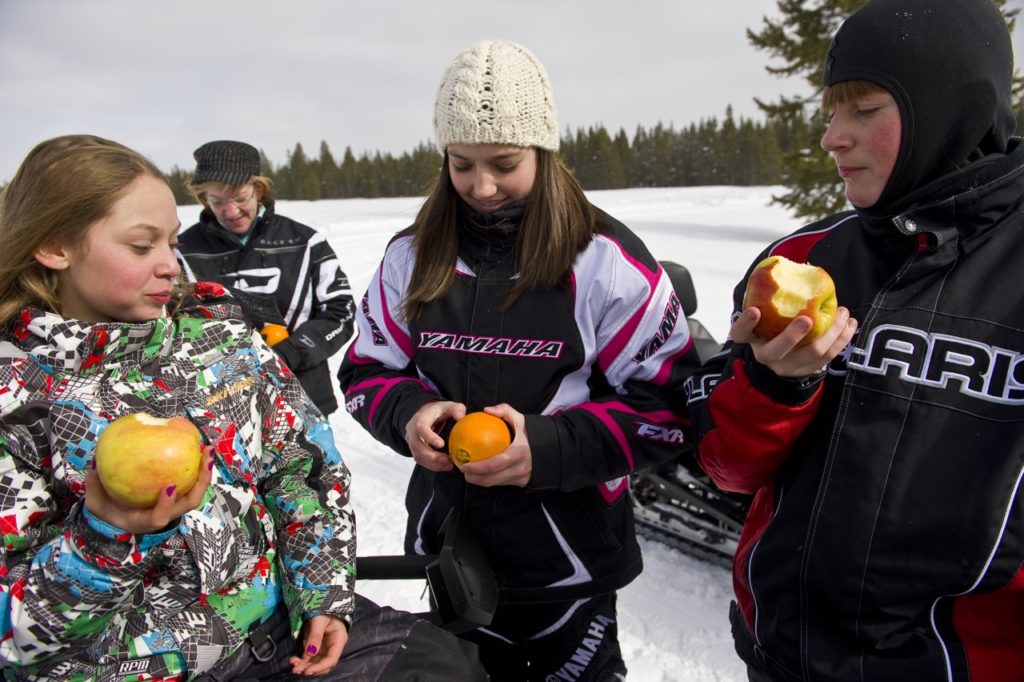 Depending on the size of the child on the back, you may also want to tweak your suspension. The idea is to compensate for added weight at the back. It can make your steering too light or the ride too stiff for passenger comfort. Resolve this by increasing the cam setting on your rear torsion springs until the sled settles or 'sags' the same amount as it did with you riding solo. If carrying a rear passenger is going to be a common occurrence, most manufacturers will offer a heavier spring option for riding double. Bonus Tip: To help keep the front end planted with the extra weight on the back of the sled, try increasing the coupler blocks from 2 to 4.
Try A Caboose for Snowmobiling With Kids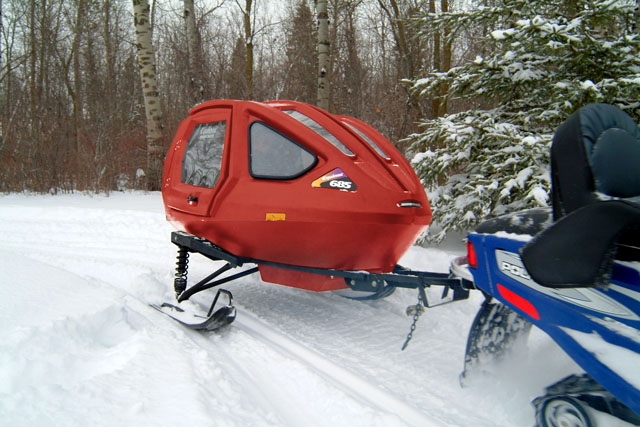 An alternative choice for snowmobiling with kids is to put them in a caboose towed behind your snow machine. If you go this route, I'd recommend a fully enclosed unit like those made by Equinox Boggans, not some jerry-rigged contraption. These have the advantage of carrying more than one child at a time. Plus, there's some extra space for additional gear. Properly (and legally) hooked up to your the back of your sled, a good caboose can help keep kids warm (think blankets) and protected. But I'd suggest checking on them more often. Because back there behind you – out of sight and contact – it's harder to know how they're doing.
Plan Ahead For Snowmobiling With Kids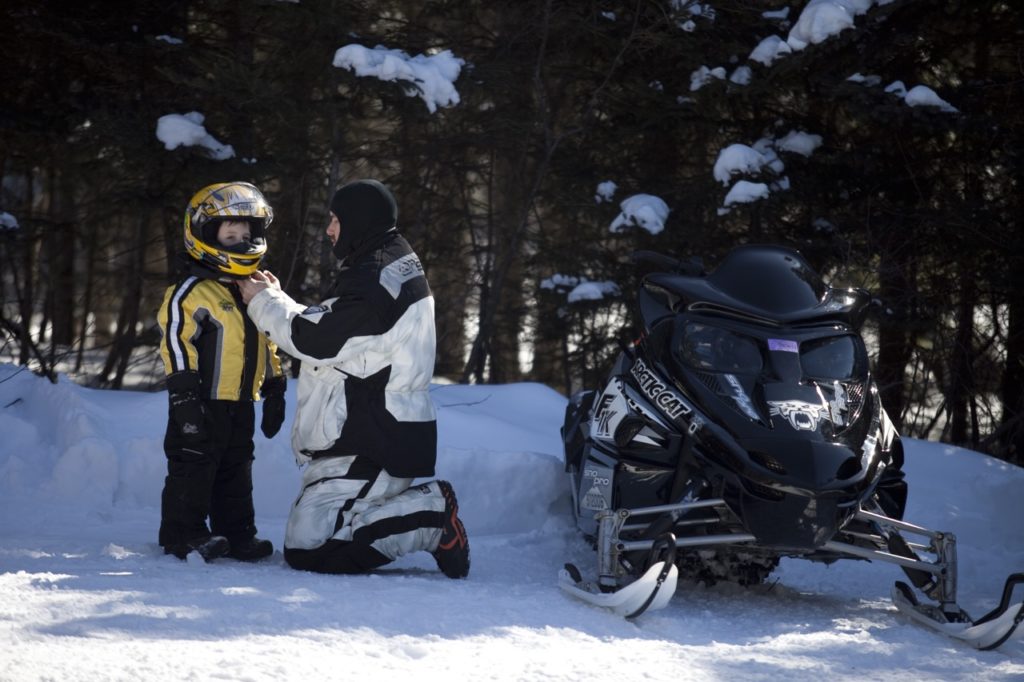 As with anything else involving the kids, planning ahead is key. Plan out your ride, your pit stops, how to carry snacks and extra clothing, your lunch break and fuel fill ups. Going with other families can make it more fun for everyone. So can a trailside hot dog or marshmallow roast – or stopping to build a snowman. If it's a brass-monkey day, leave later than usual to avoid a cold start and remember that afternoons are typically the warmest time to ride. Bonus Tip: Riding after dark just adds another distraction that can divert your attention away from looking after your offspring.
Above all, snowmobile very defensively with a child aboard – if there was ever a time when safety should be number 1, this is it! And by the way, if you're looking for a neat way for your youngsters to proclaim their early love of snowmobiling, check out what snowmobaby has to offer.
Thanks to John Sharrard of Accelerated Technologies and Craig Irwin for their assistance with this post.
Like This Post? Follow Me on Facebook
The tips and advice in this blog are the opinions of the author, may not work in every situation and are intended only for the convenience and interest of the reader, who has the personal responsibility to confirm the validity, accuracy and relevancy of this information prior to putting it to their own use.