Great Trails On Sundridge Ontario Snowmobile Tour…
---
---
My Sundridge Ontario snowmobile ride started by correcting an oversight. Many's the time I've trailered to points farther north in search of good snow and great trails. On route, I've often wondered about what sledding I might be missing. There's lots of snowy country along that 130-kilometre stretch of the 4-lane Highway 11 corridor between Huntsville and North Bay, Ontario. So I decided to find out…and the answer is plenty!
Explore the Almaguin Highlands
The Almaguin Highlands a majestic, 8000 square kilometre swathe of Canadian Shield wilderness. It's tucked away between Muskoka and Lake Nipissing. This part of the Explorers' Edge Region is sprinkled with rural communities, unspoiled lakes, mixed woodlands, rolling hills and rocky crags. So it's perfect terrain for the nine snowmobile clubs in this Almaguin Highlands area to deliver an excellent network of sledding trails for your Sundridge Ontario snowmobile ride.
To experience them first hand, our snowmobile magazine crew of Dan Carty, Craig & Johnny Biasi, Craig Irwin, Marsha and I loaded up our Triton Trailers. Then we towed three hours north of the Greater Toronto Area to the Caswell Resort on Bernard Lake in Sundridge.
Enjoy Three Day Rides
From the Caswell, we staged three different Sundridge Ontario snowmobile day rides on our Ski-Doo snowmobiles. One to Kearney and Burk's Falls to the south. Another northward to Port Loring and Restoule. And a third west bound to Magnetawan, Ahmic Harbour and Sprucedale (Note that sledding east is not an option because there are no snowmobile trails into Algonquin Park.)
We snowmobiled just over 800 kilometres, returning to the welcome hospitality of Caswell Resort each night. Along the way, we rode through the Loring deeryard, visited ice caves and experienced some of Ontario's best trail riding. With trail accessible fuel and food available on our loops in places like Ahmic Harbour, Burk's Falls, Kearney, Magnetawan, Port Loring, Restoule, Sand Lake, South River and Sprucedale, we rode each day with total pleasure and peace of mind.
Power Outage
Our late afternoon arrival at the Caswell seemed auspicious. We arrived in a snowstorm and I found a parking spot for my rig right in front of the main door, easy for unloading our gear. Then, literally as I walked up to the reception desk, the whole Town of Sundridge lost power.
Of course, no one had any idea how long the storm or blackout would last. So we were confronted with an immediate decision. To stay and take our chances or go to some other town instead. Not knowing who had hydro or not, we opted to remain. So we huddled with some other guests in front of a roaring fire in the lobby hearth. Caswell staff were just starting to get a cold dinner ready for us when – presto! – the electricity came back on for good. Lucky thing, because I wasn't looking forward to wearing my snowmobile gear to bed!
Exploring Ice Caves
Next morning, a blanket of fresh powder covered the groomed trails. It was a snowmobiler's dream come true. We steered south on TOP Trail D through the hilliest section of the Almaguin Highlands. Then we travelled east on local trail AL301 which dead ends at Dewfish Lake.
Following a well-beaten path across the lake, we arrived at a popular attraction. The ice caves, formed where water freezes into a solid curtain covering the side of a sheer cliff face. Visitors can walk in between the ice and the rock. So we peeked out wherever Mother Nature had left portholes in that massive wall.
Then it was westbound on AL303 to Sand Lake. Here, we had an exceptionally scrumptious lunch and also gassed up at Edgewater Park Lodge. From there, we had a variety of longer or shorter distance choices to circle north and catch TOP D123 back to Bernard Lake and the Caswell Resort.
Watch For Deer
It snowed a little again that night. So, the next day we headed west on TOP C105D to ride through Port Loring. Here, we stopped for fuel, followed by lunch at Roxie's Diner (A good alternative is Jake's Place. But during the winter weekdays, the two restaurants have a reciprocal arrangement. Only one stays open for lunch as there's typically not enough business to share.)
We kept our eyes peeled for white tail deer throughout the day. These woodland trails pass through a well-known winter deer yard area. Its enjoyable riding, because the trails are winding and meandering, not tight twisty-turny. And generally they have forgiving corners that allow you to ride easy and effortlessly.
On day three, we followed TOP C104D west to Magnetawan and Ahmic Harbour. Then we before looped south on TOP C101 to catch the Seguin Rail Trail eastbound to Emsdale. Along the way, we gassed up in Sprucedale and ate at the old Sprucedale Hotel. TOP D123 took us back northward to the Caswell.
Good Reasons to Ride Explorers' Edge
I recommend this part of Explorers' Edge for a Sundridge Ontario snowmobile ride. There are several reasons. One, it's close enough that most of us can trailer there after work for a long weekend getaway. Two, it's big enough and offers more than enough trails that you can ride a different loop each day. Plus, you can find good trail alternatives for shortening or lengthening each ride as you choose. Three, there are enough trailside services for food and fuel. And four, the area has elevation and is in the lee of Georgian Bay. Together, these factors contribute to frequent and reliable snow.
What's more, Explorers' Edge sits just far enough north to be slightly colder than Southern Ontario. And that can make a big difference when it comes to trail consistency.
So the next time you're jawing with your riding buddies about where to go snowmobiling, give Sundridge and Explorers Edge a try!
Ontario law requires a snowmobile entering an OFSC Prescribed Snowmobile Trail to display a valid Ontario Snowmobile Trail Permit.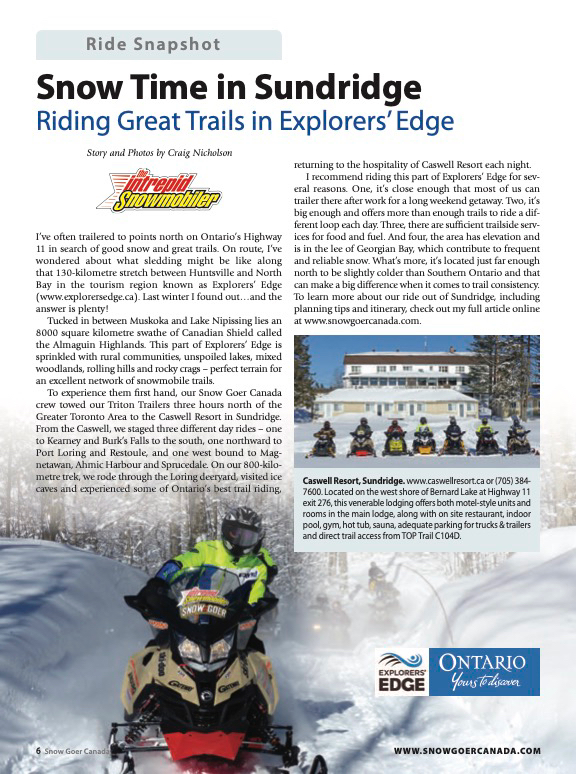 Sundridge Ontario Snowmobile Info & Contacts
Who To Contact
OFSC (for permits and trail info)
OFSC Maps Needed
Where We Stayed
Caswell Resort, Sundridge. (705) 384-7600. Located on the west shore of Bernard Lake at Highway 11 exit 276, this venerable lodging offers both motel-style units and rooms in the main lodge. It also offers an on site restaurant open for both breakfast and dinner, indoor pool, gym, hot tub, and sauna. Plus, adequate parking for trucks & trailers and direct trail access from TOP Trail C104D.
I chose the Caswell Resort as our staging hotel because it's accessible by 4-lane highway. And best of all, centrally located in the ride area. This positioning enabled us to do loops of about the same distance each day (listed below) without have to repeat many trails.
Sundridge Ontario Snowmobile Ride Daily Itinerary
Ride One
Snowmobile south loop 245 km via TOP C104D > NN410 > TOP C105D > NN400 > TOP C104D > TOP D > AL301 (ice caves) > AL303 (Sand Lake) > TOP D (Kearney) > TOP D101B > D102B > 95 > TOP D > TOP D123 (Katrine, Burk's Falls) > TOP C104D.
Ride Two
Ride north loop 260 km via TOP C104D > NN410 > NN415 > TOP C105D > NN450 > TOP D102C (Arnstein, Port Loring, Loring, Restoule) > TOP C110D > TOP D > TOP C105D > NN410 > TOP C104D.
Ride Three
Sled west loop 254 km via TOP C104D (Magnetawan, Ahmic Harbour) > TOP C101 > TOP C103D > TOP D (Sprucedale) > AL302 > AL305 > AL303 (Sand Lake) > TOP D > AL300 > TOP D123 > TOP C104D > NN400 > TOP C105D > NN410 > C104D.
Like This Post? Follow Me on Facebook
Check out more snowmobile tours!
The tips and advice in this blog are the opinions of the author, may not work in every situation and are intended only for the convenience and interest of the reader, who has the personal responsibility to confirm the validity, accuracy and relevancy of this information prior to putting it to their own use.