This Quebec Snowmobile Tour In The Upper Laurentians Has It All…
---
---
What makes the Wood Runner Loop so special? My Intrepid Snowmobiler crew has visited many of the popular snowmobile destinations across North America. So, it takes something really remarkable to blow us away…
Fortunately, that rare event occurred last winter in the Upper Laurentides Region of Quebec. Here, we experienced the Wood Runner Loop (Le Tour Coureur des Bois). This one-of-a-kind circuit successfully delivers the various components of an epic tour that seldom come together in such an exceptional combination. And it took a group of forest innkeepers to make it happen…
Wood Runner Loop Backstory
Almost 25 years ago, some pourvoirie owners in the Upper Laurentians had a radical new idea. Rather than compete individually, they decided to work together to create an unforgettable snowmobiling experience north of Mont Laurier. One to attract more snowmobile tourists by capturing the authentic essence, wilderness spirit and majestic attributes of their region.
According to Wood Runner Loop co-founder Martin Gamache of Rabaska Lodge, these hospitality providers realized they had something very special in the remote Upper Laurentians. But they needed to present it in a whole new way. The idea of a complete, consistent and high quality snowmobile touring package sparked the birth of the renown Wood Runner Trails (Les Sentiers Coureurs des Bois). This launched what may be Canada's best organized – and most unique – trail riding adventure, the Wood Runner Loop.
As with any successful business plan, they had a simple concept. Give the customers what they want and exceed their expectations in every possible way. Feedback from snowmobilers at U.S. snowmobile shows had clearly indicated a strong interest in riding Quebec. But such a large trail system overwhelmed many potential visitors who didn't know where to go or how to get started.
As with any snowmobilers thinking about visiting an unfamiliar destination, these Americans also raised many other concerns. They needed to know where to stay, eat and get fuel. What trails to ride. Plus, how to find reliable snow conditions and to avoid getting lost. And how to secure their trucks, trailer and sleds. The Upper Laurentians hospitality providers recognized that if they could deliver a product that reliably addressed these considerations, they'd create a real winner.
Wood Runner Loop Is The Real Deal
Fast forward to today. The Wood Runner Trails are now an internationally recognized and respected brand. What's more, the loop is supported by a cooperating group of pourvouries, hoteliers and dealerships located throughout the region. As a result, its showcase ride, the Wood Runner Loop, is the perfect mix of awesome trails, top notch lodging, amazing cuisine and warm hospitality. Thus, it delivers the worry-free and outstanding trail riding experience much sought after by snowmobilers everywhere. So, the Wood Runner Loop is now the gold standard for touring riders, couples and families – visiting from Quebec, North America and from overseas.
Get The Full Story
For the full story, including contact and lodging info, check out my article from Supertrax Magazine by clicking on the image below. Then, plan your own Le Tour Coureur des Bois ride this winter!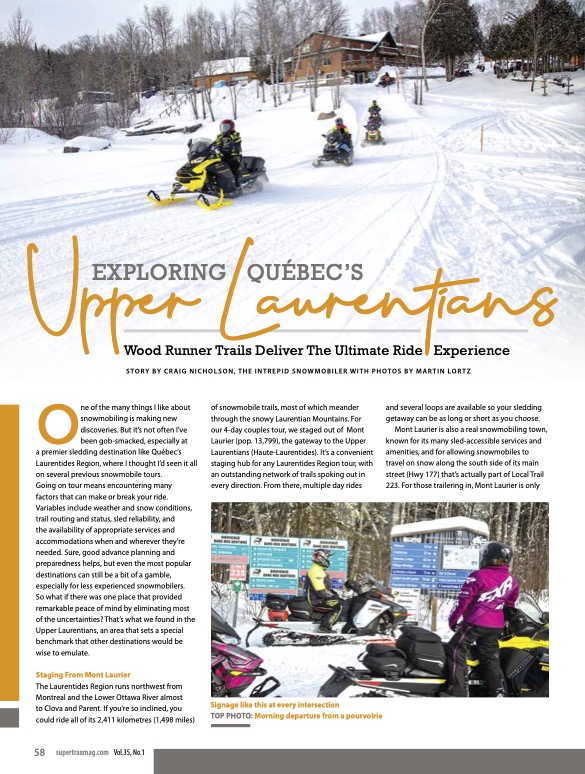 Like This Post? Follow Me on Facebook.
Check out more snowmobile tours!
The tips and advice in this blog are the opinions of the author, may not work in every situation and are intended only for the convenience and interest of the reader, who has the personal responsibility to confirm the validity, accuracy and relevancy of this information prior to putting it to their own use.