Staging Day Rides From Fairmont Le Manoir Richelieu…
---
---
My social media posts about Charlevoix Quebec snowmobiling have triggered plenty of interest. So, I decided to provide more details for riders who want to stay at the Fairmont Le Manoir Richelieu this winter. Watch for my full tour article next fall in Supertrax Magazine!
Charlevoix Quebec Snowmobiling From
Fairmont Le Manoir Richelieu
Let me start by saying that Charlevoix Quebec snowmobiling delivers primo trails and awesome scenery. Plus, this beautiful region offers the one of a kind experience that defines the Fairmont Le Manoir Richelieu. This combination is unbeatable. So, I doubt that snowmobilers will find anywhere else like it!
Hotel Hospitality
The Fairmont Le Manoir Richelieu snowmobiling experience is a very special mix. It's a blend of a world class hotel & superior amenities suffused with warm hospitality that made us feel right at home. Not  surprisingly, this feeling started at the front door. Here, a Labrador Retriever greeted our arrival with a vigorous tag wag. Moreover, we also received a welcome at trail's end, where a dedicated sled entrance with an automated door lifted to reveal the only heated and secure underground parking area for sleds I've ever seen!
Hotel Staff
Our contentment continued throughout our stay. Their very helpful and happy staff exhibited an efficient pride in making our stay memorable. No wonder, because many of them have worked at this hotel for years. As a matter of fact, some are even the 2nd or 3rd generation of their family to do so. Without a doubt, it's a super-friendly people place. Just ask Roux!
Hotel Amenities
Our Fairmont Le Manoir Richelieu snowmobiling experience continued with many exclusive amenities. These included delicious meals in several on site restaurants. Heated indoor and outdoor pools and spas at the Multisports Center. And ultimate pampering at the award-winning Moment Spa. Meanwhile, other offerings included onsite Ski-Doo adventure tours & rentals at the BRP Experience Centre. Plus, a night's fun at the adjoined Casino Charlevoix. In fact, Le Manoir Richelieu is so special that it almost made us forget to actually go snowmobiling!
Fairmont Le Manoir Richelieu History
This uniqueness also explains why the world leaders of the G7 chose the Fairmont Le Manoir Richelieu for the site of their 44th Summit in 2018. And why this unforgettable property is a proud member of Historic Hotels Worldwide…
But this membership didn't happen by chance. The Fairmont Le Manoir Richelieu has a rich history. For 121 years, it has towered over the remote north shore of the St. Lawrence River on Point-au-Pic. Built in 1899, the palatial wooden structure put the adjacent town of La Malbaie on the map. It also became the crown jewel of Charlevoix lodgings.
As a result, it quickly attracted many loyal guests, including sportsmen and even whole families, who cruised up from places like Boston and New York annually to summer there. In fact, most guests arrived aboard magnificent cruise ships until as recently as 1965.
Hotel Rebuilt in 1929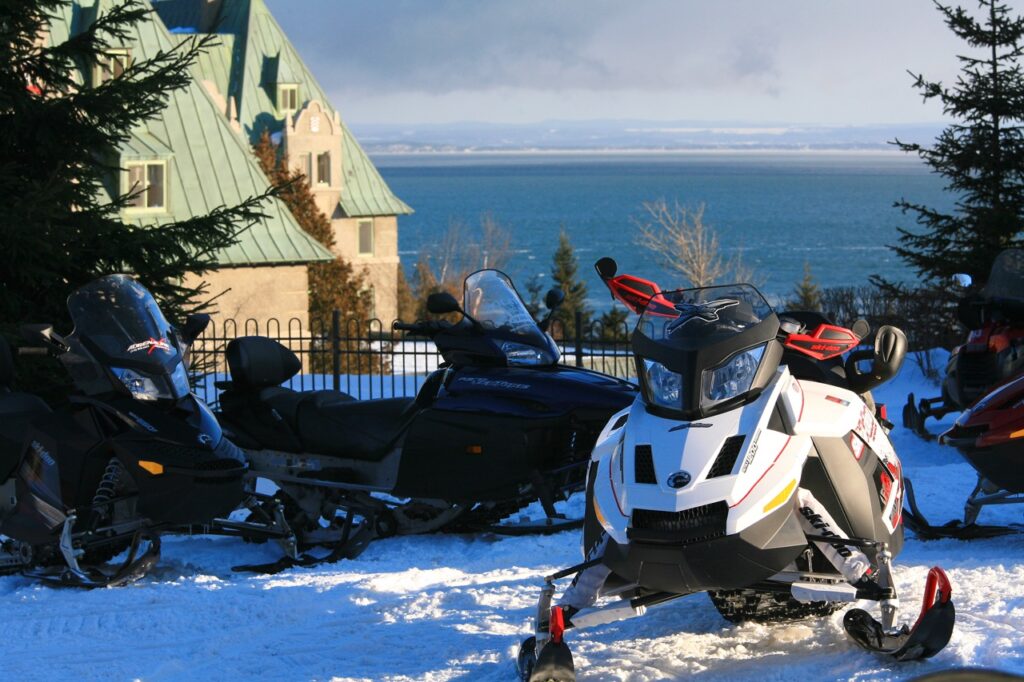 Destroyed by fire in 1928, this popular resort was immediately rebuilt in the style of a French castle, using local rock hewn from area mountains. Amazingly, this ambitious feat took only eight months. And what reopened in 1929 was an imposing, 405-room masterpiece of creativity, craftsmanship and construction. They just don't make them like this anymore!
Since then, major renovations and expansion occurred in 1998 and from 2009 to 2016, at a total cost of over $152-million. Fortunately, these enhancements carefully preserved the Fairmont Le Manoir Richelieu's historic architecture, while providing the contemporary infrastructure that guests enjoy today.
My Last Word About
Charlevoix Quebec Snowmobiling
So today, the Fairmont Le Manoir Richelieu is a unique fusion of majesty and magic. This makes it a must-visit for trail riders who go Charlevoix Quebec snowmobiling. You can trailer in to the hotel as we did to ride day loops. Or saddlebag in on Charlevoix's excellent trails. Either way, you'll be astounded by this incomparable destination and its breathtaking location.
And one thing for sure. The Fairmont Le Manoir Richelieu experience is so memorable that you'll want to stay for more than one night! Just ask for their snowmobile package. That way, you can enjoy all this outstanding hotel has to offer, and do some mighty fine Charlevoix Quebec snowmobiling too!
Charlevoix Quebec Snowmobiling Fast Facts
Access to Fairmont Le Manoir Richelieu
By Road: 146 km from The City of Quebec via Highway 138.
By Snowmobile Trail: 181 km from The City of Quebec via Trans Quebec 3, Regional Trail 77, Regional Trail 378 and Local Trail 124
Direct Trail Access to Hotel: Local Trail 124
Day Rides From Fairmont Le Manoir Richelieu
Southwest: 182 km to Baie-Saint-Paul & back via 124, 378, 377, 3, 378, (lunch at Baie-Saint-Paul) 3, 64, 378, 124 (note: 378 from the intersection of 377 to Baie-Saint-Paul was closed during our ride).
Northeast: 260 km loop L'Anse-Saint-Jean & back via 124, 378, 3, 383, (lunch & fuel) local trail, 83, 3, 64, 378, 124
Local Loop: 120 km around La Malbaie via 124, 378, 54, 94, 84, 378, (lunch at Relais on weekends) 3, 64, 378, 124 (Note: add another 65 km by staying on 3 past 64 to Clermont, then taking 377, 378 & 124.)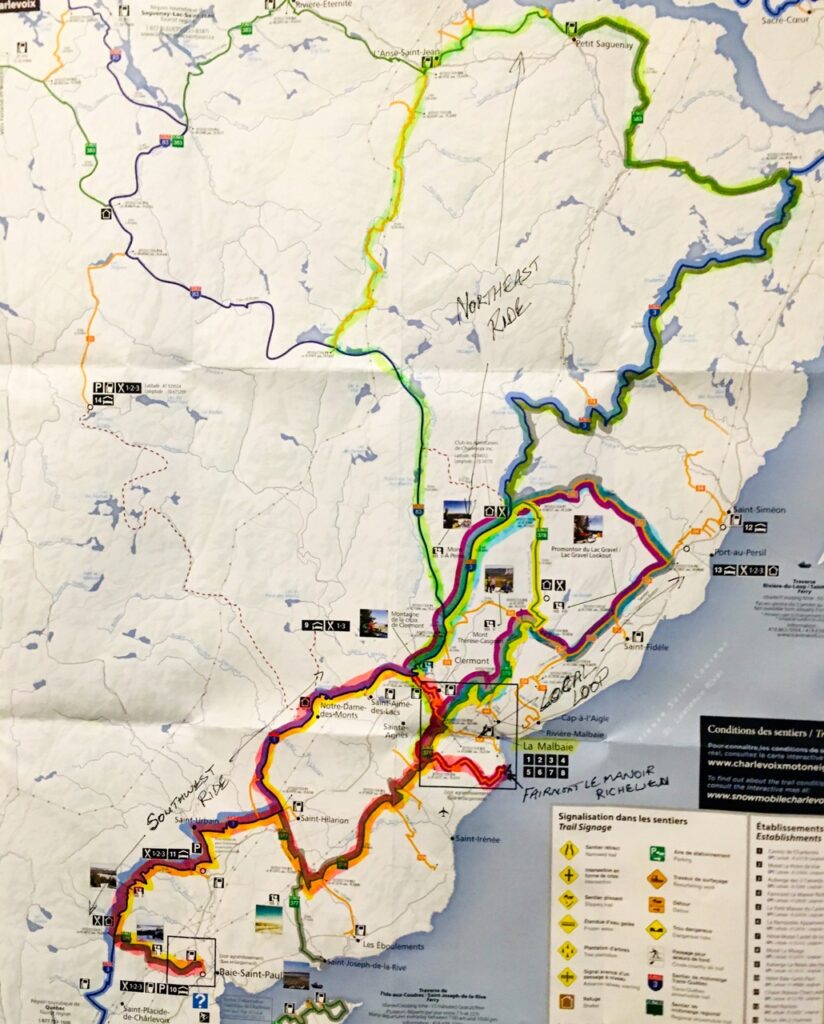 Area Snowmobile Services
Ride Planning Contacts
Like This Post? Follow Me on Facebook
Check out more snowmobile tours!
The tips and advice in this blog are the opinions of the author, may not work in every situation and are intended only for the convenience and interest of the reader, who has the personal responsibility to confirm the validity, accuracy and relevancy of this information prior to putting it to their own use.