Northern New Brunswick Ride Tips, Practical Advice & Itinerary…
---
---
This Christmas Mountains tour planner freeze-frames a moment in time on tour in New Brunswick last winter. It provides you with a blueprint to help plan your own Northern Odyssey tour, including exploration of the new destination known as the Christmas Mountains. To discover the story behind making the Christmas Mountains a great destination, check out my article in Supertrax Magazine. Meanwhile, here's all the practical planning information you need…
"It's well worth the drive to the Christmas Mountains!!  Spectacular views, great spots to stop for food and fuel!  Can't wait to go back!!" – Dawn Irwin, tour rider.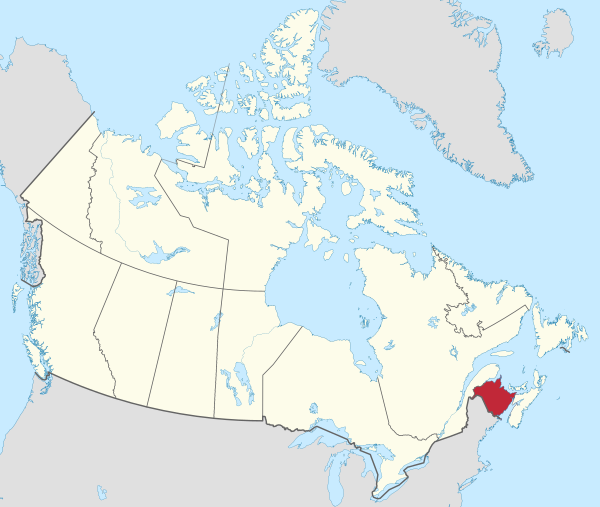 Christmas Mountains: Visualizing New Brunswick
Understanding snowmobiling in the Province of New Brunswick starts with picturing the region in your mind's eye. Imagine New Brunswick as a rectangular shape. The left (west) side of the rectangle is the U.S. border with Maine. The bottom (south) of the rectangle and its right (east) side are maritime coastlines. The eastern half of the top (north) of the rectangle is more coastline, while its western half is the provincial boundary with Quebec. With few exceptions, most of New Brunswick's towns, roads and highways are positioned closer to the sides of the rectangle.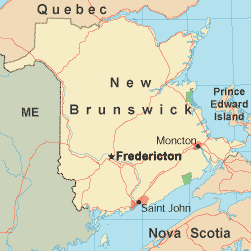 The bottom 1/3 of the rectangle is where the most populated areas are located, including the main cities of Fredericton, Saint John and Moncton. The top 2/3's is anchored in the east by Miramichi, Bathurst and Campbellton (from south to north). In the west, Edmundston is located in the northwest corner, with Woodstock about halfway down the west side border with Maine.
In between these towns, the top 2/3's of the rectangle is comprised of the largely uninhabited, wilderness interior of central & northern New Brunswick. It's a vast, mountainous area with some of the province's most remote – and most iconic – snowmobile trails. This is where you can ride the popular Northern Odyssey Tour and explore the province's newest snowmobile destination – the awe-inspiring Christmas Mountains.
"The trails in the Christmas Mountains are some of the most scenic, widest, well-groomed and signed trails I have ridden. The elevation changes and gradual corners make for an amazingly fun ride with lots of photo opportunities. With Maritime hospitality, seafood and a variety of spectacular rustic lodges and sled-friendly hotels, it's definitely a destination that should be on your sledding bucket list." – Al Fletcher, tour rider.
Great Trails All Winter Long in Christmas Mountains!
The Northern Odyssey trails connect Edmundston (located at the top left corner of the rectangle) to Campbellton, Bathurst and the Acadian Peninsula (on its right side). These Northern New Brunswick trails provide 3 to 5 days of great touring, often on old logging roads. And thanks to their northern location and higher elevation, the plentiful snow comes early & lasts long. Around Mount Carleton (highest elevation in the Atlantic Provinces) and the Christmas Mountains, they're usually decent riding until at least the end of April!
"Trails in the Christmas Mountains are second to none, fast flowing and trails groomed to perfection. Good fun was held by all!" – Craig Irwin, tour rider
Christmas Mountains Planning Tips
Planning your New Brunswick tour is easy. Check the resource contacts provided below and use the online trail guide provided by Snowmobile-Motoneige New Brunswick. Here are seven planning tips to help:
Time Change
If you're coming from anywhere north or west of New Brunswick, be aware that the New Brunswick border marks the time change from the Eastern to the Atlantic Time Zone. That means you lose an hour as you cross the border, but gain it back when you leave, so factor that into your travel plans.
Language
New Brunswick may be Canada's most bilingual province, so communicating in either English or French is easy, and won't be a problem no matter which language you prefer.
Cash Only
Many of the remote services around the Christmas Mountains area don't accept payment by credit card, so plan to carry extra cash. I also suggest calling ahead to double check hours of operation for both fuel and food at any remote services. If lunch was not available at a planned stop ahead, we grabbed a take-out lunch from our breakfast restaurant.
Online Map
The legend on the NBFSC online map uses various colours to show when a trail is "Last Groomed". Note that while Black indicates "Closed", it doesn't necessarily mean that trail is shut down for the season. Apparently, their system defaults to Black if a groomer has not passed over a trail in more than 10 days, so the trail may still be passable.
Ice Crossings
After snowmobiling most, if not all, SnowmobileMotoneige NB trails in north and central New Brunswick, I'm hard pressed to remember many ice crossings in the interior. They are few and far between and mostly bridged for previous logging operations. During the itinerary below, the only ice crossing was a short hop over the Miramichi River near Wilson's Sporting Camp.
Signage
SnowmobileMotoneige NB provides riders with some of the most effective and distinctive signage I've ever seen. Their intersection sign posts make navigation easy. Towering above the snow, these posts have multiple "wings" attached, each wing pointing towards one intersecting trail, and displaying that trail name, where it leads and what services are on it. check out the Christmasy trail names!
Speed Limit
When planning your daily ride distances, remember that you can set a brisk pace if you want. New Brunswick snowmobile trails have NO speed limit. But that's not license to ride foolishly because charges can still be laid for reckless or careless operation of a sled. The other factor that helps rack up more daily miles is that there are hardly any road crossings to stop at once you get into the interior. In more than 650 kilometres over two days riding the Christmas Mountains, we only crossed two roads!
"Snowmobiling in Northern New Brunswick and the Christmas Mountains is an experience I will surely remember for a long time. While the trails may be similar to areas of Northern Ontario and Quebec, with wide logging roads and top-notch grooming, the major difference lies in the altitude changes. The elevation changes a rider to see spectacular views and scenery not easily discovered and experienced elsewhere." – Jesse, Sledaddicz tour videographer
Christmas Mountains Tour Itinerary
As stated, this itinerary is for a 4-day ride. Add a day by riding the Acadian Peninsula from Bathurst to stay at Miramichi. Add another by riding from Miramichi into the Fundy Highlands and then to McNamee. For planning purposes, please verify all trails shown on maps below on the SnowmobileMotoneige NB online map.
Day One: arrival
Lodging: Quality Inn Hotel & Conference Centre, Edmundston (506) 737-2000 – 110 Chief Joanna Blvd, NB E7C 0C1
Lodging Info: From free breakfast & heated sled garages with secure storage lockers, to direct access to NB Trail 12 & ample parking, this next generation hotel caters is an unbeatable northwestern staging location. It also offers snowmobile packages, free WIFI, and an interior walkway to the adjacent Grey Rock Casino. (Remember to reserve your 2-sled garage when booking a room.)
Dinner: either Valley View Restaurant (reservations req'd), Fiddlehead Café in the Casino or offsite at place of your choosing.
Road Access: Trans Canada Hwy 2
Trail Access: NB 12
Day Two: Ride From Edmundston to Bathurst
Breakfast: Free at Quality Inn
Route: 330 km via NB12 / NB19 / Prancer Trail / NB 22 / NB 19
Fuel Stops: Saint-Quentin, Mount Carleton Lodge, Island Lake Lodge (NB22 & RT308), Atlantic Host
Lunch: Mount Carleton Lodge (snacks only indoors)
Lodging: Atlantic Host, Bathurst (506) 548-3335
Lodging Info: With a well-deserved reputation as being snowmobile central and staging location for northeastern New Brunswick, this popular hotel provides loading ramps, secure indoor sled parking & heated repair bays, on site fuel, great parking and direct trail access to NB Trail 19. Add in its on-site restaurant/bar (6:30am-10pm), hot tub and free WIFI for a perfect stay.
Dinner: hotel restaurant
Trail Access: NB 19
Day Three: Ride from Bathurst to McNamee
Breakfast: Atlantic Host restaurant
Route: 303 km via NB19 / NB 23 / Dancer / North Pole / NB58 / RT585 / RT 582 / NB 42
Fuel Stops: Nepisiquit Sports Lodge (NB23 & NB52), Roger's Lake Lodge (NB23), Governors Wilderness Resort (NB23 & RT504) or Serpentine Lodge, Bolestown (note: 180 km from Governors to Bolestown).
Lunch: Governor's not open for food & drink, so bring snacks for the trail or order take out lunch from Atlantic Host
Lodging: Wilson's Sporting Camp, McNamee (506) 365-7962
Lodging Info: Renown for its exceptional hospitality, this unforgettable snowmobilers' retreat with direct access to NB Trail 42, consists of an impressive main lodge, plus riverside suites and cottages, all with a casual-classy feel of down-home ambience. The main lodge includes a dining room where guests can enjoy hearty meals (booked in advance), hang out in the fireplace lounge, or luxuriate in a hot tub under a roofed deck. Guided sled tours available.
Dinner: pre-arrange steak or salmon dinner.
Trail Access: NB 42
Day Four: Ride from McNamee to Plaster Rock
Breakfast: Wilson's – pre-arrange
Route: 310 km via NB42 / RT586 / RT585 / NB58 / NB23 / Cupid / Comet / NB23
Fuel Stops: Serpentine Lodge, Plaster Rock
Lunch: Serpentine Lodge (if no lunch available, order take out from Wilson's
Lodging: Settler's Inn & Motel, Plaster Rock (506) 356-9000
Lodging Info: With a choice of motel rooms (sled parking in front) or cozy cabins, this home-style roadside accommodation is located on NB Trail 23. Coffee & snacks are available in the office, while fuel and eat-in/take-out restaurant choices are located nearby.
Dinner: JR's Take Out
Trail Access: NB 44
Day Five: Ride from Plaster Rock to Edmundston
Breakfast: Haylee's (opens at 8 am) – pack up and go by sled.
Route: 355 km via NB23 / Candy Cane / NB19 / NB28 / NB17 / RT133 / NB17 / NB12
Fuel Stops: Mount Carleton Lodge, Chalet Restigouche (NB17 west of Kedgwick), Moose Valley Sporting Lodge (NB17), Edmundston
Lunch: Chalet Restigouche (NB17 west of Kedgwick)
Lodging: Quality Inn Hotel & Conference Centre, Edmundston
Dinner: either Valley View Restaurant (reservations req'd), Fiddlehead Café in the Casino or offsite at place of your choosing.
Trail Access: NB 12
Day Six: departure
"After riding Northern & Central Ontario and Quebec trail systems. Northern New Brunswick with the Christmas Mountains absolutely tips the scale due to the endless views & landscapes as well as the breath-taking scenery with every head-turn. Being surrounded by literally millions of Christmas trees covered in fresh snow was like being in heaven to say the least." – Frank Mazzuca, tour rider.
My Last Word
Whatever your choice of destinations and routes, I know you'll be as impressed as I am with the New Brunswick trail riding experience – so start planning your Christmas Mountains tour for this winter. And thanks to Sledaddicz for the great ride video!
Christmas Mountains: Who To Contact
Like This Post? Follow Me on Facebook
Check out more snowmobile tours!
The tips and advice in this blog are the opinions of the author, may not work in every situation and are intended only for the convenience and interest of the reader, who has the personal responsibility to confirm the validity, accuracy and relevancy of this information prior to putting it to their own use.