Sledheads Volunteer For Memorable Early Season Experience…
---
---
Jesse and Mike are the Sledaddicz guys on YouTube, Facebook and Instagram.  Recently, these Southern Ontario enthusiasts put their exceptional passion to extraordinary action in Northeastern Ontario. Their adventure inspired me to write about early season Cochrane snowmobile trails. Prepping them is a great example of what's happening with many trails right across the province at this time of year!
We've all seen the social media posts from snowmobile clubs this fall. Numerous photos and stories of hard-working volunteers prepping their snowmobile trails for the coming season. Some snowmobilers expressed appreciation in a comment. Some acknowledged volunteer efforts by clicking "Like". But many just scrolled on to the next post. And only a handful actually step up to help, to experience for themselves what it takes to make trails ready.
Prior to their usual first ride of the season in Cochrane, Jesse and Mike travelled 8 hours from home to volunteer to help get Cochrane snowmobile trails available for the holidays. The time when hundreds of other visiting sledders would enjoy their own first ride of the season. This is the remarkable Sledaddicz story of giving back to the activity they love…
Cochrane Snowmobile Trails Get Early Snow
On November 22, the Polar Bear Riders Snowmobile Club posted about the first decent dump of snow on their Facebook page. Snowmobilers across Ontario celebrated winter's early arrival in Cochrane and starting booking reservations for the Christmas holidays.
Meanwhile, the club's handful of local volunteers knew that the clock was ticking. Their huge task of making 350 kilometres of snowmobile trails available to ride moved into its most critical stage. They would be under the gun to be ready in time for the holidays. Especially as, like everyone else, they and their families would also be busy preparing for Christmas.
Cochrane is gateway to the Northern Corridor. It's one of those few special places where winter comes early and lasts for months. This fortunate natural phenomenon and the fervent dedication of Polar Bear Riders' volunteers have resulted in a well-deserved reputation for delivering "The World's #1 Snowmobile Trails".
But Jesse and Mike were about to share a stark reality. The reality that Cochrane's prestige status is earned through a demanding ordeal of sweat & tears. With maybe even a little blood occasionally in the mix. So with winter imminent, trail work would ramp up 24/7, no matter the weather, no matter the temperature. What follows is Jesse and Mike's personal account of their very different, early season Cochrane snowmobile trails experience captured in blog and video. An experience that every avid snowmobiler should check out and take to heart…
Scratching The Itch
Like thousands of other passionate trail riders, the Sledaddicz hosts were itching to go at the first signs of winter. And to hit Cochrane snowmobile trails for shakedown rides on their new '22 Ski-Doo snowmobiles – Jesse's Renegade XR-S and Mike's Mach Z. They were also intensely curious to learn what it actually takes to make early season trails, so easily taken for granted.
They reached out to Polar Bear Riders' President Kenny Johnston and Vice President Jeff Crawford to volunteer to help get trails ready for the holiday season. Little did Jesse and Mike know that they'd soon be getting a crash course in Trail Making 101, Cochrane-style!
One immediate insight was that once winter starts, trail making is all about humans nudging nature to move faster. Left to his own devices, Old Man Winter would take weeks longer to haphazardly solidify conditions to handle the weight of groomers. To achieve quicker and more consistent freezing, club volunteers across the Northern Corridor are constantly out packing snow and flooding ice crossings. It's an onerous and time-consuming task, as Jesse and Mike quickly discovered.
Making Early Season Cochrane Snowmobile Trails
Just before the Christmas break, the Sledaddicz team did yeoman's work under the expert tutelage of Kenny, Jeff and their cadre of local volunteers. Jesse and Mike put in more than 150 volunteer hours on Cochrane snowmobile trails. They tried their hand at signing, staking, trail breaking, making snow bridges over creeks, smoothing riverbanks and trail grooming. They even helped thaw out a frozen groomer and repaired machine until 10:30 pm one night.
All the while, they also worked remotely at their day jobs from their Westway Motel rooms. Jesse even found some spare time to graduate with a perfect score from the online OFSC Groomer Operator's Training Course. And yes, they also squeezed in a few hours of evening shakedown riding on their new sleds after completing a days' trail work. Although they spent far more weary hours in the saddles of the club's Ski-Doo Skandics!
Skandic Adventures
Known as "sport utility models" Ski-Doo Skandics are the workhorse sleds of the Polar Bear Riders for early season work on Cochrane snowmobile trails. Jesse and Mike put them to good use towing toboggan loads of signs, stakes and equipment from the Polar Bear Riders' shop to remote parts of their trails.
Packing The Swamps
The Skandics also played a key role in packing 3 feet of snow covering swamps on 20 kms of TOP Trail A to freeze them faster. As Mike commented: "This wasn't easy, especially if you aren't used to working in deep snow. It requires a very different riding skill and manoeuvring the machines is quite a workout that makes for an exhausting day."
Culvert Repairs
One afternoon, Mike's Skandic got seriously stuck in a broken culvert at a road crossing on Club Trail L101. After completing the already scheduled day's work, a couple of the guys met back at the Polar Bear Riders shop at 5:30 pm to load up a new culvert on a trailer. They transported it to the site. There, they met up with Kenny and Mike who were out grooming. Together in the dark, the crew fixed the culvert as the mercury plunged far below O˚. Just another fun night on Cochrane snowmobile trails!
Flooding The Frederickhouse
Mike & Jesse also rode the Skandics on many late afternoons to make overnight ice. The watershed runs north to James Bay from the Cochrane area, where rivers cut across many trails. One example is the Frederickhouse, which bisects TOP Trail A just west of town. Until that river's frozen solid with at least 20" of good ice, operators must do a long detour via Highway 11 to groom the trail west to Smooth Rock Falls. And without thicker ice, fast flowing waters and currents can also make the river a questionable crossing for snowmobiles.
The Skandics once again demonstrated their utility by hauling a heavy pump, Stihl power head and an ice auger, along with chainsaws and axes, to the Frederickhouse. Here, Mother Nature's ice measured irregular depths, all less than 12". So, after a thickness safety check with the auger, the Skandics packed existing surface snow and slush. Then the volunteers drilled a bunch of holes through the ice, where water could be pumped from the river to flood the surface for the next hour and a half.
This sloppy slush would freeze over night, adding a new manmade layer to more quickly produce the necessary minimum thickness for groomers. By the time Sledaddicz left for home days later, the Fredrickhouse was getting extremely close to the ice depths needed for the groomer to cross. And by the day before Christmas, that section of TOP A had gone Green on the OFSC Interactive Trail Guide (ITG)!
River flooding is a cold, lonely and possibly risky chore as Mike discovered during his first time out. Testing thickness near one shore, a boot went through softer ice not once, but twice, immersing his foot with freezing cold river water. Brrrr – nothing like sledding home with a soaker! But this wasn't their only surprise involving ice-cold water…
Swampy Groomer Rescue
One day at 2 pm, while at the motel attending to his day job, Jesse got an emergency call from a groomer operator. A PistenBully groomer had broken through a swamp on Club Trail L101. The right track and drag were completely in water. Jesse immediately headed out to the groomer to give the operator a charging cable for his phone and to help with rescue operations.
Plan A
A local farmer had brought his tractor in to help pull the groomer out. But the tractor only dug massive ruts in the trail and couldn't move the groomer. Next, the farmer tried to get his much larger tractor, but it wouldn't start.
Plan B
While Jesse headed back to town, Jeff and Kenny discussed a plan to get the groomer out right away so it wouldn't freeze into the swamp overnight as temperature plummeted. At 6 pm, Jesse met Jeff, Kris and Braeden at the shop and all headed out to the stuck groomer. It was dark again, but by then a bulldozer was on site. The volunteers walked it to the mired groomer to begin attempting a tow out.
Plan C
But the tow chains kept snapping under the enormous strain. That meant disconnecting the drag, packed with frozen mud and ice that put too much weight on the groomer. This was extremely difficult with the pintle under almost frozen water. After 30 minutes of glacial effort, the team finally got the pinto up to disconnect the drag, leaving a loose chain connected to the front of it.
This enabled the dozer to pull the groomer out. Then they attached the groomer to the chain on the drag to get it out. But the groomer kept sliding, so the dozer hooked back on to the front of the groomer, with the groomer still attached to the drag. And like a freight train, all three pulled out of the swamp and onto hard ground. They were able to reconnect the drag to the groomer, and the operator drove the unit back to town with no damage. A frosty job well done, and the weary crew made it back to town around 10 pm after this herculean, 8-hour rescue effort. I bet everyone took long, hot showers before hitting the sack!
Awesome Memories On Cochrane Snowmobile Trails
Despite their long hours of tiring work, Jess and Mike arrived home really pumped about their early season work on Cochrane snowmobile trails. As avid snowmobilers, they loved every second of it. It was satisfying and rewarding because they're passionate sledders, who now have a hands-on understanding of what it takes to make trails. And how good do you think these guys felt when trails they worked on were ready for the holidays?
As snow lovers, they also welcomed being outdoors in the fresh air and majesty of that pristine winter wonderland. Being around trails and sleds and groomers was a daily high. So was the camaraderie of others who shared their passion, knew their stuff, were always upbeat, and even welcomed the two visitors into their homes for family dinners. As Mike noted: "This was the nicest group of guys, always willing to teach us everything and help each other to get the job done." Yes, new friends for life. All of which will enrich their own trail riding experience and take their Sledaddicz posts to a whole new level.
Volunteer Appreciation
Jesse and Mike certainly developed an even deeper appreciation for club volunteers like Kenny and Jeff. What they put into organized snowmobiling each and every season is really incredible. As Jesse remarked: "These guys are so dedicated and put 1000's of hours of volunteering time to get trails ready for everyone else while working normal day jobs and taking care of their families." But as Mike said: "Clubs across Ontario need help. More snowmobilers need to volunteer and help out to relieve some of the pressure on the few hands that carry the weight required to get trails available to ride."
That's why these Sledaddicz have a suggestion for fellow snowmobilers. As they say in the video, everyone should consider offering a few hours of their time to help out their local club. All you have to do is message the club through their Facebook page or contact them through Find Your District on the OFSC website!
My Last Word
Jesse and Mike are back home now catching up on sleep. But Cochrane snowmobile trails will always hold a special place in their hearts. That's why Jesse and Mike are heading back up this week for their usual first ride of the season in the Northern Corridor. This time, going with friends to enjoy the Polar Bear Riders' trails that they helped prepare. And Jesse will always be there in spirit, because he's now a volunteer administrator for the Polar Bear Riders Facebook page, working remotely to keep us informed about what's happening around Cochrane this winter!
Ontario law requires a snowmobile entering an OFSC Prescribed Snowmobile Trail to display a valid Ontario Snowmobile Trail Permit.
This article is dedicated to snowmobile club volunteers everywhere. You are the true heroes of organized snowmobiling, whose selfless efforts make our trail riding possible every winter.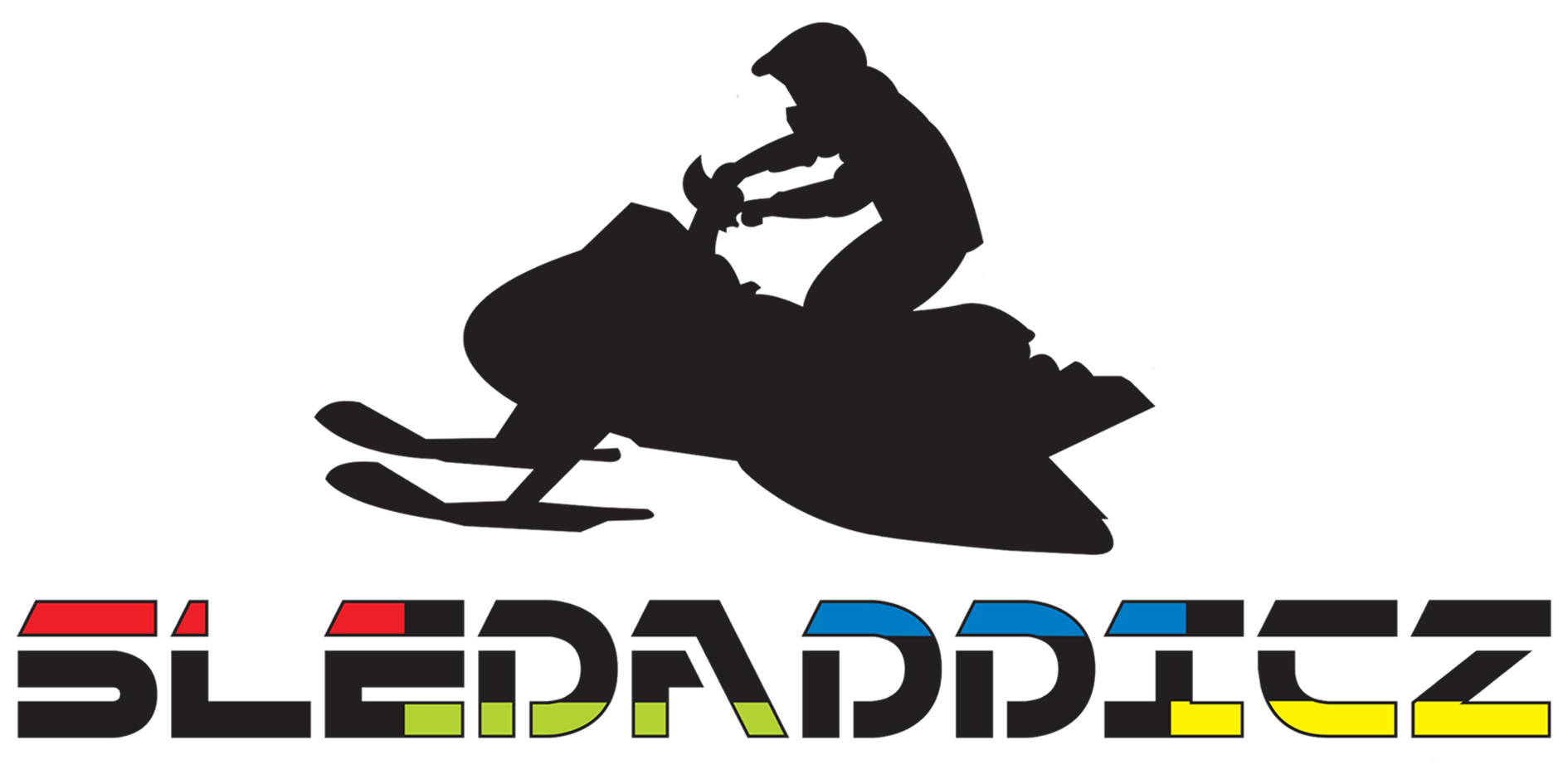 Check out the Sledaddicz Online Store for cool sledding merch!