No Fog Mask Improves Snowmobile Vision & Safety…
---
---
Why do you need a No Fog Mask while snowmobiling in Canada? Because keeping the fog off the inside of your snowmobile helmet face shield can be difficult on snowmobile tours.
I point this out in a previous post about visor fogging and in snowmobile magazine articles. Especially when the mercury plummets and your head and face are pumping out the heat inside your helmet to stay warm. Or if you've been playing hard in the snow conditions and your body's really putting out the heat. Staying fog-free is even more of a challenge on your prescription or sunglasses lenses. Either way, fogging up obscures clear vision on your snow machine. It's both frustrating and a serious snowmobile tour safety concern during snowmobile vacations.
Electric visors and helmet vents can do their part to keep the atmosphere inside your helmet balanced to combat fogging. But the real secret is to stop your exhaled breath from making contact with your visor and lenses. And this means serious breath deflection.

Deflecting Hot Breath
Many helmets come with built in deflectors. But I've never found one that fit my face tightly enough to seal all the air gaps. These spaces allow my breath to escape inside the helmet to cause fogging. That's because these shields are not fitted to my face. In fact, they operate separately and independently of it. So the only sure way I've found of directing my breath away from my visor and lenses is with a No-Fog® High Performance Breath Deflector.
It's billed as providing "the ultimate in clear vision." My No-Fog Mask works best when both the helmet's breath-box and chin screen are removed. This allows the full escape of the hot, moist air that No-Fog deflects down and away from my visor and glasses.
Sure, my No Fog makes me look like a bank robber when I take my helmet off. But this neat bit of neoprene engineering has a nosepiece that adjusts snuggly to the shape of my schnozz. Its deflector flap is long enough to push even my hottest air down and away from my visor and lenses. This occurs regardless of whether I breathe through my nose or mouth (A No Fog Mask has both nose and mouth holes.)

Snug Fit
Meanwhile, the cut of the neoprene hugs my cheeks. This seals out any air escape from that area. The result, as their name says, is no fog, even when I'm wearing eyeglasses. This works as long as I rest the bridge of my glasses outside on the surface of the N0 Fog nosepiece, not inside on the bridge of my nose (doing so breaks the seal and places my lenses directly in hot breath's way).
My No Fog Mask fits easily under my helmet. It fastens with Velcro at the back and by a strap that goes over my head (some models have adjustable straps). Then, my jaw squarely ensconces itself in the comfortable No Fog chin cup. And the whole apparatus stays put until I remove it, regardless of how I may turn my head while riding.
What's more, its neoprene material protects cheeks to Adam's Apple from windburn and frostbite. Meanwhile,. No-Fog's "Dry Face" technology keeps the mask from feeling clammy against my skin. It's this feature that enables me to remove my helmet's integrated chin piece. Doing so allows my expelled breath to escape completely without freezing any skin.
Riders who get claustrophobic with anything over their face may take a while to get used to a No Fog Mask. But if the alternative is fogging up, it's worth the effort. The only other inconvenience is that I have to take my helmet off to remove my No Fog Mask. So it's easier to leave my lid on during short riding breaks. This requires some extra care when snacking or sipping a drink (or smoking a cigarette for those that do). I've also found it wise to carry a spare No Fog with me just in case I lose one.

Models for Every Kind of Rider
No Fog Masks come in a variety of configurations. They work in all snow conditions and for any kind of snowmobile tours They include Gaitor™ (with integrated balaclava), Xtreme™ (with integrated neck curtain) and High Performance. These masks are fitted by neck size and it's important to get one that's not too big for you. Because then it won't be snug enough against your face to seal in and deflect away your breath.
Special No Fog Mask Tips
Here's a storage tip. Save the white nose piece insert that comes in a new mask package. When storing your No Fog Mask between rides or seasons, it help maintain the shape of the breath deflector.Do so by flipping it up and inserting the packaging insert as shown on the drawing on the back of the header card (basically storing it as shipped in the original package).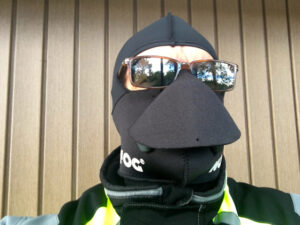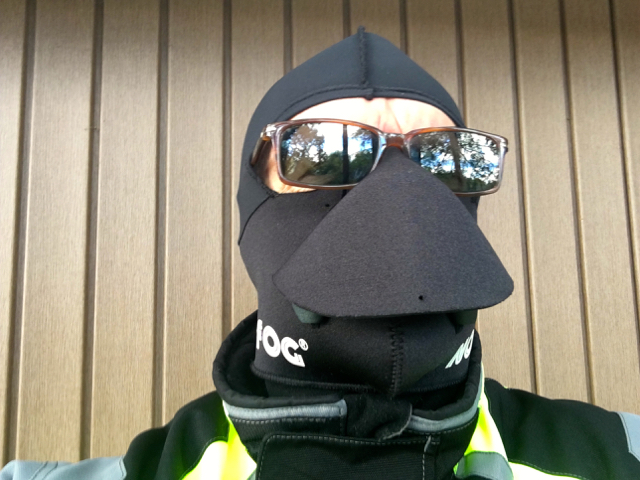 Lastly, my advice is to look specifically for the No Fog brand when shopping for a mask. I've worn mine for thousands of kilometres in all snow conditions. It's held it's shape and elasticity – and is still going strong. Meanwhile, I've seen knock-offs that have lost both of these important attributes much too quickly.
If you want any more information, check out the Tech Tips and Frequently Asked Questions (FAQ) section on the No-Fog website. Then click on "Where to Buy" and scroll down to the Retail Buyers section. And by the way, I also use my No Fog Mask for face protection when riding my Sea Doo personal watercraft on chilly summer mornings!
Check out other product reviews.
The tips and advice in this blog are the opinions of the author, may not work in every situation and are intended only for the convenience and interest of the reader, who has the personal responsibility to confirm the validity, accuracy and relevancy of this information prior to putting it to their own use.
Like This Post? Follow Me on Facebook!