Ski Doo LED Headlight Illuminates Night…
---
---
A Ski-Doo LED Headlight will impress anyone riding after dark on their snowmobile tour or snowmobile vacation. It installs quickly and easily below your sled's regular headlight (Ski-Doo snowmobiles only). It integrates so neatly that it's hardly noticeable – until you turn it on. Then – presto – it's like someone turned on the floodlights!
Use it in tandem with your high beam and on its own separate dash switch. This bright lamp almost makes the trail ahead look like daylight. Yes, it improves nighttime vision that much. And that's why I highly recommend it, especially for the lead sled in any night riding group.
Tested On Tour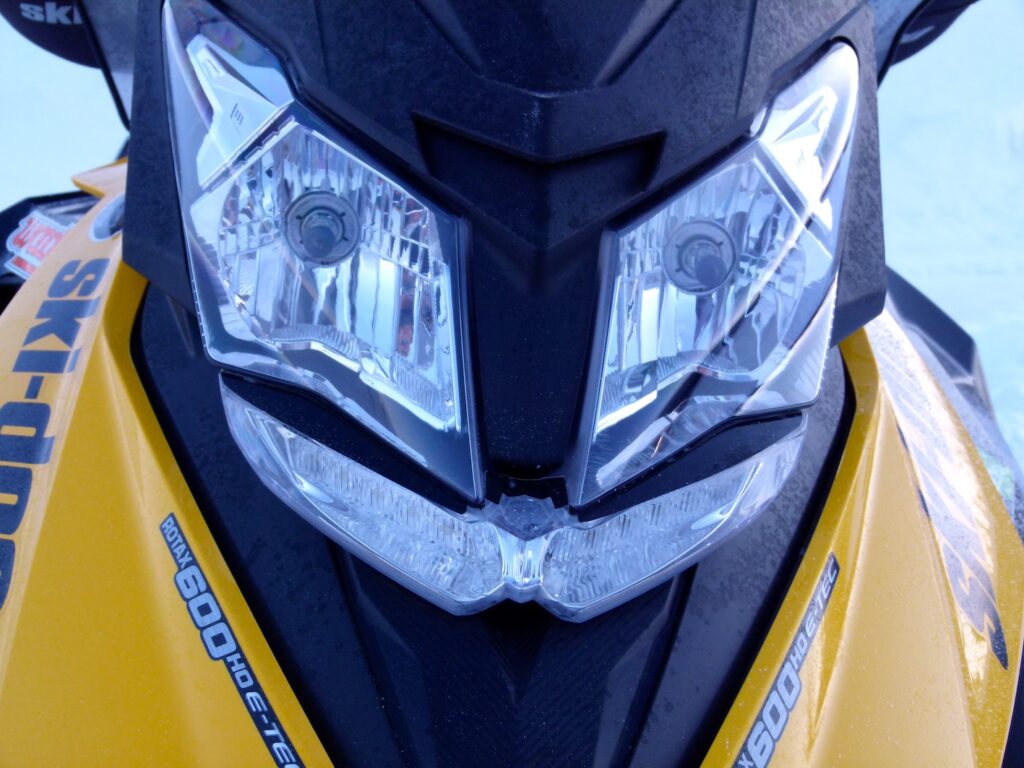 I've used the Ski-Doo Auxiliary LED Headlight for two seasons and thousands of kilometres. After dark, most sled headlights throw out a weak and dispersed beam. It always seems to leave more shadows and gloomy areas than not. Most high beams are better, but still aren't perfect. It's all too easy to out run most standard headlights. That's why some riders try to improve their night sight by switching to after market bulbs.
Game Changer
Not any more. The Ski-Doo Auxiliary LED Headlight is a night riding game changer. It's so bright that it eliminates shadows. It also throws light farther ahead on the trail than anything else I've seen. It's like turning night into day. Just be careful to switch off for oncoming riders, same as you would with your automobile high beams for other drivers.
Many current Ski-Doo snowmobiles can accommodate the LED headlight as a plug and play accessory. So installation is easy. So is moving it from one sled to another when you buy new. Being LED, I've never noticed that it draws much power either. But believe me, after just one night ride with a Ski-Doo Auxiliary LED Headlight, you'll never ride without one again. As I often say, it's so bright at night that the deer need sunglasses!
Ski-Doo LED Headlight Snowmobile Video
Check out my interview with Paul Prudhomme, Product Manager, Ski-Doo Clothing & Accessories about the LED headlight…

Check out more product reviews!
The tips and advice in this blog are the opinions of the author, may not work in every situation and are intended only for the convenience and interest of the reader, who has the personal responsibility to confirm the validity, accuracy and relevancy of this information prior to putting it to their own use.