For a Great Weekend Sledding Getaway, Try North Bay Ontario…
---
---
As the gateway city for southern snowmobilers heading up Highway 11 in search of a Northern Ontario sledding experience, North Bay is a popular destination and here's why…
Snowmobile North Bay Staging Location
It's almost as if the huge hill just north of town on Highway 11 marks the final transition between south and north. That makes North Bay a favourite launching point for those doing saddlebag rides to points farther north or for the RAN ('Round Lake Nipissing) Tour.
But it's also a great sledding destination in its own right. It offers enough day ride loops to satisfy weekend visitors who go to snowmobile North Bay. Less than 4 hours north of the GTA, the City of North Bay is straight up Highway 11 from the GTA. Far enough to feel like you've arrived on Northeastern Ontario snow, but close enough that getting there's easily doable for a weekend getaway.
Why Snowmobile North Bay
With many big city amenities, this city of 51,500 is comfortable embracing winter, including downhill skiing at Laurentian Ski Hill. Local trails lead directly to numerous hotels and services, And also to hundreds of kilometres of groomed trails to explore and loop opportunities to discover. Sure, as with any large population centre, in-town trails are well used.
But the North Bay Snowmobilers Club does their best to stay on top of it. And once you're out of town, a mix of OFSC TOP and local trails deliver some outstanding rides. Overall, trail number & destination signage is very good and the "You Are Here" map boards at most major intersections help newcomers with worry-free navigation.
Finally, if you enjoy safe lake running, you'll find it around North Bay where Trout, Nosbosing, and Talon Lakes – and even Lake Nipissing – offer well-staked trails.
Staging Hotel
The Quality Inn (formerly Travelodge Airport) is a great choice for staging day rides. Located at the end of SSR711 just off TOP D, this hotel provides direct trail access. It also offers ample parking, sled parking in front of ground floor rooms, free hot breakfast, indoor pool & hot tub and a gas station next door. For dinners, we cabbed to Farina Ristorante in the Best Western Lakeshore for extra tasty cuisine, and Wacky Wings is walkable from the Quality Inn.
Day Rides
We rode day loops from the Quality Inn. Snowmobile North Bay offers several good ones:
The Explorers Snow Tour is a 250-km circle to Mattawa via TOP A and returning by TOP A112A.
A second good loop of similar length is accessible via NB710 across Lake Nipissing to pick Up TOP C110D into Port Loring for lunch, returning by TOP D102C.
A third loop took us north on TOP A/D with 2 options. One is a 150-km roundabout via TOP A102Q, NB308 & BF201 that's perfect for a part day ride before trailering home. Alternatively, try a 205-km loop up to Marten River for lunch via TOP D, A104D and A.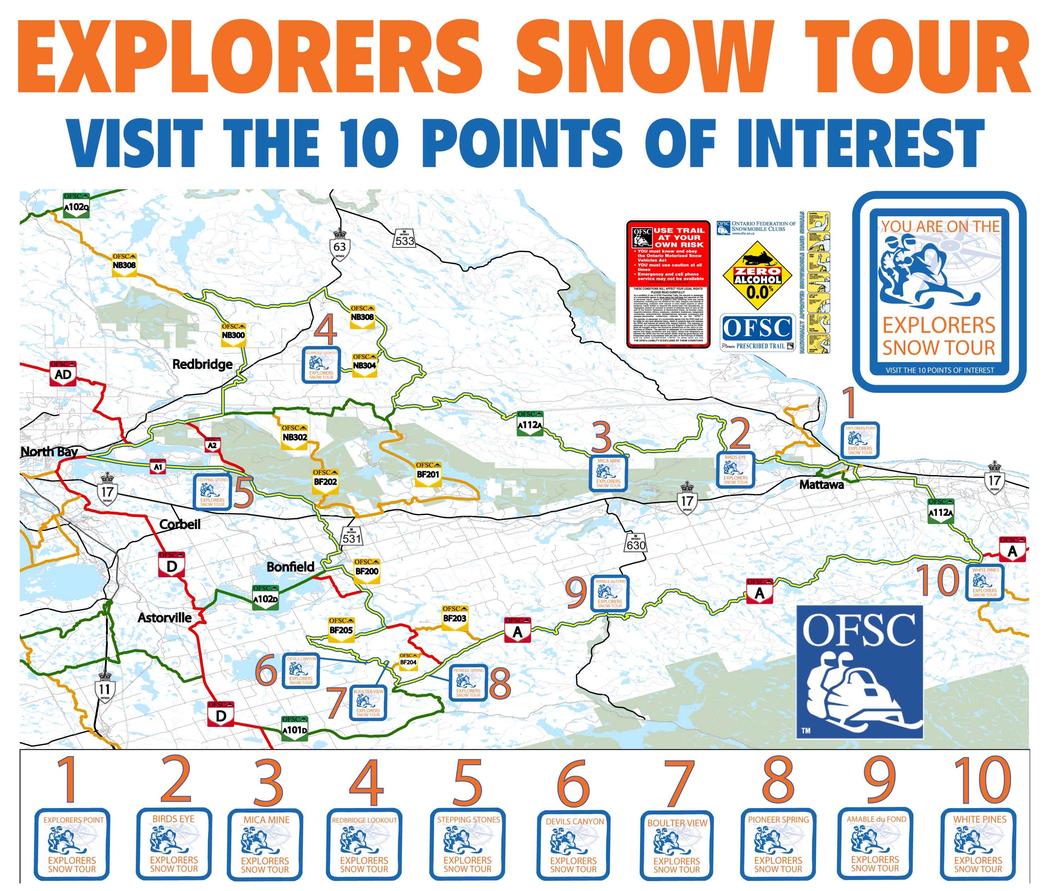 Be Sure To See
Scenic lookouts on NB304 (Redbridge Lookout), BF205 (Boulter View) and TOP A112A (Bird's Eye View). Also, the Mica Mine on TOP A112A. Deer yard on TOP D102C & C106 north of Port Loring. Ice fishing village on Lake Nipissing.
Fair Warning
Be prepared for (or avoid) 13 km of road running on TOP D just south of intersection of TOP A101D. Also, road running on TOP D through Astorville and a trail closure through Powassan may still be in effect.
Get More Info
Ontario law requires a snowmobile entering an OFSC Prescribed Snowmobile Trail to display a valid Ontario Snowmobile Trail Permit.
Like This Post? Follow Me on Facebook
Check out more snowmobile tours!
The tips and advice in this blog are the opinions of the author, may not work in every situation and are intended only for the convenience and interest of the reader, who has the personal responsibility to confirm the validity, accuracy and relevancy of this information prior to putting it to their own use.