How To Snowmobile Northeastern Ontario Loops…
---
---
Want to snowmobile Northeastern Ontario loops for your next snowmobile vacation? If you want more info about Ontario snowmobile tours in this region, check out another one of my Snowmobile Northeastern Ontario articles.
In recent winters, Ontario has been all a-buzz with snow tours being promoted by the Ontario Federation of Snowmobile Clubs. Touted as a unique kind of rider experience, the Ontario snow tours integrate existing snowmobile trails into new branded rides. These loops make it easier for those unfamiliar with an area to get around and have an enjoyable journey.
Northeastern Ontario offers four of these snow tours. That's why our crew decided to check them out during an eight-day Ontario snowmobile tour odyssey. So Dan Carty, Frank Crocco, Craig Irwin and Don Webb met Marsha and I at our staging hotel, the Waterfront Inn, New Liskeard. Our plan was to ride the first two snow tours, the Gold Rush Tour and the Abitibi Canyon Loop first. Then we end up back in New Liskeard (part of the municipality called "Temiskaming Shores").
Our tight winter tour schedule wouldn't allow time to snowmobile to the remaining two Sudbury area snow tours, the Cartier Moose Loop and the Chiniguchi Wolf Loop. Instead, we loaded up our Triton trailers and towed the 300 kilometres between New Liskeard and Sudbury to complete this Ontario snowmobile tour story.
So here's my take on four snow tour rides in Northeastern Ontario. I've also included snowmobile videos. Meanwhile, if you're interested in other Ontario snowmobile tour destinations, check out the rest of my Ontario ride articles.
Snowmobile Northeastern Ontario Loops – Gold Rush Tour
Anchor Towns: Temiskaming Shores, Gowganda, Timmins, Kirkland Lake
Bonus: Enhance your tour by doing some side-trips on some of District 14's superb local trails!
It's promoted as "The North's #1 Self-Guided Tour". That's because the Gold Rush Tour has been in existence if not top of mind, since the 1990's. Originally conceived as a tribute to the region's gold mining heritage, the Gold Rush Tour has had its ups and downs. But it is re-vitalized as one of Northeastern Ontario's multi-day loops.
2 to 4 days
The Gold Rush Tour is a saddlebag ride along 710 kilometres of Trans Ontario Provincial (TOP) Trails. Many of its trails are on old logging or mining roads or utility corridors. These make for some mighty fine groomed riding. Snow coverage is usually abundant. And typically, the Gold Rush Tour makes itself available to ride from early January to the end of March. Depending on trail conditions and your riding preference, circumnavigating the Gold Rush Tour can take from two to four days.
Services
The eastern and northern sections of this loop run from Temiskaming Shores to Timmins on TOP Trails A, A108 and A111C. These are main snowmobiling corridors that roughly parallel Highways 11 and 101. As such, they plug well serviced communities like Earlton, Engelhart, Kirkland Lake and Matheson into the snow tour.
The southern and western sections of this circle ride cover less frequently travelled TOP Trails through slightly more remote areas. However, they are sufficiently serviced by communities such as Elk Lake, Gowganda, Shining Tree, Mattagami and Gogama. Heads up that some of the gas stations in these places accept cash only!
Navigation
Not long ago, finding the Gold Rush Tour was a challenge. Many riders knew its name, but weren't exactly clear as to what route it follows. As part of its revitalization, the exact route is now highlighted on the OFSC District 14 Trail Guide and the OFSC Interactive Trail Guide. The D14 website also has a highlight map. Plus it includes a total listing of all Gold Rush trails, complete with distances and the services available on route.
These tools take away much of the guesswork for doing the tour. And by the time you read this, clubs are placing more Gold Rush Tour signs on the trails to make navigation easier than it was for us. Ideally, riders should be able to simply follow the Gold Rush Tour signs to find their way around.
Snowmobile Northeastern Ontario Loops – Abitibi Canyon Loop
Anchor Towns: Cochrane, Smooth Rock Falls
Bonus: Spend your next sledding vacation saddle-bagging the new Northern Corridor Adventure, which includes the Abitibi Canyon Loop, plus four other snow tours just as good!
The Abitibi Canyon Loop is a 300-kilometre wilderness ride. It circles north from the Town of Cochrane in the Northern Corridor District. The eastern side follows TOP A103 to a halfway point at Fraserdale,.This is the site of a major power dam (an impressive sight where the trail crosses over top of it), built in 1933. Here, Extreme Tours (guided sled trips to Moosonee & James Bay) have a base camp with a heated trailer offering a very basic lunch, along with fuel and outhouses. Cash only.

Main Attractions
It's always a good idea to call ahead to the base camp to make sure its open. Because some sleds can't complete this loop without gassing up there. Extra fuel is especially necessary if you take in this loop's other two main attractions – the Abitibi Canyon and New Post Falls.
Located on the west side of the power dam, the Abitibi Canyon offers about 20 klicks of deep powder riding and hill climbing. It's the closest approximation Ontario has to a "mountain" experience. New Post Falls, a few kilometres up the road from the base camp, and accessed by a goat path, is a spectacular gorge and waterfall.
Fuelling Up
If for some reason the base camp is closed (can happen very early or late in the season), the loop is still doable. Many of today's fuel-efficient sleds can make this loop on a full tank if you ride it clockwise, heading out of Cochrane to Smooth Rock Falls first for 65 klicks. Just be sure to top up at the gas station there. That leaves you with about 220 kilometres (which consumed about ¾ of a tank on my Ski-Doo Renegade 900 ACE) to complete the loop back to Cochrane. But it's always wise to carry extra fuel with you just in case.
Choices
High milers can do this entire loop as a day ride out of Cochrane, staying at the Best Western Swan Castle as we did. However, those that want to spend more time playing in the canyon or to ride the loop at a more leisurely pace might want to cap their day's trail ride at 220 kilometres. Do so by riding the loop counter-clockwise and staying over in Smooth Rock Falls. Then ride back to Cochrane the next day.
I've snowmobiled the Abitibi Canyon Loop on several different occasions.  The local clubs always keep it impeccably groomed and very well signed. And now that the route is also abundantly marked with "Abitibi Canyon Loop" signs, snowmobilers can simply sit back and enjoy a mind-blowing ride on stellar trails!
Snowmobile Northeastern Ontario Loops – Cartier Moose Loop & Chinguchi Wolf Loop
Anchor Town: Sudbury
Bonus: Make a long weekend out of it by riding Sudbury's three excellent day loops.
Sudbury put itself back on the snowmobile map big time with the debut of the Cartier and Chinguchi Loops. And this new found prominence is solidified with the addition of a third & fourth rides, the Rainbow Elk Loop and Deer Loops, which I haven't had the pleasure of riding yet. But I have snowmobiled Sudbury previously and if you want more info, check out my Snowmobile Sudbury article.
Gateway Hub
The concept is simple. Now that the 4-laning of Highway 400 is virtually complete, the drive to Sudbury is a breeze. So, why not make it a gateway hub where riders can easily trailer in for a long weekend and ride two or three different day loops? Meanwhile, staying at the same hotel each night. No need to carry saddlebags. What's more, Sudbury offers enough variety of restaurants, nightlife and attractions to more than fill any non-sledding hours and desires.
I was very impressed with the overall quantity and quality of trail signage throughout the Sudbury area trail system. It is far better than many other places and the grooming was second to none. Yes, it can get a little scratchy around the city proper from lots of sled traffic. And there are also a few major roads to cross. But that's a very small price to pay, because once out of town, it's one fabulous trail after another.
Lodging & Staging
The only catch is that for a city its size, there aren't many trail accessible lodgings in the city proper. Fortunately, one good place is all a sledder needs and the Moonlight Inn & Suites fits that bill. It's located at the east end of the city on Highway 17 near Sudbury's Royal Distributing location. It's also very conveniently positioned at the juncture of the three snow tours, with trail access to each one.
Another alternative is to stay at an in-town hotel that isn't trail accessible. From there, trailer out to a nearby staging area like the Sudbury Trail Plan office on the east side of the city near Garson. There's also good parking and direct trail access behind the Town of Hanmer Tim Horton's on Old Highway 69 north of Sudbury. But neither of these options is as handy as the Moonlight Inn & Suites.
Chiniguchi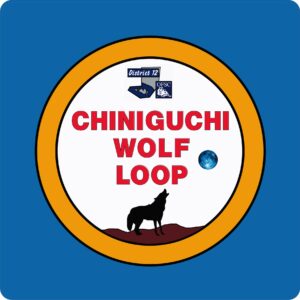 At 223 kilometres around, the Chinguchi Wolf Loop is positioned northeast of Sudbury. Essentially, its TOP Trails circle the largest area water body, Wanapitei Lake. They are also adjacent to the Wolf Lake Forest Reserve, the world's largest old growth red pine forest.
One highlight of the Chiniguchi Wolf Loop is the scenic lookout at the top of Wolf Mountain, accessed by Local Trail 76. At 503 metres, it's the region's highest trail accessible elevation.
Except for the north section of the loop, there are several locations on route for fuel, including Sportsmans Lodge Wilderness Resort on the east side. The west side of this loop shares some trail with the Cartier Moose Loop where it passes close to towns like Capreol and Hanmer.
Cartier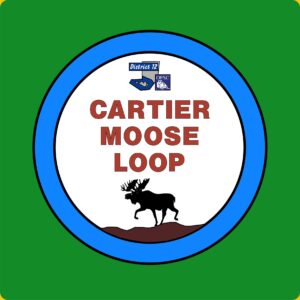 The 254-kilometre Cartier Moose Loop is located northwest of Sudbury. It shares some sections of its east side trails with the Chiniguchi Wolf Loop. That's why in some places, you'll spot signs for both tours on the same post.
It's easy to make good time on this loop's TOP Trails as they wind through the Laurentian Highlands. On its west side, the Cartier Loop has only one stop for fuel and food at Windy Lake Lodge.
Just a quick note. my distances for these loops are longer than what's stated on the Sudbury Trail Plan trail guide. Why? Because our odometer readings also included getting to and from the loop from our staging hotel.
Additional Snow Tours
Although we didn't ride them, the Rainbow Elk Loop (252 km) and the Deer Loop (185 km) are also part of the Sudbury snow tour family. These rides are southwest of Sudbury and extend all the way to Espanola. Unlike the Cartier and Chiniguchi Loops, they involve some lake running, albeit on clearly marked and staked trails.
Taken together, these four circle rides make Sudbury a must-visit destination for snowmobilers looking for a memorable long weekend sledding getaway. From the Greater Toronto Area, we arrived in the city in less than four hours. That's not bad when there's over 800 kilometres of exceptional loop riding to be had!
Ontario law requires a snowmobile entering an OFSC Prescribed Snowmobile Trail to display a valid Ontario Snowmobile Trail Permit.
Who To Contact for These Ontario Snowmobile Tours
Maps Needed for These Ontario Snowmobile Tours
Snowmobile Northeastern Ontario Loops – Our Tour Itinerary – 1,689 kilometres in 7 days of riding
Notes: TOP = Trans Ontario Provincial
Snowmobile Northeastern Ontario Loops DAY ONE
Trailer 450 km to New Liskeard (drive time from Greater Toronto Area: 5 – 6 hours)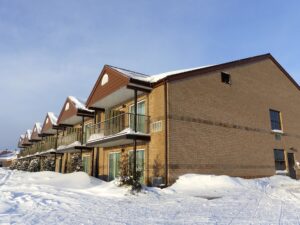 Where To Stay: Waterfront Inn. This totally renovated hotel overlooks Lake Temiskaming and provides a good staging point for the Gold Rush Tour. Access is easy. By sled, just follow the beaten tracks down the Wabi River to the lake and hang a right around the marina to the hotel. Or follow the Trail L184 stake line north from Haileybury.
By auto, drive directly 3 km from Highway 11 to the hotel parking lot. Here, there's plenty of space to leave your rig while you go snowmobiling. The Waterfront Inn has a restaurant on site for dinners. The hotel also offers complimentary continental breakfast, and provides access to pool, sauna and hot tub. Ski-Doo dealer and gas station in sight of hotel.
Snowmobile Northeastern Ontario Loops DAY TWO
Ride 313 km to Timmins via TOP A, TOP A108, TOP A111C, L124. Fuel: Kirkland Lake, Matheson, Timmins. Lunch: Tim Horton's, Kirkland Lake
Note: Originally, we were scheduled to ride New Liskeard to Timmins via the western section of the Gold Rush Tour on TOP A, TOP A107C, and TOP C. But very heavy early January snow delayed the opening of those trails so we rode them at a later date.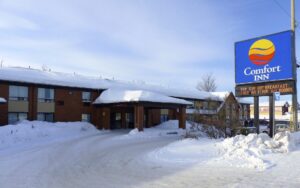 Where To Stay: Comfort Inn. For special weekend snowmobile package rate, call 1-866-285-7936. A good place to stay on the Gold Rush Tour, the newly renovated Comfort Inn is located on Algonquin Blvd (Highway 101) on the east side of town (just east of the intersection of Highway 655). I offers trail access from TOP Trail C via Trails L24 and L27.
The hotel provides complimentary hot breakfast and sled parking in front of ground-floor rooms. Gas station, convenience store and restaurant (Casey's) nearby or order in scrumptious pizza from Don's Pizzerea as we did.
Snowmobile Northeastern Ontario Loops DAY THREE
Ride 200 km from Timmins to Cochrane (including loop ride around Cochrane) via L124, TOP C, TOP A106C, L103, A105Q, L101, TOP A103, TOP A. Fuel & Lunch: Cochrane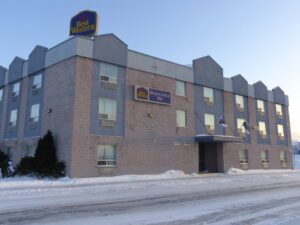 Where To Stay: Best Western Swan Castle Inn. – It's located downtown just north of the railway tracks that bisect Cochrane east to west. The Best Western Swan Castle is sled accessible off TOP Trail A and is a good staging hotel for the Abitibi Canyon Loop.
With a secure sled compound and a great hot tub, the Best Western also offers complimentary continental breakfast. Plus, it's within easy walking distance of several restaurants, including the New Mandarin (great Chinese) and the Ice Hut. Gas available at several trail accessible locations in town, including Canadian Tire and Esso.
Snowmobile Northeastern Ontario Loops DAY FOUR
Ride 300 km return to Cochrane on Abitibi Canyon Loop via TOP A103 and TOP A. Fuel: Extreme Tours Base Camp, Fraserdale; Esso, Smooth Rock Falls. Lunch: Extreme Tours Base Camp, Fraserdale.
Where To Stay: Best Western Swan Castle Inn
Snowmobile Northeastern Ontario Loops DAY FIVE
Ride 220 km from Cochrane to Kirkland Lake via TOP A, TOP A108. Fuel: Val Gagne, Matheson, Kirkland Lake. Lunch: Rolly's, Ramore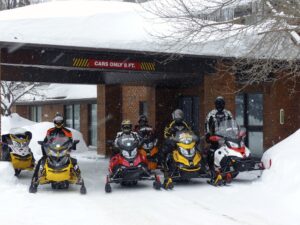 Where To Stay: Comfort Inn. For special weekend snowmobile package rate, call 1-866-285-7936. The newly renovated Comfort Inn is another convenient place to stay on the Gold Rush Tour. Trail accessible by signed local trail off TOP A110Q, this hotel provides complimentary hot breakfast and sled parking in front of ground-floor rooms.
There's also free truck and trailer parking across the street. Restaurants are just a short taxi ride away. For gas, convenience store and Tim Horton's, turn off A110Q at the Comfort Inn sign. Then, continue straight ahead on the local trail about one kilometre past the next turn off to the Comfort Inn.
Snowmobile Northeastern Ontario Loops DAY SIX
Ride 175 km from Kirkland Lake to New Liskeard via TOP A110Q, TOP A, L162, L161, TOP A. Load up sleds and trailer 290 km to Sudbury. Fuel & Lunch: New Liskeard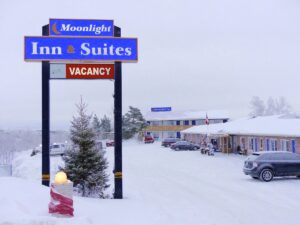 Where To Stay: Moonlight Inn & Suites. The affordable Moonlight Inn & Suites is a great place to stay. It's also a central staging location for all four Sudbury loops. The family owned and operated property is located along on the east side of town on the Kingsway (Highway 55), just west of its junction with the Highway 17 Bypass and Royal Distributing).
The Moonlight Inn & Suites offers decent truck and trailer parking, direct access to Trail C109D and complimentary continental breakfast. The suite rooms have two separate bedrooms and a small kitchen. Home cooked meals at the restaurant across the road.
Snowmobile Northeastern Ontario Loops DAY SEVEN
Ride 258 km on Cartier Loop via TOP C, TOP D, TOP C111D, TOP C. Fuel & Lunch: Windy Lake Motel.
Where To Stay: Moonlight Inn & Suites
Snowmobile Northeastern Ontario Loops DAY EIGHT
Ride 223 km on Chiniguchi Loop via TOP C, TOP C206D, TOP D, TOP C/D.  Load up and trailer home.
Check out more Ontario snowmobile tours!
The tips and advice in this blog are the opinions of the author, may not work in every situation and are intended only for the convenience and interest of the reader, who has the personal responsibility to confirm the validity, accuracy and relevancy of this information prior to putting it to their own use.