Optimize Ride Control & Comfort With Elka High-Performance Stage 4 Front Shocks…
---
---
Sick of humped out corners bouncing you around? Fed up by trail moguls battering your bones? Tired of sore muscles from battling your sled all day? Maybe you need to take a serious look at your suspension. That's how I achieved a smoother ride, starting with my front shocks…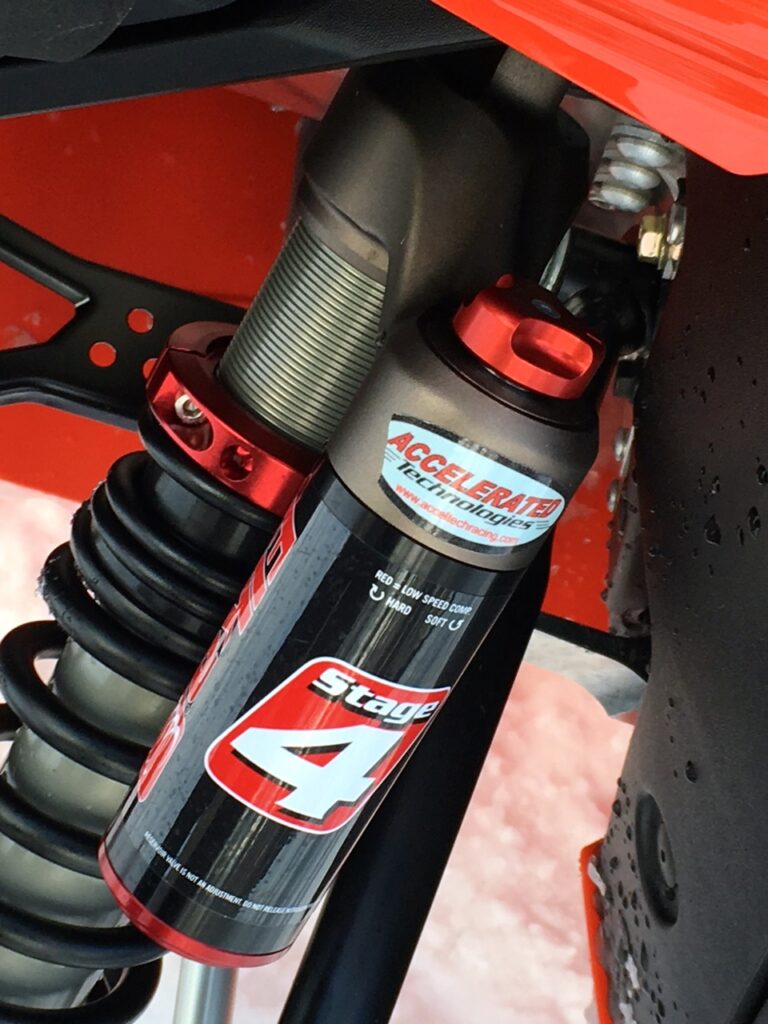 Suspension can make or break your ride. It's something mysterious that takes place underneath your sled, mostly out of sight and out of mind. I guess that's why many of us take sled suspension for granted. And pay the price with uncomfortable rides, sore backs, achy knees and sleds we hate to ride.
As when we buy a new automobile, suspension on a snowmobile is standard equipment. But unlike with our new vehicle, we can tweak our snow machine suspension according to weight load, riding style and surface conditions. The problem is…how do we figure out that fine-tuning?
Choose The Right Sled
Dialling in your suspension for your primary use begins with buying the right sled. If that's trail riding, your best choices range from trail performance to luxury touring models, along with some crossover models.
But be aware that generally, the more "performance" oriented a machine is, the harder the stock suspension. This is because manufacturers build these models to handle the hard bumps of aggressive riding and ditch banging. So they may never feel "soft" enough to suit less aggressive trail riders.
These snowmobilers might want to look at the luxury end of the line up, where stock suspensions tend to be softer and cushier. Consider too that longer track sleds generally deliver an overall smoother ride than ones with short tracks.
Choose A Suspension Expert
Not pretending to be any kind of performance guy or tech-head, I went looking for suspension advice. I found it at Accelerated Technologies near Burleigh Falls, Ontario. Here, suspension guru John Sharrard works his magic on motorcycles, ATVs and every brand of snowmobile.
John has the unique ability to explain it all in layman's terms. He has that magic touch for a touring rider like me, who just wants the most comfortable ride possible, every way and every day. See John in the video above.
From John, I quickly learned to pay more attention to my front suspension, where initial contact with moguls and bumps occurs. How the front shocks absorb these bashes and blows affects everything that happens farther back in the sled. To say nothing of steering control and how much strain my arms and shoulders must endure.
Choose Elka High-Performance Stage 4 Front Shocks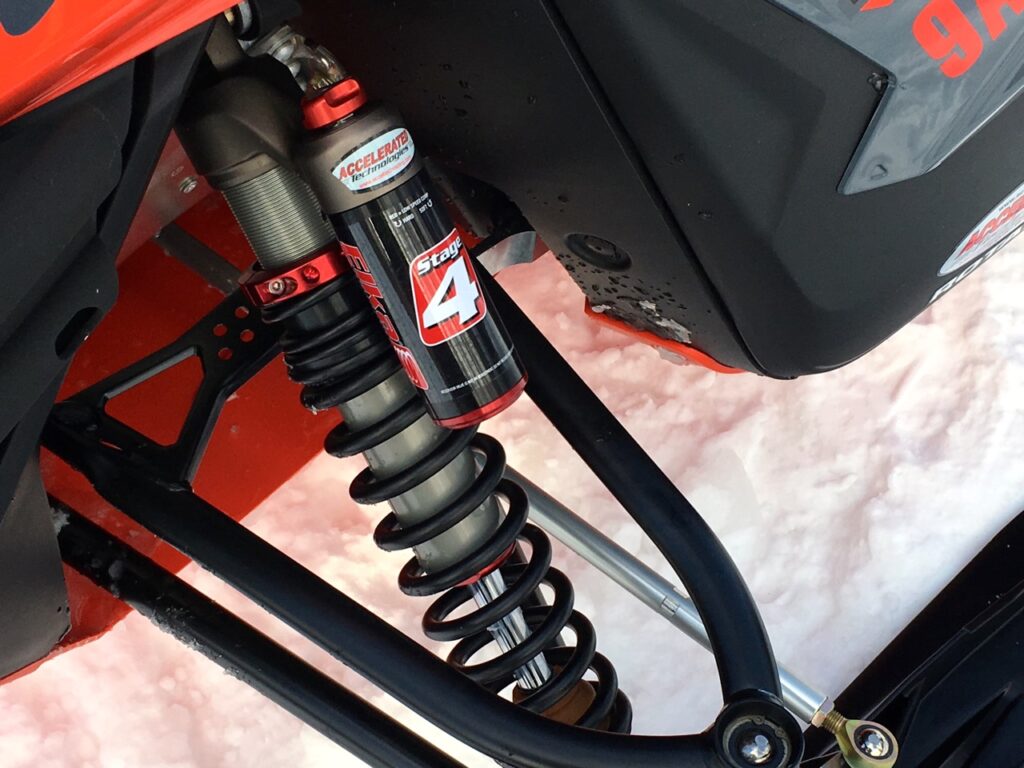 Admittedly, I was skeptical when John suggested a pair of Elka High-Performance Stage 4 Front Shocks. These premium shocks will fit on any stock sled made by Arctic Cat, Polaris, Ski-Doo or Yamaha. But I just couldn't picture myself riding any sled hard enough to qualify for "high performance".
That's when John assured me that they could be calibrated for my style of trail riding. Then he proceeded to set up my sled suspension from front to back so that all components worked together seamlessly in tandem to smooth the bumps and optimize my ride.
From the get-go, I could feel the difference. Those Elka High-Performance Stage 4 Front Shocks eat up trail irregularities and stutter bumps, reducing them to minor irritations. Through the variable surface conditions on the many trails I encountered, the Elka High-Performance Stage 4 Front Shocks delivered consistent, predictable and reliable handling quality.
And my body is pleased to report never suffering any jarring jolts. You know, like those inflicted by the surprise bumps hiding at the bottom of many large trail dips. Day in and day out, I finished each ride with less strain and less fatigue. Best of all, I felt more in control of my sled on every kilometre of every ride.
Years of so-called "consumer abuse" have gradually reduced my body's own natural shock absorption capabilities. So I'm more than happy to turn some of that rough job over to Elka and their High-Performance Stage 4 Front Shocks!
Like This Post? Follow Me on Facebook
The tips and advice in this blog are the opinions of the author, may not work in every situation and are intended only for the convenience and interest of the reader, who has the personal responsibility to confirm the validity, accuracy and relevancy of this information prior to putting it to their own use.