Benefits of Fuel Modular Snowmobile Helmet…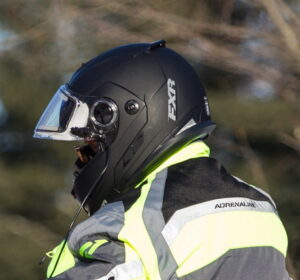 ---
---
One result of extreme temperatures is increased likelihood of helmet visor fogging or icing up. This annoying and frustrating condition can quickly obscure your ability to see properly and ride safely. Three factors combine in a good helmet to help alleviate this complaint…
One, a properly sized helmet that positions your face where it's supposed to be inside the visor and in relation to any integrated breath deflectors. Two, an adjustable ventilation system that lets you control airflow around your face to dissipate head heat efficiently. And three is an electric face shield. The FXR Fuel Modular Snowmobile Helmet has all three.
FXR Fuel Modular Snowmobile Helmet Product Review Test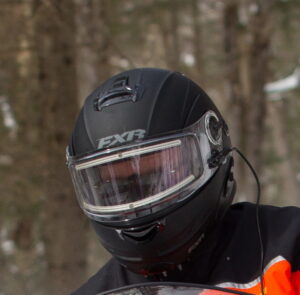 Last winter, I tested a Fuel Modular Helmet (Style #16410 in black matte) with Electric Shield from FXR. It delivered the goods for me. Besides being a great looking FXR helmet, it was comfortable and secure feeling to wear with eyeglasses. Its visor cracks open easily for extra airflow. Or opens fully when needed.
Meanwhile, the full front face of the helmet also flips up out of the way for conversation or eating without having to take it off. There's an integrated, slide down sunshade. Plus, the electrical hook up shows a green operating light so you know the power's on. The certified FXR Fuel Modular Snowmobile Helmet comes in a variety of colours and sizes, so check it out along with the entire line up of FXR snow gear.
Check out other product reviews.
The tips and advice in this blog are the opinions of the author, may not work in every situation and are intended only for the convenience and interest of the reader, who has the personal responsibility to confirm the validity, accuracy and relevancy of this information prior to putting it to their own use.