The Right Snowmobile Helmet Can Make Your Day…
---
---
Why is choosing the best snowmobile helmet important? Just like how a motorbike helmet is a necessity, your snowmobile helmet is the only item of gear that's a legal requirement to wear while riding in most jurisdictions. Your lid helps protect your head in crashes. It deflects blows from trailside branches. It keeps your head warm. And it protects your eyes from wind, snow and debris. Finally, it caps whatever fashion statement you're making with your snowmobile suit.
In short, your snowmobile helmet has many jobs to do. But to succeed, it needs to be right sized and properly fastened at all times. If not, it can spoil your riding enjoyment. It also has to suit your riding style and accommodate your lifestyle. For example, some helmets are better than others if you wear prescription glasses. Some are more convenient for trailside chats, snacking and smoke breaks (see types below). And others are better for those with hot metabolisms that generate lots of head heat. Whichever you choose, remember that a helmet's optimal safety life expectancy is five years. Less if it's been dropped or involved in an impact collision.
Snowmobile vs. Motorcycle
Choosing the best snowmobile helmet starts with knowing what features are available. But first, let's look at the main difference between a helmet purpose-built for snowmobiling and one for motorcycle riding. As I understand it, many aspects are the same. But a good snowmobile helmet has a dual pane visor to help counteract frosting and fogging. It also has improved insulation and closable vents for better warmth. Each snowmobile helmet must show approval of either DOT or Snell with a sticker that it meets minimum requirements.
Best Snowmobile Helmet Features
The features you may want to look for when choosing the best snowmobile helmet include the following…
Breath box/deflector – Contains & directs air exhaled through your nose & mouth downwards, away from contact with your visor.
Chin Curtain – Prevents cold air from entering underneath the front of the helmet.
Air Vents – Multiple front and back vents that open & close to allow air circulation to help regulate internal temperature & prevent fogging.
Sun Shield – Flips down inside the regular visor to help shade your eyes from bright sun rays and snow reflection.
Quick Release Strap Fastener – For easier doing up and undoing.
Electric Visor – Helps prevent visor fogging. Note: an electric visor is less help with ice or frost on the outside.
Best Snowmobile Helmet Types
The next step in choosing the best snowmobile helmet is to know the available types.
Conventional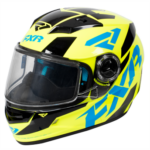 A conventional snowmobile helmet is one integrated unit. This traditional style helmet has a fixed chin protector and is pulled on over the head as is. It has one main moving part – the visor lifts up and down. It's the most basic design, generally with the fewest extra features. A conventional helmet typically is the least expensive choice.
Modular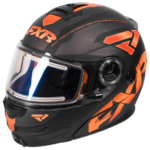 A modular helmet often looks like a conventional one at first glance. But its entire front hinges up to expose your face. With this front piece lowered and snapped into place, the visor moves up and down independently much like on a conventional helmet. Some modular helmets, like the Ski-Doo Modular 3 or the top of the line BV2S, have adjustable, fighter-pilot style inner breathing masks. Depending on features, modular helmets range from mid-price to expensive.
Snowcross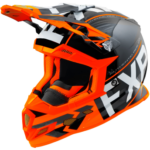 Another choice comes as a snowcross helmet. Generally, it's one integrated unit, same as the conventional helmet. But there are two important differences. One, there is no visor. Instead, wearers don goggles that strap to or around the helmet. Two, the snowcross helmet has a fixed peak at the forehead that affords some shielding from the sun and protection from flying snow and debris.

Hybrid
Finally, there's the hybrid snowmobile helmet. Similar to a snowcross is most respects, the hybrid retains that style while adding a visor that eliminates any need for goggles.
Best Snowmobile Helmet Sizing
Finally, proper sizing is paramount when choosing the best snowmobile helmet. In fact, a wrong sized helmet is the number one reason for not liking it and for returns to the store. A new snowmobile helmet must fit snuggly with little wiggle room. So make sure that if you normally wear anything like a balaclava under a helmet to take it during try-ons.

Be aware that the inner liner material of a helmet compresses over time and usage. So a tight helmet should loosen up a little. That's one reason not to rely on trying on a used helmet for sizing. The other reason is that helmet sizes can vary slightly from manufacturer to manufacturer (and even model to model). So if you're shopping by brand, be sure to try on a new helmet from your brand and model of choice.
Helmet Sizing Tip
Although snowmobile helmets come in different sizes, usually it's the inner liner and cheek padding that actually determines the size. That's because the outer shells of any given model normally come in only one size. So you can typically make a helmet that's a size too big, say X-Large, into a Large by simply replacing its liner and padding with those made for the Large model.
Similarly, if your Large size helmet starts to feel too loose, contact the manufacturer to order new Large size liner and cheek pads. Before you know it, your old lid will fit like new!
Finally, did you know that you can give your old helmet new life by simply removing and washing the liner and pads to start fresh again?
Buying Online
You can helmet online shop using a size chart, although I wouldn't recommend this approach without a physical try on first. To determine your helmet size, use a soft tape measure or string and ruler. Wrap it around the largest part of your head – from your forehead just above the eyebrows to the biggest part at the back. Then check the number you get in the manufacturer's sizing chart and place your order.
So what helmet type do I wear? A modular helmet does the job for me. And because I wear glasses while riding, I always wear a No Fog Mask underneath as the best anti-fogging solution I've found. But I'm also a recent convert to the Oxygen helmet, in a next generation category all its own.
As you can see, choosing the best snowmobile helmet isn't simple. But once you find the proper one for you, you'll be a happy snowmobiler. Except that no one has yet figured out how to prevent helmet head!
Like This Post? Follow Me on Facebook
The tips and advice in this blog are the opinions of the author, may not work in every situation and are intended only for the convenience and interest of the reader, who has the personal responsibility to confirm the validity, accuracy and relevancy of this information prior to putting it to their own use.