Here's My Snowmobile Tie Boss Review…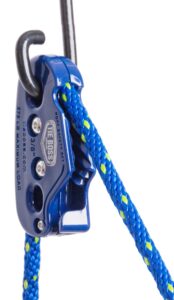 ---
---
Anyone who trailers their snow machines for snowmobile tours or snowmobile vacations has experience with tie down straps. Typically, they are required by law to properly secure your snowmobiles to the trailer bed while in transit. I've tried everything from heavy-duty bungees to ratchets to clip straps.
I've had varying degrees of success, convenience and ease of use on snowmobile tours. Some are difficult to use or release. Others require two hands or even two people to fasten or release. And some corrode easily so parts jam or come loose too readily.
That's why I'm impressed with snowmobile Tie Boss brand tie downs. These 3m (10'), 3/8" rope tie downs have no moving parts. The 124kg (275lb) max load rope runs through a patented, serrated jam cleat. it both locks securely into place or releases easily with one hand. This jam cleat has similarities to a belay device with assisted braking used by mountain climbers to control their ropes.
Snowmobile Tie Boss Tie Down Video

Using These Tie Downs
Rather than reefing down on a tie down strap as I have in the past, here's how I found it easiest with snowmobile Tie Boss. First, I load them in my Triton Trailer and clamp down the front skis. Next, simply sit on the back on the sled. Then I affix the snowmobile Tie Boss coated hooks to trailer bed and jam cleat. Finally, I lock the rope into place and then stand up to let the sled's suspension do the tightening for me as it attempts to the back end up to normal rest position.
Best of all, with snowmobile Tie Boss brand tie downs, there's nothing that can scratch your sled. Just one reminder: tie a knot in the loose end of the rope running through the jam cleat. This way, it won't inadvertently slip all the way through the jam cleat and out of place.
Check out other product reviews.
The tips and advice in this blog are the opinions of the author, may not work in every situation and are intended only for the convenience and interest of the reader, who has the personal responsibility to confirm the validity, accuracy and relevancy of this information prior to putting it to their own use.