Better Control & No Darting – TS Pilot Adjustable Skis…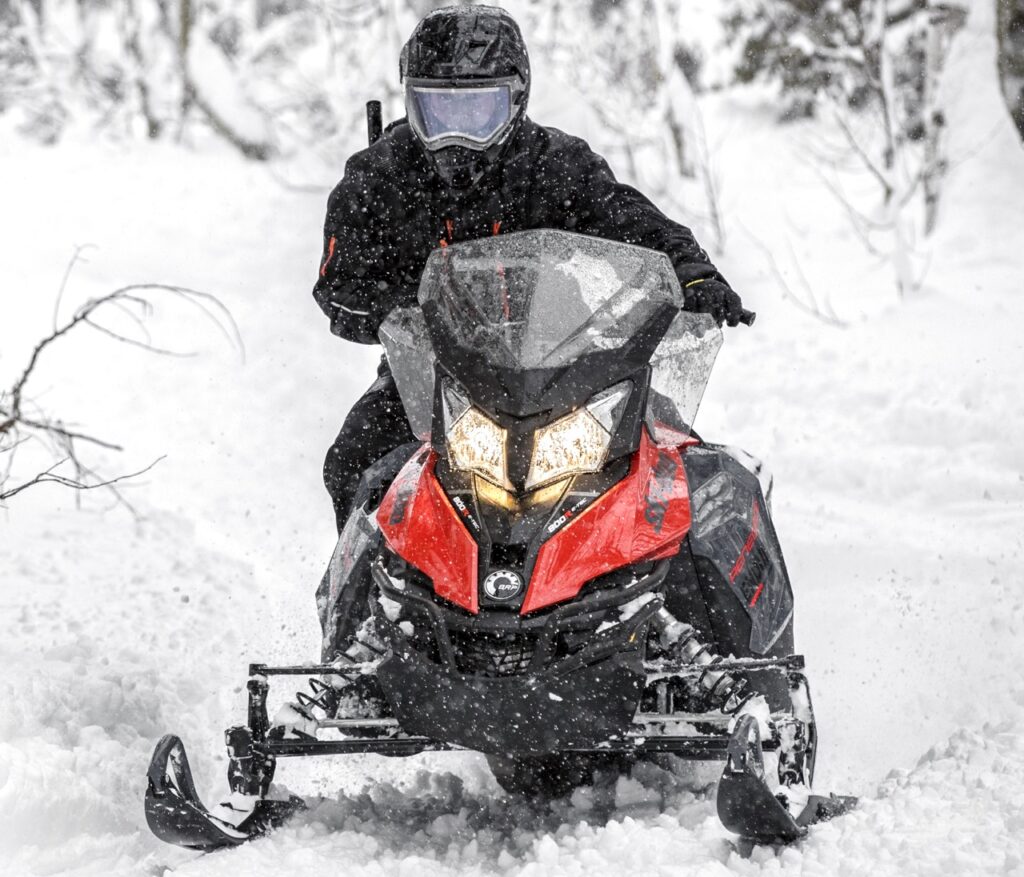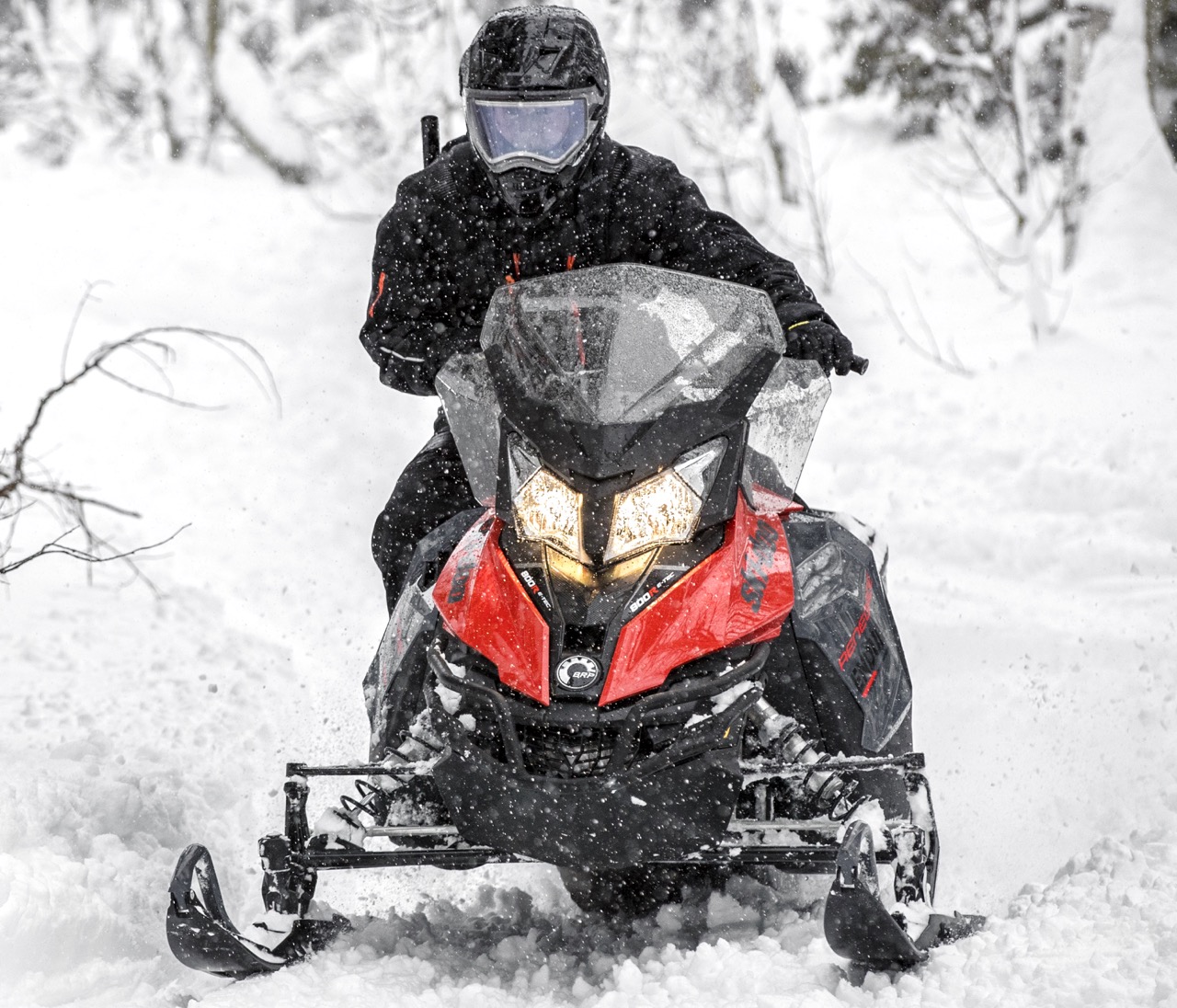 ---
---
I gotta say it. I love the TS Pilot Adjustable Skis on my 2018 Ski Doo Renegade Enduro. Dare I proclaim that they're the best stock skis any OEM has ever provided? Read on to find out…
Okay, I admit to being skeptical when Ski Doo introduced the TS Pilot's in 2017. My first reaction was: just one more thing to adjust and fiddle with! And certainly, as with suspension, making constant adjustments is a big temptation. But I soon discovered that these remarkable skis don't need a lot of attention.
But let's start at the beginning. A couple of years back, Ski-Doo introduced its leading edge r-Motion Quick Adjust System with knobs for dialling in rear suspension. My Renegade Enduro comes with adjustable Air Motion Suspension. So it was no surprise when BRP debuted another innovative and knobby exclusive last season, Ski-Doo Pilot TS Adjustable Skis. Which is actually somewhat of a misnomer, since only the carbide adjusts, not the ski.
Adjust The Bite
But the concept makes sense: adjust the bite of your ski carbide to many different settings by hand turning a knob. Carbide adjustability means that a rider can change them to suit individual riding preference. You can achieve a better steering effort vs. effectiveness balance. And you can accommodate varying trail surface condition as well as the riding style of those whom you are riding with that day (e.g. riding with the guys vs. riding with the family).
Burning Questions About TS Pilot Adjustable Skis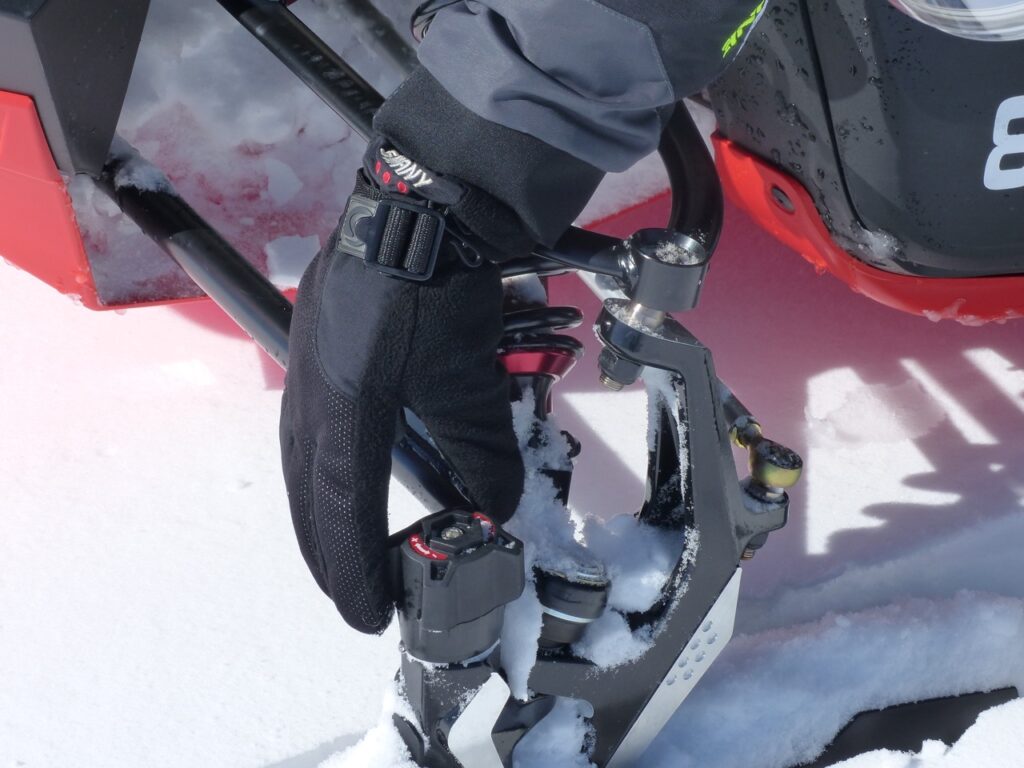 I'm not the most aggressive rider. But I do snowmobile big miles and encounter a variety of trail conditions. Not only from day to day, but also during the same day. My pre-testing questions about the new Pilot TS Adjustable Skis included: How easy is it to adjust the carbides? Would the adjustment knob freeze up? How well would the carbides wear? Would I remember/bother to make adjustments during a ride? And most important of all, would the Pilot TS Adjustable Skis deliver better handling and reduced darting as promised?
Real World Results
Result 1
The first thing I learned is that the adjustment knob mounted on each Pilot TS Ski is easy to use. Clockwise extends the carbide for more bite. Counter-clockwise retracts it for less. Note: Be sure that each carbide is set the same to start and then count the number of turns carefully on the 1st knob. That way, you can do exactly the same on the 2nd one.)
Result 2
The second learning was that the knobs don't freeze up during normal riding conditions (although I haven't run them through any slush in sub-zero temps). Next, as with my rear suspension, I learned to set the adjustment based on expected trail conditions and then stop fiddling with it. I only make minor tweaks if the trail surface condition changes dramatically, as it can from a frozen morning to a sunny afternoon. After a couple of days of usage, I found myself making fewer adjustments as I got the carbide bite dialled in. As my Ski-Doo dealer says: "Dial 'em down for the soft and dial 'em up for the hard."
The range of adjustment options is from 0 to 20 knob turns with Pilot TS Adjustable Skis. This means I can maintain the kind of steering control I prefer over a very wide variety of trail conditions. I'd also note that darting isn't an issue with Pilot TS Adjustable Skis. Just adjust your carbides to make it go away.
Result 3
As to wear, far less is inflicted if the carbides are retracted to their least extended setting for any significant amount of pavement running. And so far, mine seem to be lasting longer than other carbides I've used (Not surprising, because these carbide runners are made for Ski-Doo by one of the best names in the industry, Woody's Traction Products.)
The Verdict On TS Pilot Adjustable Skis
Following a full bore "tested on tour" of Ski-Doo Pilot TS Adjustable Skis, my verdict is that they make a big difference in handling and ride enjoyment when adjusted properly. I can't imagine going back to non-adjustable skis that force me to ride uncomfortably when conditions change. I'd even go so far as to say that Pilot TS Adjustable Skis improve snowmobiling safety.
There is one upgrade that worked better for me. I found that replacing the 5" 90˚ ones that came stock on my snow machine with available 7" 60˚ carbide runners was a good move. They broaden the range of adjustment possibilities even more since there's better grip from the get-go thanks to more available carbide. Generally, I don't have to extend the 7" 60˚'s as much as the stock ones.
Other TS Pilot Adjustable Skis Pointers
A couple of other pointers worth considering. One, I dial the carbides back to zero before loading the sled on my trailer and clamping down the ski bar. This also ensures that I start at zero when I unload at each new destination. It forces me to evaluate and reset to accommodate each new day's trail conditions.
Two, as the days become longer, the temperature becomes more variable from morning to afternoon. So the later into the season I ride, the more I recheck and readjust the carbide settings at lunchtime as well as before starting that day's ride.
Finally, having just snowmobiled a couple of days in fresh powder on the trails, I recommend moving to a much deeper than normal carbide setting to cut through the loose snow. This provides a better grip on the trail base. None of these pointers are possible with any other skis.
Since launching its Pilot TS Adjustable Skis, Ski Doo has followed up with even more innovative flexibility. Its Remote Adjustable Limiter Strap, Remote Coupler Block Adjuster and Height Adjustable Windshield also make snowmobiling even more enjoyable. So what's next – how about a suspension that automatically adjusts to rider weight & height? Or to riding double? Or a seat that extends in length for my after lunch nap?
Like This Post? Follow Me on Facebook
The tips and advice in this blog are the opinions of the author, may not work in every situation and are intended only for the convenience and interest of the reader, who has the personal responsibility to confirm the validity, accuracy and relevancy of this information prior to putting it to their own use.