Each of These Québec Destinations Deliver the Goods…
---
---
During many years of riding, I've snowmobiled throughout North America. I've adventured through the wilds of Labrador. Almost frozen camping in Nunavut. And marvelled at the breathtaking view from a Rocky Mountain peak. But my first love is trail riding, and for the best of the best, I always return to Québec and FCMQ trails.
Like me, visiting riders consistently rank Québec trail riding tops in North America. Same goes for the international snowmobile community and most industry experts. Even the North American snowmobile media recognizes that Québec offers a very special snowmobiling experience. One that can't be found anywhere else. Besides, Québec is the world's largest sales market for snowmobiles. So who can argue with that?
What makes Québec so special? It starts with some of the most reliable snow and longest trail-riding season on this continent. That's because FCMQ trails generally benefit from both a more northern longitude and higher elevation than most other trail systems. FCMQ trails also have another considerable advantage.It's well organized, funded and maintained through a comprehensive club and volunteer network. That's been in place for more than 50 years. Québec is also unique in that snowmobiling is more ingrained in its culture, heritage, society and tourism than any other province or state. And that helps makes it the ultimate snowmobiler-friendly destination.
So, as we head into another winter, let's view Québec snowmobiling through the fresh eyes of visitors. Let's look at some of their (and my own) favourite trail riding destinations, listed alphabetically. How many have you done? What would your list look like?
5 Fav Québec Snowmobile Destinations: Abitibi-Témiscamingue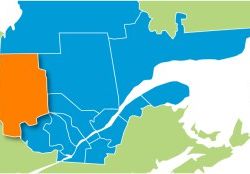 Abitibi-Témiscamingue is a vibrant pocket of rural settlement. It's surrounded by the more remote wilderness of Eeyou Istche Baie James to the north (via Regional Trail 396 & Trans Québec 93). Also, northwestern Mauricie on the east (via TQ83) and northern Outaouais to the south (via TQ63 & 43, RT386). One factor that makes this region popular among visiting Ontario riders is that its western border abuts that province. Conveniently accessible by trailer or trail. In fact, Abitibi-Témiscamingue is closer to Ontario than it is to much of Québec.
But this region's main attraction for any snowmobiler is about 4,000 kilometres of primo snowmobile trails. This well-established network is anchored at the four compass points by key towns. Témiscaming, Ville Marie & Rouyn-Noranda (southwest), La Sarre (northwest), Amos (northeast), and Val d'Or (southeast, and closest to the rest of Québec). These snowy communities are connected by what visitors quickly discover are the best "snow highways" they've ever experienced. Wide, open and sweeping, with variable and interesting topography.
Abitibi-Témiscamingue
Riding Options
What I really enjoy about Abitibi-Témiscamingue is its many riding options. Touring saddlebag riders can snowmobile into the region from several directions. Then choose among loops such as the Abitibi (723 km, staging from Val d'Or or Senneterre), Big White Tour (1,122 km, staging from Val d'Or or Ville Marie), or The Prospector (1,108 km, staging from Val d'Or or Témiscaming). Day riders can stage from any of the aforementioned towns for shorter or longer loops. My two favs are staging day rides from either Amos or Val d'Or for their many trail choices. High milers will enjoy the remote 500-km loop north from Amos to Mattagami. It can be done in one day of steady riding in good conditions.
Tucked away in western Québec, Abitibi-Témiscamingue is a secret gem with uncrowded trails that should be on every Québec rider's bucket list. (Trailering Distance from Montreal to Val d'Or = 525 km)
5 Fav Québec Snowmobile Destinations: Chaudière-Appalaches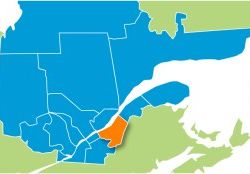 Typically, snowmobilers think north when planning their rides. Certainly, that's why many New England riders head north into Chaudière-Appalaches every winter. But this region is an anomaly destination choice for many Québeckers because it's located south of the St. Lawrence River. But don't be fooled. Chaudière-Appalaches delivers 2,600 kilometres of fabulous trail riding just across the river from Québec.
The region gets part of its name from the Chaudière River that bisects it from north to south. The other part refers to the Appalachian Mountains. They run through it from southwest to northeast, paralleling Québec's international border with the State of Maine. Together, these two geological characteristics also define snowmobiling in Chaudière-Appalaches. As a result, the region's trails include a unique blend of highlands and river valleys. Along with rolling foothills and lowland plateaus, snowmobilers will discover many diverse days of remarkable trail riding.
I've primarily experienced Chaudière-Appalaches as a day looping destination, staying at the same lodgings each night. But I've also done a very enjoyable saddlebag tour. It included riding west of the Beauce area and the Chaudière River into the Appalachian hills of the adjoining Centre-du-Québec Region.
Chaudière-Appalaches
Riding Options
Chaudière-Appalaches day ride loops include the Sugar Bushes (329 km, staging from Sainte-Marie, Lac-Etcheman), St. Lawrence & the Mountains (345 km, staging from Lévis, Saint-Marie or Montmangy) or The Beauce & Etchemin Counties (212 km, staging from Saint-Georges or Lac Etchemin). Don't miss Regional Trails 547 and 549 through Parc régional du Massif du Sud with their panoramic lookouts from Mont di Midi and Mont Saint-Magloire, or the suspension bridges at Saint-Martin and Sainte-Marie. There's also a huge covered bridge at Notre-Dame-des-Pins that's great for photos, but now closed to snowmobile traffic.
Note: Distances on the region's printed trail guide are shown in miles, so don't get mixed up with kilometres when ride planning! (Trailering Distance from Montreal to Lévis = 250 km)
5 Fav Québec Snowmobile Destinations: Gaspésie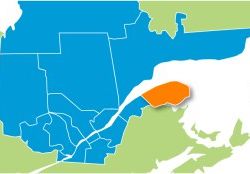 The very name "Gaspésie" holds a special mystique throughout the North American snowmobiling community. It's one of those must-do pilgrimages for many visiting sledders. From the iconic Percé Rock, to the unforgettable mountain top views from Trans Québec 5, and the awe-inspiring Regional Trails 597 and 595 that cut through the remote and largely unpopulated interior highlands, Gaspésie delivers about 3,100 kilometres of unrivalled adventure.
Located in the eastern part of the Québec Maritime Region, Gaspésie is a huge peninsula jutting out into the Gulf of St. Lawrence. TQ5 follows its entire coastline, inviting some of the best saddlebag touring in North America. I've staged from both Rivière-du-Loup and Matane. I recommend doing the 1,160-km Grand Tour on TQ5 counter-clockwise because that leaves the very best scenery until the end. But be forewarned: you'll need a week to ride it all. And be sure to plan a layover day. Just in case you get snowbound by one of the fierce winter storms that bless Gaspésie with oodles of snow all winter.
Gaspésie
Riding Options
For snowmobilers who prefer to stay over a few nights in one place, I've also done a couple of high-miler day rides from Murdochville. These include the Chic-Chocs Loop (420 km) and Boucle de la Point (375 km). I've also enjoyed two less ambitious loops staging out of Amqui. One is the 205-km Boucle des Plateaux south of town on RT587s. The other, the 190-km Boucle des Portes de la Gaspésie to the northeast via TQ5 and RT579. What's more, if backcountry riding appeals to you, take a day or two with a guide to explore incredible powder riding in the Monts Chic-Chocs, just south of Saint-Anne-des-Monts off TQ5.
Gaspésie is a perfect destination to extend your season into March. However, not all areas of Gaspésie have equal snow. For example, the south coast from Pointe-à-la Croix east to Percé tends to get less overall and earlier thaws. On the other hand, the interior mountains generally get more snow all winter and hold it longest. The key takeaway here is that the best riding at any given time in Gaspésie varies. So choose your time and plan accordingly. (Trailering Distance from Montreal to Rivière-du-Loup = 467 km)
5 Fav Québec Snowmobile Destinations: Lanaudière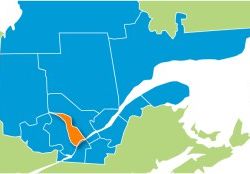 I've spent many Christmas vacations doing my first day rides of the season in the high country of Lanaudière. With elevations in the 800-meter range near Saint-Donat and Saint-Zenon, this lakeland region is located in the Laurentian foothills about two hours northeast of Montreal. It's also one of Québec's closest regions for visiting riders that is virtually a sure bet for snow by Christmas.
That's why for holiday season riding, I usually stage rides from one location in the Saint-Zenon/Saint Michel-des-Saints area. It's most central to a variety of early-opening trail and loop options. They're mostly on park, forest access and old logging roads that wind through hill and dale, with good sight lines, gentle curves and easy, effortless riding.
In January, snowmobilers can also tour farther north, where the Laurentian Plateau offers wide-open trails. Meanwhile, the neighbouring Mauricie Region to the east extends several great riding loops around Réserve faunique Mastigouche. Along with the St Lawrence lowlands to the south, a total of about 2,100 kilometres of trails are available for saddlebag touring in Lanaudière.
Lanaudière
Riding Options
Lanaudière's high country trails are always visually interesting and exciting to ride. Some of my personal favourites are Regional Trail 360 east along the Rivière-Matawin to Trois-Rives, and RT33 along the east side of Parc national du Mont-Tremblant. Other truly not-to-be-missed experiences can be found on Trans Québec 63 south of Saint-Zenon, and again on RT349 between Saint-Come and Notre-Dame-de-la-Mercie. More must-sees on the region's trails include the Lake Taureau Dam (RT360), the scenic lookouts at Mont des Cenelles and Montagne Noir (both trail accessible from local trails just west of Saint-Donat), and the old suspension bridge on a local trail accessible from RT310 north of Notre-Dame-de-la-Merci. (Trailering Distance from Montreal to Saint-Zenon = 149 km)
5 Fav Québec Snowmobile Destinations: Saguenay-Lac-Saint-Jean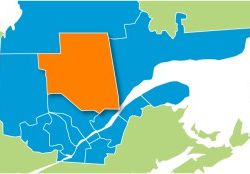 Saguenay-Lac-Saint-Jean is a magnificent, larger-than-life region. It has a thriving population of almost 275,000 and lots of industry and commerce. But more important, it offers about 3,800 kilometres of premier snowmobile trails, likely more than the region has paved highways.
I've passed through Saguenay-Lac-Saint-Jean on a one-night stay-over as part of a longer, trans-Québec saddlebag tour. I'd also done a saddlebag ride there, destination to destination within the region. Most recently, I trailered there on the 4-lane Highway 175 for the ease and comfort of staying at the same location every night for multiple day rides.
Prominent geographic features define almost everything in Saguenay-Lac-Saint-Jean, a region surrounded by wilderness. Most local roads end not far past its populated areas. Unlike their snowmobile trails, which penetrate deep into the hinterlands. The 105-kilometre Saguenay Fiord cuts the region in half, into north side and southside. The headwaters of the fiord, Lac Saint-Jean, effectively define the western limits of most urbanization and industry in the region. On the north side, Monts-Valin is a range of massifs about 35 kilometres northeast by road (55 by trail) from Saguenay. This city, plus other towns such as Alma, La Baie and Roberval, anchor the south side of Saguenay-Lac-Saint-Jean. Meanwhile, the north side tends to be more sparsely populated, with villages scattered between the fiord and the mountains.
Saguenay-Lac-Saint-Jean
Riding Options
These geographic characteristics also define the sledding opportunities of Saguenay-Lac-Saint-Jean. South of the fiord from the towns of Laterrière and La Baie east to L'Anse-Saint-Jean, visitors find forested hill country riding. Here, main trails Trans Québec 83 and Regional Trail 383 are meandering old logging roads that connect to multiple day ride loop possibilities.
On the flatlands around Lac-Saint-Jean, there's plenty of forest and field running on main trails TQ83, TQ 93 and RT373, including the loop around Lac-Saint-Jean itself. That's about a 407-kilometre ride that can easily be extended with a few side trails into a longer two-day expedition.
North of the fiord, it's wilderness trail riding in both Monts-Valin East and Monts-Valin West via TQ93, RT328 and RT367. Plus a bunch of more northerly and remoter secondary trails. Monts-Valin East also includes the popular, 210-km "Summits Circuit", with steep trails leading to scenic lookouts on the area's five highest peaks. Powder hounds will also find plenty of backcountry riding in Monts-Valin East. Here, long tracks and deep lugs are a must for playing on its powdery slopes and bowls. Monts-Valin riding is typically available from mid-November well into April. (Trailering Distance from Montreal to Saguenay = 489 km)
My Last Word
Each of these destinations offers reliable snow and grooming. What's more, they all have good diversity of terrain and offer something special to make riding there memorable. This includes a considerable number of trail options and loops. Plus, they each offer plenty of snowmobile-friendly amenities and longer seasons.
This isn't to say that other areas aren't good too. But if you only have one time period available to explore in Québec this winter, these choices are a good bet. No doubt, any one of these snowmobile tour destination favourites will keep you grinning from ear-to-ear and wanting to come back for more…
Like This Post? Follow Me on Facebook
Check out more snowmobile tours!
The tips and advice in this blog are the opinions of the author, may not work in every situation and are intended only for the convenience and interest of the reader, who has the personal responsibility to confirm the validity, accuracy and relevancy of this information prior to putting it to their own use.